Having a barbecue is one of the most fun events you can host at your home. Whether it's snowing or raining, you should never let that get in your way of some amazing homemade barbecue. Summer barbecues create the perfect experience for just about anyone with the cooks sheltering from the pouring rains and even wheeling the pit in from sudden gusts. 
Why not enjoy the fun and good food during winter? The winter months are great for cooking wholesome meals on chilly evenings. What better way to enjoy all that winter brings than with some barbecue. If you're thinking about your very own winter barbecue, read on because Thegardenfurnitureshop.ie got you covered with some helpful tips. 
Wrap Up
While the weather may be unpredictable, winter can be even crueler. Winter usually tends to bring Rudolph noses and tons of frozen fingers and neither of these is helpful. Before you head outside, it's a great idea to ensure that you're dressed for the cold. 
If you're the one grilling, you can use those fingerless gloves along with a pair of mittens. These are perfect since they allow you to manage the grill with ease. Additionally, you'll want to ensure that you're also dressed in a scarf, a big jumper, a hat, some thick socks, and of course a cozy jacket. 
If the nights are extra cold, it's important to use the patio heater or even get a bonfire going to provide extra heat. 
Be Prepared
While this is one of the most obvious steps, don't forget to get things ready in advance. This just simply means that you'll need to stack up on coals, secure a lighter, and clean the grill ahead of time. 
These are some of the things that are mostly forgotten about before a barbecue event. Remember, don't forget to heat the coals enough before you begin grilling. 
Keep It Simple
When it's really cold out, it's best to stick to the easy stuff. These include skewers, vegetables, fish, burgers, and sausages. Those mentioned will cook pretty quickly and it will also save you from being in the cold too much. 
Chopping, sorting, and sauce prep can be done inside and it will reduce your cooking time. 
Put A Lid On It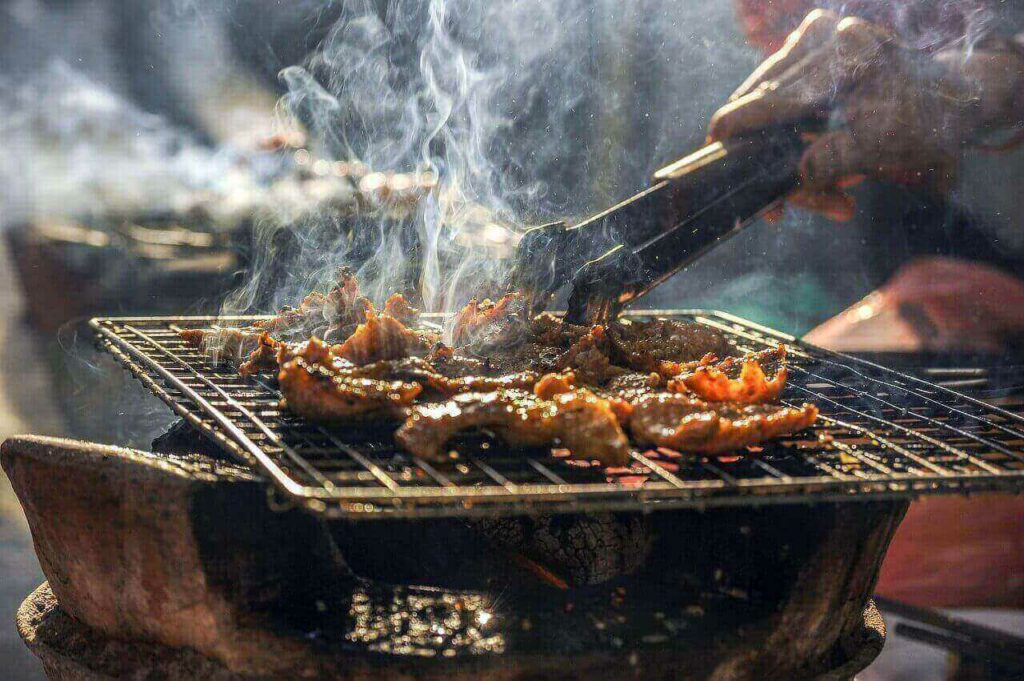 The summer months are perfect for leaving the cover off and looking at burgers and sausages sizzling on the flame. However, as it gets cold during the winter, it is advised that you should leave the lid on. The lid will ensure that your heat remains trapped on the inside where it should be as it cooks your food. 
With that said, you'll still need to keep an eye on things to prevent overcooking since the added heat will increase the overall cooking temperature. 
Heat Those Drinks
Another great way to stay warm is by sipping on some smoking hot beverages. If you're inviting guests over or you're having a fun night with your family, it's best to ensure that you're well-stacked on tea, or wine, or any other alternative that they prefer. 
Head Indoors
If for some reason it gets too cold outdoors, you can easily pack your food up and head indoors. Cooking is fun but there's no reason why you should stay in the cold to enjoy your meal. When the temperature rises, you can head out again to complete a truly magical evening.