Swimming pools and hot tubs offer many different benefits. They are a fun way to enjoy some quality time alone or with people you love and help you relax. And when combined and enhanced with spa features, these yard accessories provide specific health benefits and improvements to your well-being.
If you are looking for a way to relax after a long day or you're recovering from surgery, it might be a good idea to jump into a swim spa. Soaking in warmish, bubbly water offers many different benefits to help you get over many physical and mental inconveniences.
Tips on maintaining pools with spa add-ons are listed below:
https://tubtopia.com/swim-spa-maintenance/
Pain Relief
Spending time in the water is an excellent way to relax sore muscles and relieve painful body parts. This activity can eliminate the pain in your back and neck. If you feel discomfort because of conditions like sciatica or scoliosis, swimming is a great way to handle pain.
When you exercise in water, it gets the blood moving and working throughout your body. It's an excellent benefit for those suffering from arthritis. You may ask your therapist and see what they think about swim spas. The truth is that these can be of great help for painful and swollen joints.
Improved Blood Flow
Another benefit of a swimming pool with spa features is boosting blood flow. When you swim or walk outside and get some nice physical exercise, you will be healthier and happier. The same thing is with enjoying a swim spa, except you don't have to leave your home and yard at all.
When you speed up blood circulation, your skin will be much more youthful and healthy-looking. Your muscles will also thank you as they become stronger and more flexible, especially those injured or that have been sore for a long time.
Post-Surgical Recovery
A swim spa will help relieve the pain, tension, and stress that you feel after surgery. Recovery after any surgical procedure can be challenging and lengthy, but having this accessory in your backyard can speed things up. Even therapists recommend this activity, as the beneficial effects of water on your body are well-known. See here which exercises are doable in this pool.
Jets inside these pools simulate the currents in open waters, allowing you to swim or exercise in place. These waves lift you and allow easier drifts. It's like you move without moving for real. That can help to speed up the healing process and make you ready to get back to normal life faster. Just in case, make sure that you have someone available to help you with entering and going out.
Stress and Tension Relief
One of the main benefits of jumping into the swim spa is stress reduction. There is nothing like taking a swim or a long walk after being under lots of pressure. If you can take some time out and relax, you will find that it makes you feel much better. But if you have no time to visit a spa or hike in the mountains, you can get a swim spa in your backyard and enjoy after having a hard day.
Swim spa is a great place to get exercise and relax at the same time. Just imagine taking e a nice hot bath while listening to the soothing sound of a running water stream. Spending some time in this pool can help you reduce the stress levels in your life. You will find that after a nice soak in the swim spa pool, you will feel so much better. It also improves sleep, almost like a warm bath before bedtime.
Weight Loss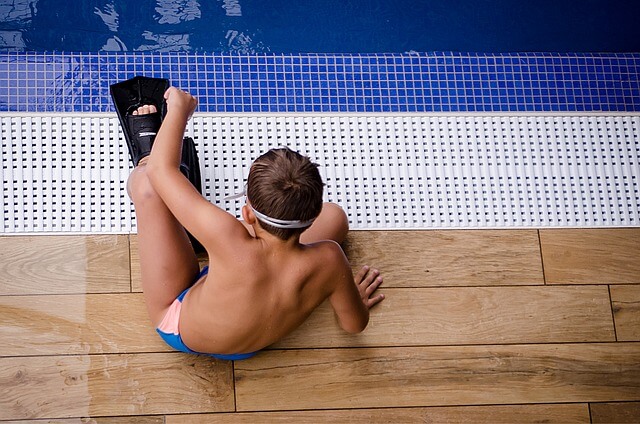 It's generally known that swimming is an activity that involves and activates the whole body. That makes water an ideal workout environment for those who want to lose weight or maintain a healthy weight. Just fifteen minutes per day will give excellent results in this endeavor.
While you are in the water, you are much lighter than outside. That allows you to perform the exercises more easily. At the same time, the water provides low-impact resistance, which makes your workout session more effective. If you have injuries, water training in a small swim spa will ease stiffness and provide effortless movements with no pain.
Even if you haven't been too active so far, exercising in the pool with additional features like wave jets will make your workout more bearable and fun. After a while, you will notice the effects of using the swim spa. Your body will be toned, and your muscles strengthened and sculpted.
Jets of warm water all over your body are excellent therapy for many discomforts you deal with every day. When you start experiencing all the benefits of a swim spa regularly, the quality of your life will be much better. You can enjoy this accessory all year round; just do some research and find the best pool for yourself.