Did you know that having a playroom encourages cooperative playing between kids? This is because when your kids play side-by-side, they will naturally play together.
The games merge into single storylines that will naturally include one another. Therefore, it is essential to have the best playroom decoration to make playdates so much easier.
Having a dedicated area with excellent playroom décor can keep toys out of the rest of your house.
The playroom might look like a disaster zone at times, but at least you will not step on any Legos while trying to vacuum the hall. Here are the best playroom decorating ideas that your children will never get enough of.
1. Introduce a Chalkboard
If you have a small room with nothing else, the first step should be to introduce a chalkboard. A large chalkboard can become the focal point of the room.
This will provide a rustic vibe as décor for the playroom, but it can also be an excellent opportunity to teach children.
You can play exciting games on a chalkboard like "fill in the blanks" or charades. This way, you can ensure that your kids will not run around writing or scribbling all over your other walls and furniture.
2. Function and Form
When you want to decorate a playroom, remember that this needs to be the most fun space in your home. However, you can also make it look beautiful as well.
To focus on function and form, the best thing to do is relegate your kids' toys to a wall. You can get furniture that doubles as storage. You should opt for pieces that can blend effortlessly with the rest of your interior décor.
3. Bold Colors
It is no secret that children love bright and bold colors. There is a reason why sweets like skittles are so popular with the young ones. If you hesitate to use bold colors to decorate your home, you can use them for your playroom.
Kids love attention-grabbing colors, so you can paint a rainbow mural on the wall or colorful characters from your child's favorite movie or show.
The best part is that bold colors can also help hide away fingers and smudges. Then you will not need to clean the playroom every other day if the walls get dirty.
4. Exciting Furniture
Although traditional bookcases and couches are easy to bring as playroom decorations, you should think beyond these to impress your child. Try to create a stunning tree bookshelf instead or one that looks like a racecar.
This will add much color and excitement to the room instead of the usual bookshelves you may purchase from Ikea for a home library.
Another great idea for playroom décor is to use floor pillows instead of a typical couch. Then you can turn this into your child's favorite room in the house.
5. Affordable Storage
Grab some wicker baskets and go nuts. These will help you store and sort your child's art supplies and toys.
You can also use picture ledges instead of bookcases to display all your children's favorite story books. This way, you can avoid clutter by creatively using decorative items for storage.
6. Use the Floor
Even though adults love parking themselves on a comfy couch, children enjoy rolling around and climbing. Your kids will have too much energy to sit still, especially in an exciting and fun environment like their new playroom.
It is always best to get some bean bags and mats that can be stored away in a closet when you do not need them.
This way, you can have many relaxing options for your children's friends during sleepovers or movie nights. To keep them even further entertained, check out this indoor playset.
7. Indoor Swings
Who says that children need to be outside to play on a swing? You should consider installing a swing set if you have plenty of extra room with high ceilings.
This can come in handy when it is too cold outside or raining to avoid the kids getting sick. Your children's friends will also be jealous when they walk in and see that you have your own indoor playground.
The only thing you need to worry about is safety. If the children are playing with the swing inside, ensure they have enough space to avoid injuries.
8. Arts and Crafts
If you want to decorate a playroom, you should inspire your little one's creative side. This can be done by setting up an art studio. You can buy a large canvas and other supplies like crayons, paper, and markers.
Use plastic bins for easy storage. These will also be a breeze to clean. All you need are chairs and tables, so your kids can practice art at home whenever possible.
9. Wall Art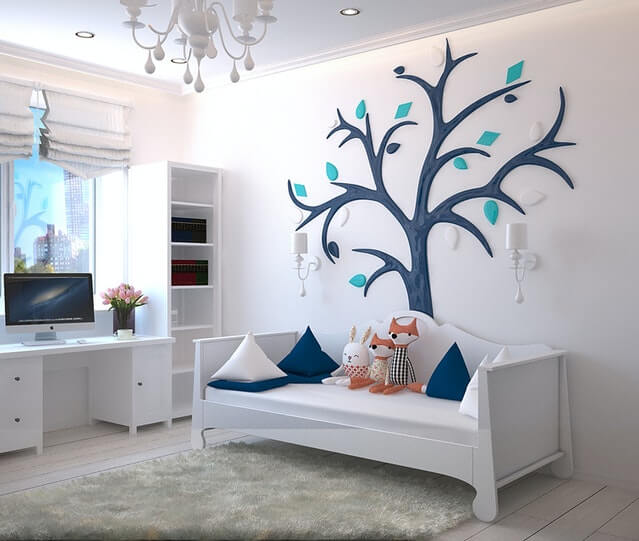 This is one of the best playroom decorating ideas because it is so simple. If you are passionate about art, you can paint and decorate the room yourself. It can also be a lot of fun to get the kids involved.
Start with a beautiful mural you design and paint together. With some splashes of color, you can bring your own unique touch to the project and create the most kid-friendly space.
10. Entertainment Center
After you get all the furniture ready for your playroom décor, you need to think of some digital entertainment. It is best to buy a giant screen where your kids can watch all their favorite cartoons and movies.
You can also go the extra step by installing a karaoke system. This way, your child can belt out all the lyrics to "let it go" as though they are auditioning for a talent show.
If your kids are not fans of singing, you can also bring some video games like Mario Kart for the kids to challenge each other with.
Enjoy Your Playroom Decoration Today
Now that you know the 10 best ideas for your playroom decoration, it is time to get creative. Start off with a painting project to design some murals for wall art.
Then you should swap couches and chairs for bean bags to host the best movie nights for your kids. Remember that your playroom décor should be as fun as possible.
Then your kids will always want to stay close to home, thanks to you. If you enjoyed reading this guide, check out some of our other posts for more information.