Kids and video games are inseparable. Therefore it becomes our duty to make sure that kids play age appropriate and productive online Pokemon games  which will assist in problem-solving and decision making. Here we have prepared a list of games that are available on both PC and Tablet, are gender neutral and are appropriate for the age group between 5 to 11 years of age.
Sago Mini Friends
This game is specially crafted for toddlers between 3 to 5 years of age. It is simple and sweet in nature, promotes creativity, teaches sharing and instills empathy in children. It also assists in developing puzzle-solving abilities. In this particular game, the child is allowed to select a colorful character that explores and visits its neighborhood and the neighbors. In total there are five friends and ten various activities that can be carried out by the main character. If this is a game that you're interested in letting your children play, be sure to get the best gaming laptop for the money for an amazing gaming experience.
Lego Creators Islands
This game lets your kid build their own virtual Lego world. The game is set on Lego Creators Island where kids have to collect bricks in order to construct Lego structures, vehicles and also animals on each island. Here kids can explore, build and play on different islands which can be visited a number of times to rebuild in fun and new ways. This game is specially crafted for tablets and Windows versions can be found on a few websites.
Toca Kitchen 2
Toca Kitchen is a game series developed by Toca Boca games who are expert at creating a mixture of education, fun, and play.  In this particular game, you choose a character to feed your very own invented recipes and dishes by mixing various different ingredients and play the chef for the day.
Disney Crossy Road
Disney Crossy Road is a game designed and produced by Disney, Mighty Games, and Hipster Whale. It is a totally different take on old Crossy Road game where characters hopped and explored endless landscapes while avoiding trains and crossing Dunk Rivers. In Disney Crossy Road, characters from Disney are utilized with better game visuals and improved mechanics. In this version, there are more than 100 characters to be discovered and coins to be collected while exploring the landscapes.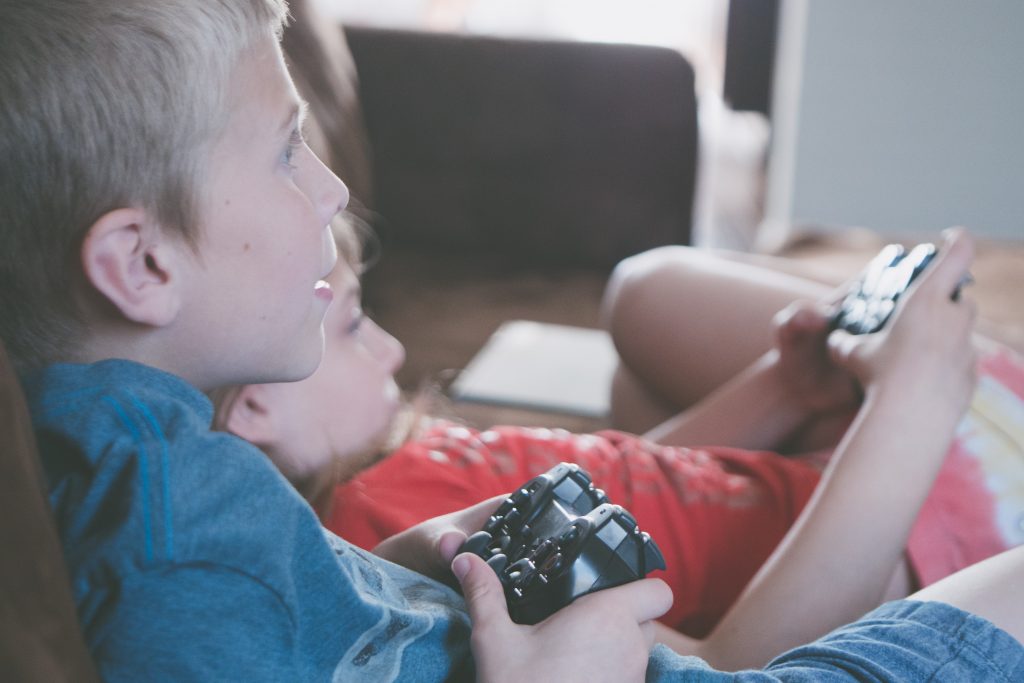 https://www.pexels.com/photo/two-boy-and-girl-holding-game-controllers-1103563/
Fruit Ninja
Fruit Ninja is a game that is developed and published by Halfbrick Studios and can be played across various platforms. In Fruit Ninja, your mouse pointer or digit is converted into a sword with which you are supposed to cut the fruits that appear on the screen into two while trying to avoid game-ending bombs. This particular game also offers local multiplayer that enables more than one kid to compete with each other.
Little Alchemy2
Little Alchemy is a match-and-discover puzzle game which brings out creativity and imagination in the kids. In this game, player mixes various items to create and build their own virtual world. Sometimes inventions like adding water to water to create puddle are obvious ones while other times they can be funny and whimsical. For instance, combing metal and pigeon would give you a plane.
Contre Jour
Contre Jour is a physics-puzzler game that is developed by Mokus and published by Chillingo. The aim in this game is helping the protagonist Petit to reach the glowing exit by click-dragging hills, utilizing catapults, dangling tentacles, etc in order to maneuver his movements. Eye-pleasing visuals along with clever levels are sure to develop the problem-solving ability of your child through this game.
Spelunky
Spelunky is a 2D platform game that is accessible on Microsoft Windows. Here the player has control over the protagonist, i.e. spelunker who explores caves while collecting treasures, fighting enemies, saving damsels, and avoiding traps. The series of different caves are generated procedurally to make every single run through unique.
Conclusion
Age appropriate games can aid children to develop problem-solving and cognitive abilities, improve decision making, build dexterity, etc. Hence it becomes necessary that we choose games that influence a child's personality in a positive way instead of games that have a negative influence or are passive in nature. The above-given list of games is engaging, comes along with great visuals and makes seeking knowledge and developing personality fun and interesting.