According to a recent survey, many parents have admitted that they often find their little ones keen to assist them while they are in the kitchen.
Children are indeed inquisitive. However, their curiosity and willingness to explore the world drive their physical and mental growth. Thus, if your child is eager to assist you in the kitchen, use it as an opportunity to get them involved and teach them about the dynamics of cooking. 
And while there are many recipes to explore, making cookies is probably the best way to keep the kids engaged and spark their interest in cooking. For convenience, you can use the premade dough such as Doughp – it's made of quality ingredients and it can be consumed raw! To find out more, follow the link for the full Doughp Cookie Dough review.
But you should keep in mind that teaching kids about cooking is not as easy as it may seem. You need to ensure their safety and security in the kitchen so that they don't get injured and invite trouble.
To avoid that, here we have curated a list of some ways that can help you nurture your child's love for cooking. Follow along to learn more about them.
    Teach them about the safety standards
Before you even let your child in the kitchen, make sure you teach them about the basic safety rules and standards. This will keep them safe while they are exploring and experimenting in the kitchen.
Here are some kitchen safety rules your child must follow no matter what.
    Always use kitchen towels while taking something out from the oven or stove.
    Use wooden knives until they are old enough to use the sharp ones.
    Wear well-fitted clothes made of cotton instead of silk or polyester to prevent any fire accidents.
    Always sanitize or wash hands before starting with the recipe.
    Do not climb on the kitchen shelves.
    Do not use plastic utensils for the oven.
Additionally, make sure that you are supervising your kids in the kitchen to prevent any potential accidents.
    Use their playtime to your advantage
Research shows that kids learn best while playing. And you can use that to your advantage to elevate your little one's interest in cooking. For this, all you need to do is to incorporate a kitchen play set for kids and encourage them to use it while playing.
Playing with toy utensils, fruits, veggies, bakery sets, shopping carts, wooden coffee machines, and wooden cupcakes can encourage role-play activities. Not to mention, your little one would also get to learn kitchen vocabulary, making them more interested in cooking.
    Give them control in the kitchen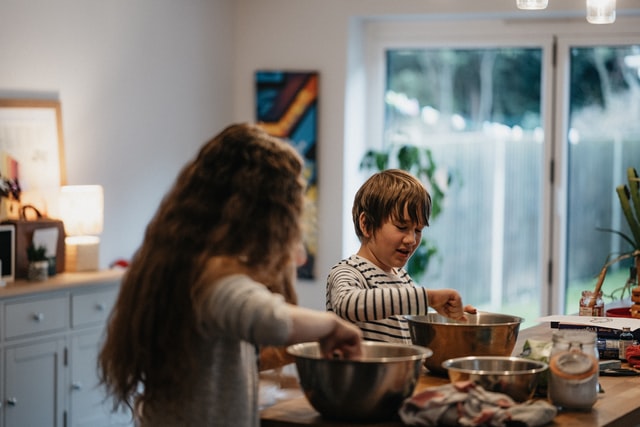 Kids love to feel responsible. Thus, the best way to teach them about the dynamics of cooking is to give them control in the kitchen. Ask them to flip through cookbooks and pick their favorite recipes. You can also encourage and assist them while they are following through with the recipe.
If your kids are not old enough to handle cooking equipment, you can assign age-appropriate kitchen tasks such as measuring ingredients, passing utensils, and keeping an eye on the kitchen's timer.
That's a wrap
Cooking is a basic life skill everyone should learn no matter what. Developing and mastering cooking skills can help your kids in the future when they are all set to live an independent life. So, use the tips mentioned above and nurture your child's love for cooking.