With 2021 just around the corner, it's time to think about how to keep your home up on the latest trends! For interior and exterior alike, there are many home trends to check out for the upcoming year. Whether you're planning a big renovation or a small redecoration, be sure to keep up with which trends are over, which ones are on their way, and which are here to stay! Here are a few to keep your eye on, if you're looking to mix things up.
Nepal And Tibet Hand-Knotted Rugs – Rugman
What do you do when you want the comfort and quality of a hand-knotted rug (which, unfortunately, does not exist in machine-made rugs) and the fashionable style of a modern rug? In this case, Nepal and Tibet hand-knotted rugs would be an appropriate choice for you, since they have modern design and high-quality material, usually a combination of silk and wool.
Rugs from Nepal, Tibet and the Tibetan diaspora in India are collectively called Tibetan rugs. Tibetan rugs have existed since antiquity and some of the earlier ones have floral and tribal designs. They had a different knotting style than rugs of other regions and also lacked the intricacy of Persian rugs. Traditional Tibetan rugs, however, were never very popular on the world market, and so Tibet and Nepal rugs were little-known until their weavers accommodated themselves to the change in Western preferences toward modern home decor. When this happened, Tibetan rugs became very popular worldwide, particularly in the West, such that almost all Tibet and Nepal rugs on the market today have a modern design.
Today, thanks to Nepal's and Tibet's strong export industry and the popularity of modern rugs in the West, the rug industry in these regions are booming.
Build Your Own Shoe Cubby – Art And Home
When you are short on space, storage can be at a premium. This clever and creative DIY storage idea will help you maximize your space and minimize the clutter in your home by giving you a place to store things until they are needed.
From some of the brightest minds in DIY storage solutions, we have pulled together some truly unique and clever ways that you can create storage areas in almost any room in your home.
Here's antique mail sorter turned stylish shoe storage was seen last year in my mudroom reveal and in my DIY chalkboard Calendar post.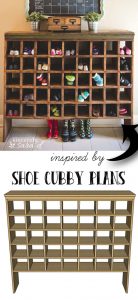 The Best Curtain Colors for a Cool Winter Vibe – Lushes Curtains
Color psychology is so important when you are decorating for a cool winter vibe. Some colors can actually make you feel calmer, more relaxed and more laid back and create the sense of cold and chilliness. Here are a few examples of the best luxury velvet curtain colors to choose when you want to create a chilly winter vibe;
Light blue – Yes, light blue is of course on the top of our list. The color blue is great for relaxing your mind but it also creates a sense of cold. When you step into a room with light blue velvet curtains you will immediately feel a lot chillier even though the room might be warmer.
Mint green – Mint green gives a fresh and minty vibe and is also great for creating a cool winter vibe in a room. You can definitely choose a minty or light green luxury curtain to simulate a wintery look.
Light purple – Light purple is also a chilled and cool color that will make your home feel a lot chillier on a hot summer day. It is a great color for a modern home look and light purple curtains will certainly look beautiful.
Light denim – A light or washed out denim color also simulates a chilled and cool feeling and the fact that denim is so laid back also makes this a good color for a chilled room.
Turquoise – Turquoise is a mix of green and blue which means it will also work perfectly for a winter vibe. Just stick to a light turquoise and you can instantly create the sense of winter in a room.
Cool colors are great for controlling your home's temperature much better and with the right set of light velvet curtains, you can enjoy a fresher and cooler home with a sense of luxury.
Looking for remodeling inspiration? Start with your floors – MK Remodeling and Design
Some people struggle to commit to remodeling because they can't settle on the reason to do it. Should you remodel for yourself? Should you remodel for resale? The answer depends on your timeline!
If you see yourself moving in five or so years, think about remodeling for resale. That means going over a list of things buyers like with an expert, such as a designer or real estate agent, and coming up with a cost-efficient plan.
If you don't see yourself moving for 10 years or so, if ever, then personalize away! Make that home the living space of your dreams. Remember, the best return on investment is happiness.
We would like to suggest hardwood floors!
First, they offer great value. Most hardwood floors recoup 70%-80% of their value! Getting their money's worth is often the most important factor to consumers.
Second, they have universal appeal. If you plan on selling in the future, hardwood floors are in demand, according to the real estate pros.
Finally, they last a long time. With proper care, hardwood floors offer the longest life span versus other flooring materials, the article says. And that threshold for proper care is pretty minimal.
Nowadays, picking out the best tile for bathroom renovation is an overwhelming task because of a variety of factors you need to consider, such as texture, color, shape, and design. In the past, it was easy to choose the best tile for remodeling purposes since functional benefits such as low maintenance, durability, and water resistance were the only things considered. However, this is the opposite of this era. Today, the tile's aesthetic impact has the same weight as its functions. As a result, manufacturers have made several changes on their selections to provide unique tiles to the homeowners. From the current research, we have come out with the top trends in bathroom tiles in 2019 that every homeowner should consider when deciding to renovate their home. These trends essentially covers the tiles' patterns, finishes, shapes, and colors.
Subway Tiles
Hexagonal Tiles
Geometric Tiles
Dark And Stormy Tiles
Spanish And Moroccan Tiles
Mosaics Tiles
The Interior Design Trends of Spring/Summer 2021- CB Homes
Although we're not interior designers, we always like to see the choices our clients make when it comes to kitting out their home. It probably comes as no surprise, then, that we're back with another interior design trends post – we'll be predicting all the styles you're going to see in stores and magazines this spring/summer. If you're looking to spruce up your home in 2021 and want to be on-trend, look no further.
Textures are back in a big way
The safari fashion theme spills over
Yellow shades will be everywhere
70's colors mix with Scandi lines
Brave it with black
Delicate neutrals are in this year