As the warmest part of the year is about to end, the time to prepare your garden for the colder months approaches. Being an organized gardener and going the extra mile to make sure you properly winterize everything will not only save time, energy, furniture, and equipment but will also ensure a good head start when the warm weather returns next spring.
Let's find out how below!
Get your Garden Ready
Prepping your garden and doing general maintenance is the first step towards winterizing.
Put away any equipment, tools, and other supplies first, so they don't get in the way.
Next, dig up dying or sickly plants and remove any slimy leaves. They are simply unfit for composting and, on top of that, can spread disease or pests, so the best course of action is just to burn them.
Move all plants sensitive to cold to warmer environments to protect them.
Remove any invasive weeds to prevent them from sprouting all over again and disrupting the next year's crop. Add a thick layer of mulch to help regulate the soil's temperature and moisture. 
Use some compost heap to top up garden beds and amend deficient soil, freeing space for another batch. You can easily build it with autumn leaves, straw, or sawdust layered with kitchen scraps or other active green matter.
Outdoor Furniture
The next thing you want to take care of is to prepare your garden furniture for the winter. Cleaning, refreshing, or providing protection from the elements will ensure that your outdoor furniture will last longer and require fewer replacements over the years, saving you lots of money.
Clean
Your outdoor furniture will likely have stains, dirt, and grime from daily use, so before you do anything else, it's important to clean them properly. As a rule of thumb, you must never use abrasive cleaners, for that will surely damage any type of material.
Use mild cleaning soap and scrub your furniture with a sponge or a brush. Use the brush on the tougher stains. If you have resin wicker furniture, it's important to clean between the weaves with a soft-bristled brush. Avoid leaving wrought iron furniture to be wet for too long, for that will surely cause rust.
After you're done washing, wipe your furniture with a clean, dry towel and leave them to air dry completely.
Refresh
Refreshing your furniture before winterizing is a great way to start the next spring. You will not have to worry about them looking a bit shabby, but if you give them a great makeover, it means you won't need to buy anything new, potentially saving you quite a lot of money.
Just a quick note: before you start refreshing your furniture, be sure you've properly cleaned them first.
Here are some ideas on how to refresh your outdoor furniture:
Use spray paint to make your old piece look brand new. Not only is spray paint inexpensive, but you can easily repaint if you change your mind and don't like the results;
If you have natural wicker, you can get that oiled look by applying tung oil. That will not only make them look great but provide a protective layer from the elements;
Add some colorful pillows to update and refresh a style that feels a little tired;
To refresh your faded chair seats, you can reupholster them every few years;
As a rule of thumb, teak furniture, although extremely durable, should be refreshed every couple of years. Use a teak cleanser, followed by some light sanding, and then seal it with a protective sealer. 
Refresh your weathered wood furniture with a new coat of paint after you sand and clean it first.
Store
A great idea would be for your shed to be dry, waterproof, and well-maintained. That's why it's important to insulate it if you haven't. Use bubble wrap, Rockwool, or Celotex to get the job done. That is the only way to ensure your outdoor furniture and other stuff are safe from all the elements.
If you plan to leave the furniture outside for the winter, know that it will be exposed to the harsh winter weather and might not last you very long. Your best bet to help mitigate all that is to invest in furniture covers or traps.
Both of these protectors are quite efficient at keeping the dreaded moisture and H20 away from your furniture, while also mitigating the effects of the sun's UV rays. They are also a good idea for use on rainy days during the summer.
Outdoor cushions should be stored inside, where they will be protected from the elements. That way, you will enjoy them for much longer come the warm seasons.
Gardening Tools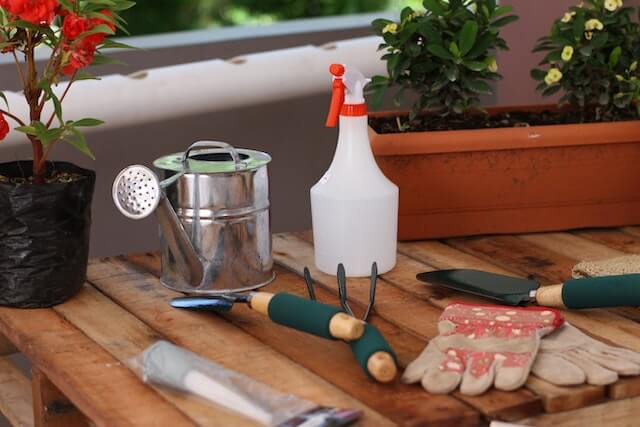 Proper maintenance and storage will ensure your tools will be ready for work on that first good day of spring without you having to clean fossilized dirt from last summer. Cleaning and refreshing your tools will also ensure they have a long useful life and save you quite a bit of money in the long run.
Clean & refresh
Although most seasoned gardeners know that they should keep their tools clean, it's kind of hard when you have so much gardening to do in the summer. That's why autumn is the best time to rejuvenate and store your tools and equipment properly for the winter.
Here are some good ideas and practical advice:
Wash or hose any clinging dirt from your tools thoroughly (use a putty knife if needed);
Clean the pivot points of bladed tools from any dirt and debris, and use rubbing alcohol and steel wool to clean off any dried sap;
If there's rust, remove it with sandpaper or a wire brush;
To seal the metal from oxygen after you're done cleaning, rub the surfaces with an oiled rag covered with light machine oil;
If you use sprinkler systems, disconnect all hoses first, then drain them of any water, seal any holes, and loop them up neatly;
Run your lawnmower until its fuel runs out to avoid sitting fuel damaging the plastic and rubber parts over winter. Remove and clean the blades, then oil them. Also, remove the battery to prevent it from accidentally starting during winter.
Store
You should store your gardening tools and equipment in a shed or a garage. The only requirement is that the location is dry, so nothing gets damaged during winter.
It's best to store your tools on a rack to keep things nice and orderly. Ensure that wooden handles aren't resting against cement or soil, which will surely lead to rot. Shovels must be stored on hooks or with the handle on the ground, otherwise, the blade will become dull.
If you have little or no room where to put everything, it sometimes makes sense to get additional storage space. There, your tools and equipment will be stored safe and sound for the winter while you use the additional space in your home whichever way you see fit.
Conclusion
It pays to be a well-organized gardener and prepare your garden furniture and tools for the following year. Not only will that ensure that everything will be ready to use immediately, but also that no damage will slow you down next spring or cause you to give additional money for repairs or replacement.