Your date is coming up slowly but surely and you've already started to panic because you don't know what to wear? Look no further because we're here to help you out! Here are five casual date fashion ideas you should know about, so check them out and start planning your outfit right now!
Outfit #1: Black dress + oversized denim jacket + ankle booties
Let's be honest – the iconic little black dress will never go out of style, which is exactly why you should choose it for your upcoming date. Of course, we aren't saying that you should pick an elegant black gown – a casual mini or midi dress will do the trick, especially when matched with an oversized denim jacket and a pair of black ankle booties. Such an outfit is more than perfect for an informal dinner or a movie night, so go for it and you won't regret it!
Outfit #2: Oversized washed-pink shirt + skinny jeans + leather flats
Pastels are making a huge comeback this season, so make sure to incorporate your favorite shade into your flawless date night combo. An oversized washed-pink shirt is always a great choice, so get a couple of trendy women's T-shirts in this color and rock your casual outfits like a true fashionista. Combine this shirt with your favorite skinny jeans in order to balance out the entire look, and then add a pair of cute leather flats to complete it. The last thing to add is a thin belt around your waist and voila – your look is all done!
Outfit #3: Striped T-shirt + pencil skirt + ankle booties
On the other hand, if you prefer patterns rather than just monochromatic looks, you should go for a black-and-white striped T-shirt and match it with a regular black pencil skirt. Even though this combo probably doesn't seem particularly attractive because of the lack of color, you can easily transform it into a stylish and eye-catching one by adding a touch of your favorite shade. For example, a nice red scarf and a red lipstick will do wonders for your overall look, as well as a pair of vibrant earrings that'll make the entire outfit much more appealing. When you're done with accessorizing, just slide into your trusty ankle booties and you're good to go!
Outfit #4: Black one-shoulder shirt + denim shorts + white sneakers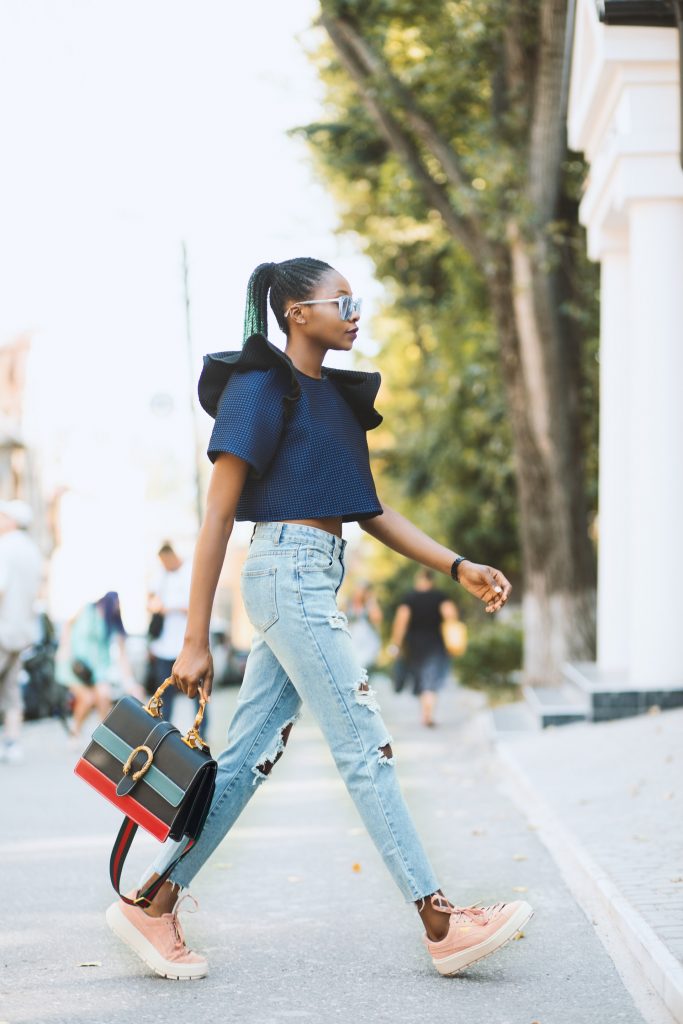 If you've always loved to stand out from the crowd and wear something different than the majority of people around you, we reckon that an asymmetric top should be your garment of choice! A black one-shoulder shirt that features a long sleeve is definitely a piece you simply have to own, so get it for your upcoming date and combine it with cute denim shorts you love to wear. As for your footwear, a pair of white sneakers is a great choice as it'll add a casual vibe to your outfit and make it much more wearable.
Outfit #5: Floral maxi dress + knee-high leather gladiator sandals
Maxi dresses are a massive hit in the fashion industry nowadays, and this is particularly true for pieces that feature a gorgeous floral print. So, if florals are your thing and you love to emphasize your feminine side through your fashion choices, you should certainly opt for a stunning floral maxi dress and match it with a pair of knee-high leather gladiator sandals. This combo is everything you can wish for, so give it a try and you'll see what we were talking about!
As you can tell, there are a lot of potential outfits you can rock on your date, but these five are undoubtedly the best ones out there. All you have to do is to pick one that suits your preferences in the best possible way and get ready for a date like a real fashionista!