When was the last time you thought about how to light up your home at night? While you probably want a good porch light and a light for your back deck, most people don't go beyond those basics. But what if you could use a variety of outdoor lighting types to brighten up your home at night and make some of your outdoor spaces more useful when the sun goes down? 
The right combination of lights can turn your house into the perfect nighttime destination for entertaining and relaxing. It can also or provide security against intruders who might otherwise be able to hide in the shadows. Here are some options to help you choose exterior home lighting no matter what your goals are.
Deck Lighting
When it comes to exterior lighting, deck lights are an excellent way to illuminate your outdoor space. If you want to illuminate the whole area of your deck, a great option is recessed lighting. You can also use strong lights on your deck railings to brighten the space. Spotlights work well on stairs leading up from your home or patio so that you and your guests can see where you're going.
Roof Lighting
Roof lighting is a great way to brighten up the underside of your roof, which might otherwise be hard to see. It can also be used to create a dramatic effect, highlighting architectural features like chimneys or dormers. Roof lighting is also useful for highlighting a roof deck or garden. You can get simple white lights or spruce things up with some color even when it's not the holidays.
Lanterns
Another great decorative light feature is a lantern. Lanterns are the perfect choice to light up a small gathering outdoors. You can hang them from hooks, set them on tables, and even place them in safe spots on the ground. They come in all sizes and make your backyard look amazing and beautiful. The best part about lanterns is that you can use them inside and outside; plus they're perfect for patio parties in the summertime.
Pathway Lights
Lighting up walkways not only brightens up your home at night, but they also can help improve safety. You are less likely to trip on things in the dark if there are lights on the way. This is great for those times when your hands are full and you can't see the ground when you're walking from the car to the front door at night. Plus, if you have trees or bushes in front of your house, you can use pathway lights there as well.
Recessed Lighting
Why not use recessed lighting on your porch? Instead of just getting light from the fixture at the door, you can illuminate the whole thing. This type of lighting is often used in kitchens and bathrooms because it can be installed in the ceiling or on the wall. Recessed lighting can also be installed in conjunction with other types of lighting to light up a space in different ways.
Spotlights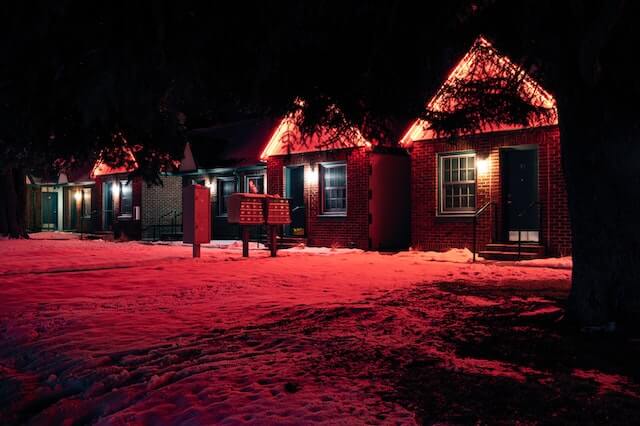 Spotlights are used to highlight a specific area of your home. You can use them to illuminate your roofline if you want to show off the beauty of your home features or you can use them as security lights that only turn on when there is someone or something lurking around your house. Another great way to use a spotlight is to shine them on a bush or a tree that you love and want to highlight at night.
Hanging Pendants
Pendants are easy to install, stylish, and look great on the porch. When you enjoy spending time outdoors you can use large and small pendants in the space to brighten things up and create a stylish home entrance.
Post Lights
Post lights are mounted on a post or column and can be used to illuminate an area that needs lighting up. For example, if you have a walkway that you want to light up at night, post lights could be the perfect choice for this purpose. And because they are up high, the light spreads over a wide area. People love post lights in gardens, on walkways, and even at the front of long driveways.