Savory, gooey, creamy, melty, and tangy. There's an entire myriad of reasons why people just can't get enough of cheese. But if you're one of the many eaters out there who has adopted the plant-based lifestyle or given up on dairy for good then you might be daydreaming about that one last bite.
Lucky for you, there are more dairy-free cheese substitutes than ever before!
As vegans have become more experimental with their ingredients, and a broad number of dairy-free cheese alternatives have appeared on the market as well as recipes you can make at home. If you're someone who is not familiar with the undeniable flavor of vegan cheese then let's go on a little journey.
What is vegan cheese made from?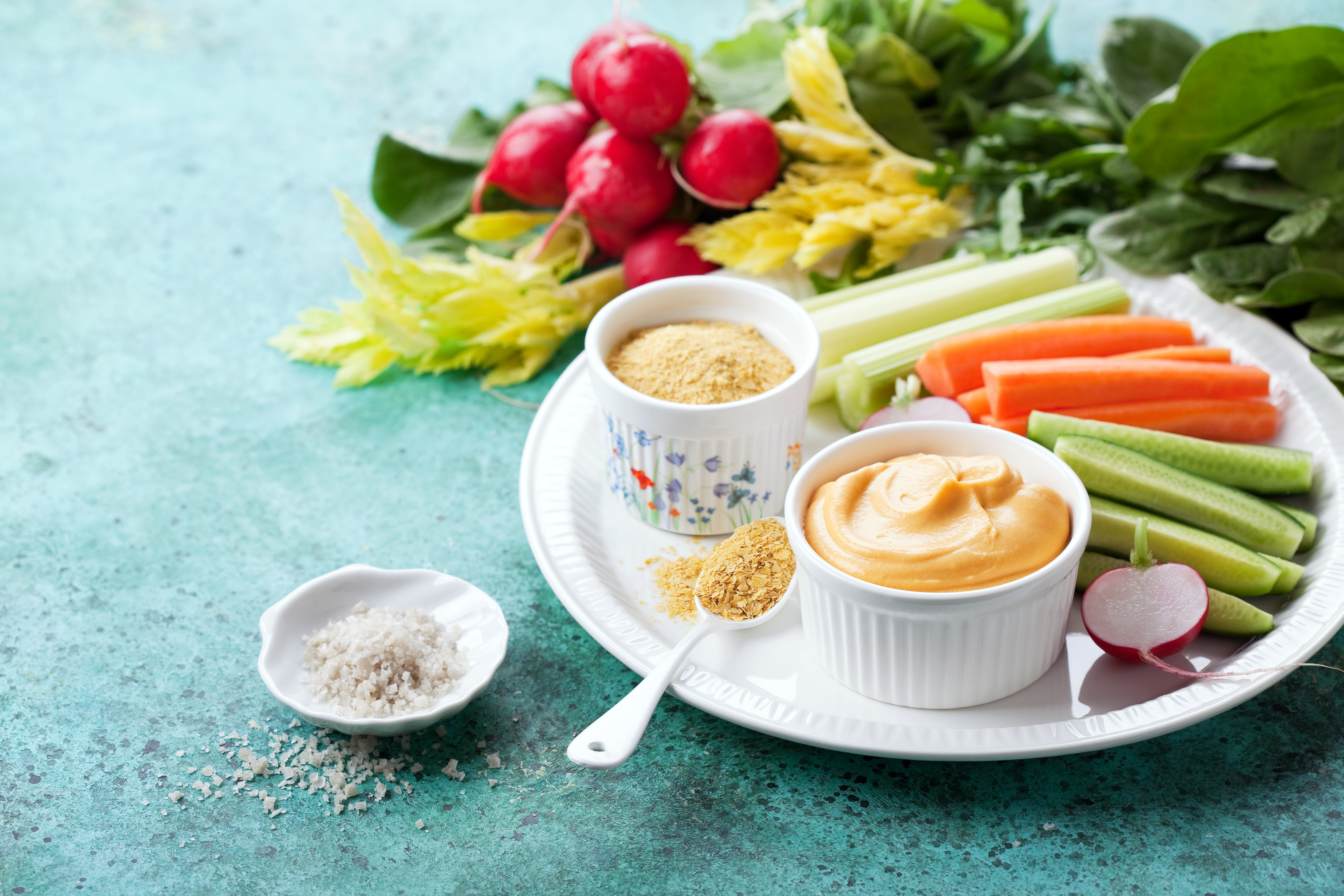 Vegan cheese is a dairy-free alternative to traditional cheese and can be made from a number of different ingredients such as nuts and seeds to tofu and soy protein in order to replicate the variety of flavors and textures of dairy cheese.
There is no one singular vegan cheese anymore! As the growth of the plant-based cheese market grew 51% over the past two years, so did the options for finding the best slice to melt on your sandwich. 
Chefs have taken on the task of recreating favorites like feta, parmesan, nacho cheese, and even mozzarella in order to meet the dietary needs of plant-based eaters everywhere. Here's a short list of some common ingredients found in vegan cheese:
Nutritional Yeast: Often found as one of the main ingredients in a vegan mac n' cheese, nutritional yeast brings a surprisingly cheesy umami flavor to dishes and is sometimes used as a parmesan substitute.
Nuts and Seeds: Nut bases for non-dairy cheese are fairly common, and ingredients like cashews, almonds, macadamia nuts, and pine nuts can create substitutes for cream cheese, and mozzarella.
Tapioca Starch: Tapioca starch gives non-dairy cheese its stretchy texture when melted and is often used as a binding agent.
Tofu and Soy: The crumbly texture of tofu already resembles some dairy cheeses, and can be used to recreate cream cheese, feta, and sometimes non-dairy nacho cheese!
Does vegan cheese melt?
Much like with dairy, some vegan cheese melts while others do not. If you're looking to find a vegan cheese that gets melty, just look at the ingredients list and look for coconut oil or tapioca starch. While coconut oil means you're likely to get a melty dairy-free cheese, tapioca starch will give you that picturesque stretchy texture that compliments a yummy grilled cheese.
Does vegan cheese taste good?
With such a wide number of vegan cheese available on the market today, in all types of forms, there will always be a delicious dairy-free alternative out there to suit any palate! Plus, even if you can't find a market near you to accommodate your search for non-dairy cheese you can always find a recipe online and cook it at home.
Here are some of our favorites:
Siete Foods
View this post on Instagram
Siete Foods Spicy Blanco Cashew Queso is a dream to dip into with tortilla chips, and if you're also grain-free Siete Foods offers plenty to choose from. Creamy with just a touch of jalapeno spice makes this a yes from me!
Kite Hill
View this post on Instagram
Kite Hill's amazing cream cheese is made from almonds and welcome addition to my morning bagel. Tangy, creamy, and easy to spread, you can sub Kite Hill cream cheese alternative into other recipes like a lunch wrap or artichoke dip.
Field Roast
View this post on Instagram

Field Roast's Vegan Chao comes in tons of delicious flavors and also available in both slices and shreds to meet whatever non-dairy cheese needs the night calls for. But who could say no to melty garlic and herb cheese on ciabatta?
Is vegan cheese healthy?
Just like with any part of a healthy diet, everything is about moderation! You should always take into account the nutrients, healthy fats, and fiber found in your vegan cheese. Diets found containing more plant-based protein, nuts, and fiber has been found to improve blood pressure and lower cholesterol in a recent 2018 study published in Progress in Cardiovascular Diseases Journal. Some non-dairy cheeses made using coconut oil do contain higher amounts of saturated fat but so long as you're not consuming them in large quantities, vegan cheese can be enjoyed as a part of a balanced diet and healthier than dairy cheese.