Gorgeous, voluminous hair is a woman's best accessory. However, we all know how much time, effort, as well as money one needs to invest into getting our hair to be healthy and beautiful and keeping it that way. Still, nothing can match the divine feeling we have after getting our hair professionally done in a salon. Hairstylists know that there are a few key factors that one needs to take into account in order to always have healthy, shiny, and perfectly styled hair. Keep on reading to find out what professional secrets to always having a good hair day are.
1. Get regular haircuts
Chopping off dead ends can significantly improve how our hair looks. Visiting a hair salon for a trim every three or four months will ensure that your hair looks neat and also thicker, as dead ends make one's hair look quite messy and unkempt. Moreover, with nicely trimmed locks you can be sure that any hairstyle will turn out looking fabulous, even if you simply air-dry your hair and wear it entirely naturally styled. Professional stylists accentuate the importance of getting a haircut that suits your hair type and the shape of your face. Thus, make sure to listen to the advice your hairdresser will give you so that you can mutually come to a haircut that is according to your wishes but is also suitable for your hair type.
2. Don't wash your hair too often
The city air is quite polluted nowadays, but also from using hair-styling products and sweating while working out, our hair easily gets dirty. Nonetheless, this doesn't mean that you should wash your hair on a daily basis. Experts advise washing hair once or twice a week, in order for it to be shiny and our scalp to be healthy. In the meantime between two washes, you can, for example, opt for a good, old, messy bun or a high ponytail. Brush your hair to be sleek, put on a voluminous clip in ponytail, and enjoy a day of perfectly styled and chic hair. What is more, this kind of sleek ponytail looks better with hair that isn't freshly washed and is also quite easy to create, as long as you have some hairspray and high-quality clip-in extensions. Another great tip to refresh your locks is by using dry shampoo. Make sure to only apply it to your roots only and remove any possible residue.
3. Learn to love your hair type
Curly, straight, or wavy; one should learn to embrace and nourish their natural hair type. Constantly curling straight hair or straightening hair with curly texture can do a lot of damage to it. Thus, you should go for a hair care routine that is designed specifically for your hair type. Using the right hair styling products and avoiding unnecessary heat will ensure that your hair is hydrated and nourished. You will soon realize that with hair this healthy, you need minimal styling as you will have gorgeous hair throughout the day and night. Just be consistent with a high-quality hair care routine and you will love the results.
4. Blow-dry your hair like a pro
Many girls believe that one can never get hair as smooth and voluminous when blow drying it at home as when you get it done by a professional hairstylist. Well, this isn't the case if you know a few pro tips. First, hairstylists say to use a heat protectant to make sure that the hair stays in good condition, as you will be using heat while blow drying it. Second, get a good-quality round brush and start blow drying the hair while your head is upside down. This gives volume and prevents frizz, which means that you are killing two birds with one stone. Once your hair is almost completely dry, stand back in the normal position and slightly shake your locks. Then focus on polishing up individual sections and especially pay attention to the part of the hair that is framing your face. Once the hair is completely dry and you are happy with the final result, just warm up a few drops of hair oil between your palms and run your fingers throughout the hair.
5. Silk pillowcases are your best friend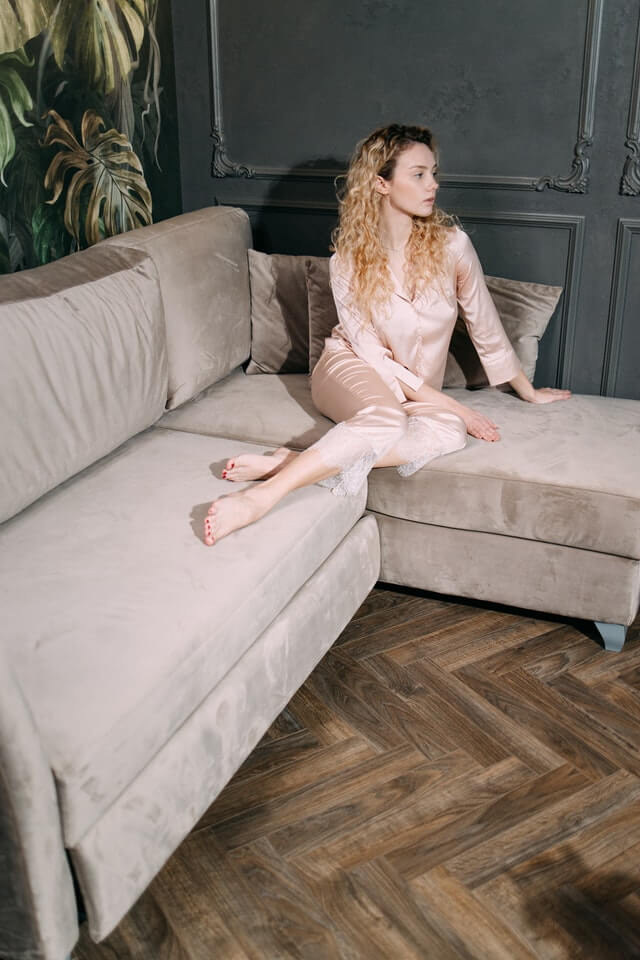 When we think about the care we give our hair, we rarely or never think about our pillowcases. Well, hairstylists reveal that this is a big mistake, as dirty and harsh pillowcases can damage our hair (and skin, for that matter). To avoid unnecessary damage, frequently change and wash your pillowcases and switch the cotton ones for silk ones. Not only will these materials be much gentler to your hair but they won't absorb the hair products you apply before going to bed. Moreover, silk pillowcases will ensure that your hair doesn't get tangled while your sleep and that your perfectly styled hair remains that way the next morning. If you want to pamper your hair, even more, switch any old hair ties for chic, silk, or satin scrunchies that won't break your hair.
Finally, we can say that gorgeous hair is a dream that can easily become a reality for you. Just apply these professional tips and be consistent with your hair care routine.