Make this 2020 the new year you start shedding light into your home with newer window treatments. Whether it's to give your windows a facelift or purchase new curtains, something's got to change for the better.
Even the smallest alterations can spruce up your rooms! But where can you start? Read on to find out the top six window treatment trends you can follow today!
1. Home Renovation to Welcome the New
I'm sure you've watched home improvement shows at least once in your life, and that you, or someone you know, is addicted to it!
The old home restoration trend goes beyond our favorite shows and will continue in many homeowners this 2020. While some renovations start to modernize, others will want to stick with the older home's foundational design, utilizing what they have at home to make into something new.
You can incorporate traditional window treatments such as box, pencil, or pinch pleat curtains. These are perfect for older homes.
2. Open Floor Plans For More Light
Open floor plans are already becoming very popular because of how it adds flexible space, making a home look bigger. It also adds in more light and a nice view of your garden or backyard for a more positive ambiance.
You can embrace the open space and let even more light in by adding lightweight window treatments and pair it with breeze, open curtains without any blinds or sheers. This accentuates a good view while having a home look even brighter and more open.
3. Palettes Go Coastal
Did you know that Classic Blue is Pantone's Color of the Year this 2020?
That's why it's time to usher in coastal-inspired colors, such as blues, crisp whites, and/or fresh greens! You can do this with your window treatments as well, which can make your home look stylish and trendy.
For those who have the neutral decor in their home, opt for a blue accent in your window treatments, accessories, and pillows. You can even opt for trendy patterns while matching the color trend, whether you want stripes, plaids, florals, or whatever design you want to achieve. This will give the area a peaceful and tranquil vibe while connecting all parts of your room and personality together.
It isn't just the curtains and blinds to think about, but your curtain rods as well. Pair your coastal-colored window treatments with steel hardware, which is becoming bigger than ever. The curtains will embellish the simple and sleek rods, so look into bronze, nickel, or chrome materials that will give your windows a significant upgrade. 
4. Shutters Start to Gain Popularity
Blind products are beginning to grow in popularity, and it's going pretty quickly! Blinds and shutters offer classic style and more privacy to a home, as well as shade during the hot, sunny days. However, shutters alone can have your room look a bit cold. 
Soften the look of the shutters by adding drapes or curtains, with your rods long enough to clear your shutters, easily opening and closing it. The curtains or drapes won't only add design and color, but more privacy as needed!
Extra tip for those who want shutters: If you want wood plantation shutters but are on a budget, go for 2-inch wood blinds!
5. Rattan For Added Texture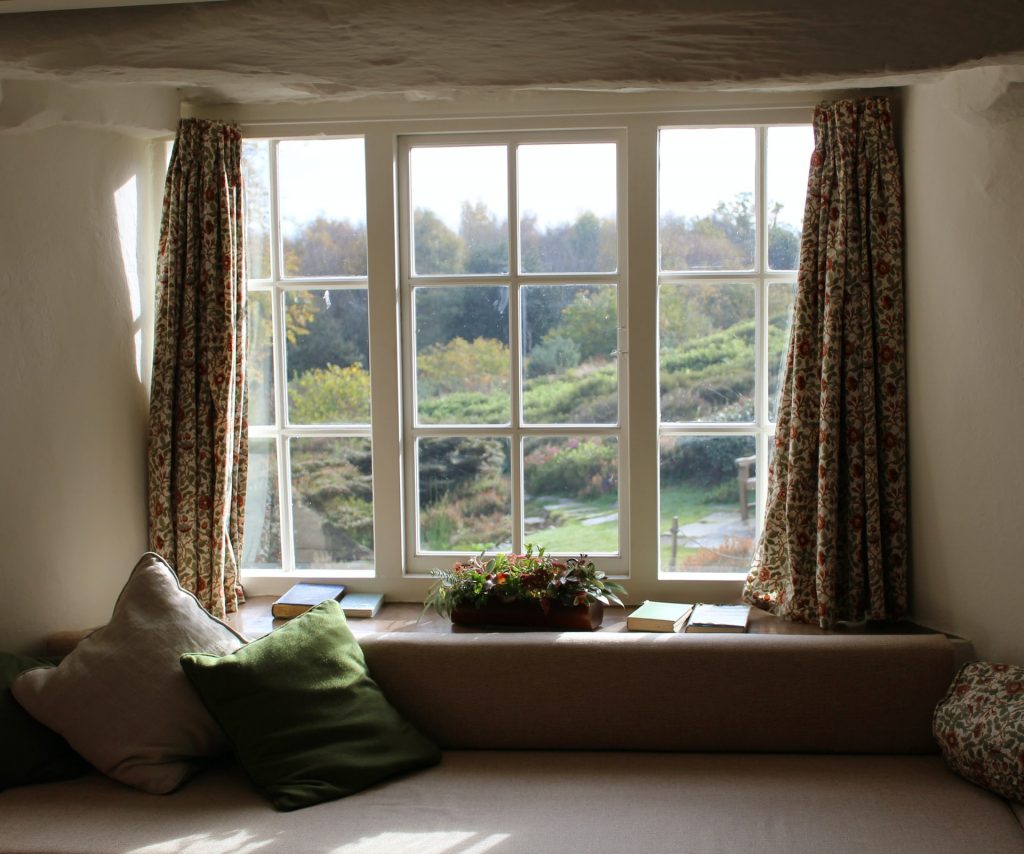 Rattan and wicker furniture was once a trend that faded out but is now coming back this year. The all-natural and eco-friendly look adds more warmth and beauty to a home, having you feel like you're away from home and in the tropics.
If you want to try this trend, invest in woven wood shades in bamboo or rattan for the textured and casual look. You can choose between dozens of colors and weaves to suit your preference! For those with a more traditional style, add contrasting binding tape to Roman shades, which adds formality.
Note that rattan and woven shades are usually see-through, depending on its weave. If you don't want liners (these block-like completely and are visible from the outside of your home), opt for curtains over the shades, adding privacy and some softness.
6. We Go High-Tech With Our Curtains and Blinds
This is an exciting new addition to this 2020's trends that we haven't seen from previous years. If you have a device-activated home, you can invest in motorized blinds or curtains, the latest home technology rising in popularity today.
Activate the window treatments using a remote control, your smartphone, or your home devices like Alexa and Google! While enticing, the downfall is its cost, which can go around $300 to $1,000 per window, depending on the size and window treatment type you want. This doesn't include special hardware and installation fees!
But if you have the budget, then it's time to give your entire home an upgrade, including the windows. No need to walk up to them to draw curtains out or cover your windows anymore!
For those who don't have the budget, not to worry. You can simplify the function and look of your blinds by investing in cordless lifts from Shuttterup Brisbane Blinds. These window treatments are easy to use and are a safe choice for children's rooms and nurseries. Furthermore, they give the windows a clean and modern look.
So if you want to give your windows a new look, don't wait any longer and try any of these treatment ideas today.