The kitchen is a part of our home where family spend most of the time. When we put our mind on re decorating or renovating the kitchen, we're always stuck! The hardest parts are where to begin and what exactly to do. To ease your mind we have tips from professionals that are working on home renovations and decor on daily basis!
4 Tips You Need to Follow to Decorate – Kate On Thin Ice
Moving can be pretty exhausting and overwhelming. But that's just the first step when it comes to starting your new life in your new house. Once that's finished, you need to turn it into a home, a place you feel comfortable in and truly love. Creating your kitchen as an environment that always makes you feel wonderful, is one of the steps!
You're probably fully aware that the whole decoration process can take a lot of time and energy. However, it's not impossible, and if you follow some guidelines, you will enjoy the whole thing and get the results you've always dreamed of. We got you covered with these 4 tips that will surely help a great deal with the decoration.
Everything starts with moving. Make it easier.
Old and new furniture
Redecoration doesn't always mean something totally new
Don't wait with the decoration. Start right away!
Experience tells us that those who don't begin redecorating their homes right after the move, will probably never start. If you really want to experience the feeling of a new home, don't wait around. If it feels overwhelming, you can go with small, simple steps. You've got to strike while the iron is hot and before you feel like settling into a daily routine.If you have a lot of projects you want to finish as soon as possible, like painting a room or replacing the flooring in certain places, you can start them before you move in. It's a lot easier to get the messier tasks like painting and flooring finished before you arrive. Just start doing the things you've envisioned and slowly everything will change around you.
Kitchen Renovation : 5 factors to consider – KIKI Interiors
A kitchen renovation will Increase the Appeal and Value of your Home
Upgrade your Appliances
Sinks, Faucets and Hardware
Wall Design
Revamp your Cabinets
Cabinets are one of the first features to be upgraded as they are an obvious requirement. They are also the first thing to get stained or damaged. If you want to modernize your cabinets, you can start with the hinges, and latches, as this improves the look significantly. Some homeowners even go so far as installing self-closing cabinet mechanisms which prevent slamming and allow you to take whatever item you want out of the cabinet and walk away without worrying if you have left it open or not.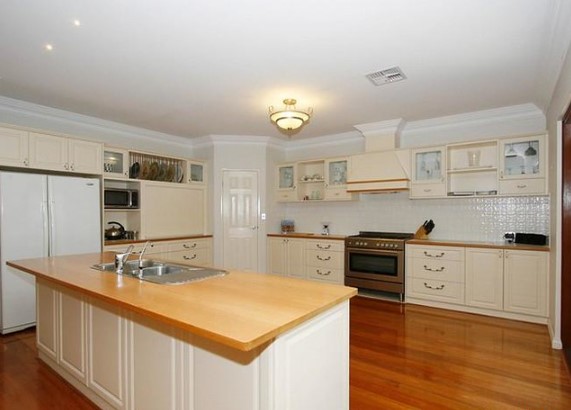 Several years ago I had purchased some under cabinet lighting that was inexpensive (Ikea), and had never used them. I installed those and now that allows for very nice lighting when needed for work but also allows a neat glow in the evening so you don't have to have the entire kitchen lit up.
I wanted something totally cool and different with substantial lighting since the island workspace will be used for lots of food prep. So a little thinking outside the box came into play when I saw this beautiful table with great detailing.
Are the doors on your kitchen cabinets becoming an eyesore so you are thinking about replacing those cabinets? Try removing the cabinet doors on the upper cabinets and doing a little refurbishment on them as an alternative. Because people tend to pay less attention to the lower cabinets, you can make the uppers your visual priority. Just one cabinet with no door can be an attractive shelf and useful, though you must fill in the holes from the door hardware. However, if the kitchen has all upper doors that are unsightly, removing them all will lower the appeal and functionality. In this case, replace them all. By focusing on the upper cabinets as a set, you do not have to match the lower cabinets, as contrasting upper and lower cabinets is a popular design trend currently.
Small Decorations for Small Kitchen – A Focus on Kitchen Rugs – Rugman
1. Narrow and Long Rugs
A long narrow rectangular rug would work well as this is often the typical shape of the average small kitchen. Even where that is not the case and you only want it to cover a specific part of the floor, the narrow rug or hallway rug is convenient for this role. Imagine the front of the kitchen sink or lower kitchen cabinets, underneath the kitchen stools or along the length of the kitchen island. You could also use a narrow rug at the entrance of the kitchen.
2. Round Rugs
Round rugs may feel a little out of place in tight spaces such as the floor of a small kitchen. You can find ways to make it work though like going for smaller rugs. A round rug can be a great fit underneath pet bowls or in front of your kitchen sink. If you are fortunate to have a walk-in pantry despite the size of the kitchen, round rugs can give your pantry that added touch of flare. You could also place the rug beneath kitchen stools.
3. Breakfast Table Rugs
Small kitchens can have breakfast tables only that they'll probably be smaller than what you'd have in a conventional kitchen. If you have a breakfast table, you can accentuate it with a rug. Kitchen tables may be round, square or rectangular so your choice of kitchen rug should take this into account for symmetry.
4. Outdoor Rugs
The kitchen rug doesn't always have to be something specifically designated as a kitchen rug. You can re purpose outdoor rugs for instance. They are great for the kitchen thanks to their durability and sturdiness. Think about the rigors of the kitchen environment such as spilled liquids, fallen food, broken dishes and the high foot traffic.
Outdoor rugs are meant to withstand dirt and harsh weather so will easily surmount whatever the kitchen throws at them. Better yet, they can be given a thorough clean regularly without any significant deterioration to their quality.