Have you ever dreamed about creating something so unique and so cool in your home, but oddly enough, so insane at the same time that it still feels perfect? Only when added a dash of the uncommon can one make something so unique that eventually deserves a place on our list of some of the most unique interiors in the world. Let's have a look.
1. Sustainable Architecture – sound design
A circular-shaped room extends from one end of the Wilkinson residence, a home designed in 1997. by architect Robert Harvey Oshatz and built-in 2004. for a music-loving client.
Architect Robert Harvey Oshatz creation, nested in Portland's lush West Hills, can be described as a symphony of glass, wood and sunlight streaming through its broad windows and bouncing against unique 3d gypsum wall panels.
Architect received an unusual request from Roy Wilkinson who was fascinated by songs and the acoustic capabilities and wanted a house that is truly unique. Natural music and brilliant architecture came together in this beautifully crafted treehouse.
A laid-back and cozy atmospheric feeling is inspired by travels around the world and sold worldwide. Custom made furniture, vintage finds, carpets and handmade objects can be seen enjoyed any time. Natural colours and traditional crafts collect that unique combination of ethnic design with simplicity.
2. A minimalist elliptical structures – the "cocoon"
Although it is considered a fine piece of art, the dramatic gravity defining stairs of Camenzind Evolution's greatest work is an unexpected source of inspiration for groundbreaking minimalist design.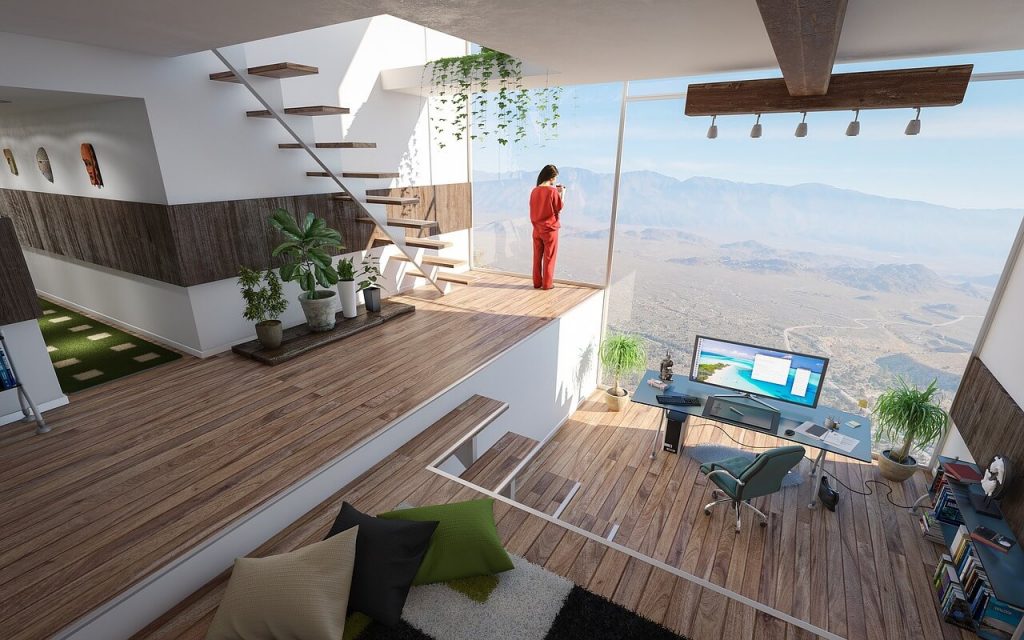 Cocoon is a stand-alone, elliptical structure located in Zurich Seefeld district which is built from one continuous spiral floor. The building is used as an office and all of the separate spaces are arranged along the rising ramp.
Dividing a building by horizontal storeys, the elliptical floor creates a unique environment for a new type of landscape. This creates a unique experience which can allow increased interaction and cooperation in the workplace.
The various elements like lift, spiral ramp, segments and stairwell constitute a clearly structured, versatile circulation system that provides both the desired interaction and the necessary flexibility to accommodate.
3. Red Bull New Amsterdam HQ – the game of light and dark
They say that Red Bull gives you wings – but if you're not careful enough, it can make your office sprout a pair of aeroplane wings and start a new life, like the one that a curious piece of interior design resulted with the revamped Red Bull's new headquarters in New Amsterdam.
The northern side of the Amsterdam port area in the Netherlands has been subject to a vast amount of regeneration since the 1990s so it is not strange how this wonder came to life. The new building features huge, futuristic steel triangular metal structures, skateboard-like ramps and slopes, as well as a mosaic of the Mother of God as a DJ.
The main challenge was to create a 'mystical' office space in such a simple, industrial building but to complement the core values of the energy drink company. The interior design of the space is divided and based on the human brain's two complementary sides – reason and intuition, good and evil, art and industry and light and dark.
Steel metal structures jutting out of the office landscape are painted with black to represent the ship's broken structure (building's former function was a shipbuilding factory). The office space is taken as large cave-like rooms that merge perfectly with the rest of the landscape.
4. Abedian School of Architecture in Australia
The Abedian School of Architecture in an Australian campus forms part of the Faculty of Architecture and Sustainable Design who has won the world's Best Interior Design competition in January 2011.
The Abedian School of Architecture on the Bond University campus is designed by Arata Isozaki. The building is a long, airy structure split over three levels, articulated by a series of rooms that allow for relaxation areas and breakout work areas. 
A sense of theatre to an educational environment and design.
As it befits a hot and sometimes sticky climate, the building is airy and folds over upon itself in the series of fan-like roofs and slits with the advantage to take of the east-west axis and clarify a very climate-controlled building envelope that includes sunshade on the sundrenched north side.
If a home is where the heart is, these interior design ideas will ensure that your heart melts instantly. Cool, modern or creative interior design is actually about creating a place you feel comfortable enough to express yourself and get your creative juices flowing – these ideas of interior surely inspire that!