The question was popped. Your wedding is finally happening. It's the day you've always dreamed about. One of the most important elements of having the "perfect wedding" is having the perfect wedding dress. The entire shopping experience can be stressful for the bride and everyone else involved. After all, there are countless dresses to sort through. Finding the right dress is oftentimes easier said than done. In this article, we will be discussing some of the key tips that should be utilized to identify the right dress.
Tips For Finding a Wedding Dress:
1. Come Up With a Budget
Your dress will play a major role in your wedding. It also happens to be one of the most expensive elements involved with the wedding. After all, The Knot released a study in which the average cost of a wedding dress was a whopping $1,600. Therefore, you want to come up with a clear budget in mind. This way, you know exactly how much you can afford to allocate towards your dress. This will give you crystal clear shopping instructions when it comes to finding the optimal dress. The last thing you want to do is fall in love with a dress that is out of your price range. However, you shouldn't eliminate dresses if they are slightly out of your budget range. Due to the importance of your dress and the long-lasting nature of it, you can and should be willing to extend your budget to purchase the dress of your dreams. After all, you can preserve it after the wedding and it can serve as a family heirloom. You can always find other areas of your wedding in which you can shave off some cost by opting for cheaper options such as your decorations, cake, or elsewhere.
2. Don't Wait Till The Last Minute
Your dress is not something you want to put off. While you may be able to get away with putting other arrangements off until the last minute, your dress isn't one of them. You want to give yourself plenty of time to not only find the right dress but also to get it properly fit. The cushion you will want to give yourself only increases if you are opting for a custom made gown. You should be looking to begin dress shopping a minimum of 6-8 months before your wedding date. This way, you will be able to not only shop around and find the dress of your dreams, but you will also be able to get it properly fit with the right alterations. 
3. Do Some Research Prior To Shopping For Your Dress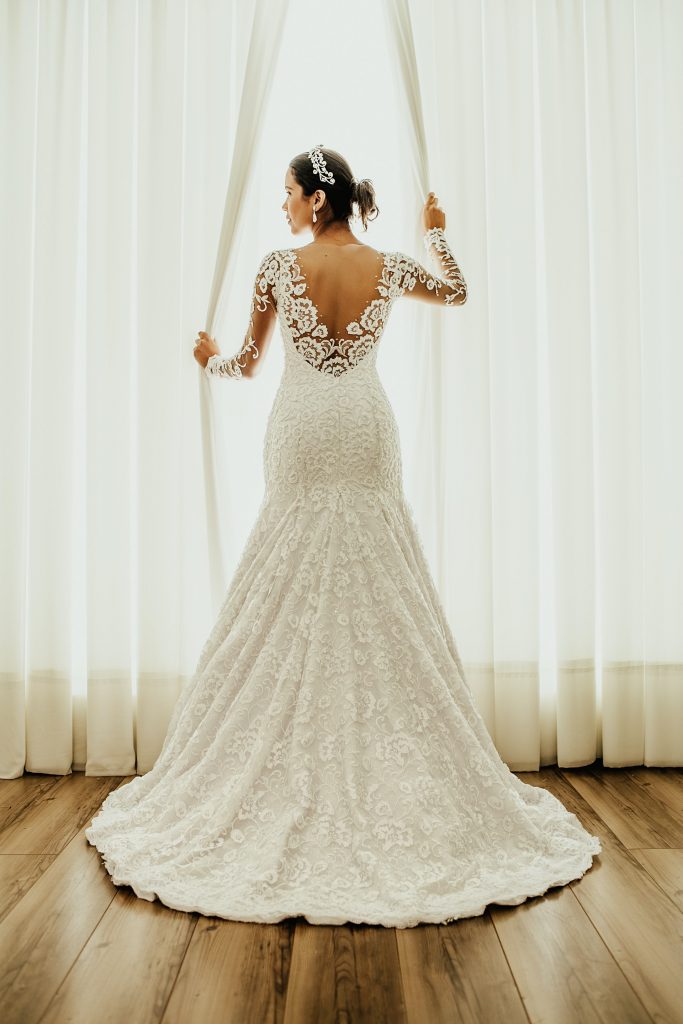 When you are about to go bridal shopping, you should be attempting to do research beforehand. This way, you will be able to give your bridal stylist pictures of gowns you adore. It will also give you the knowledge you need to ask any pertinent questions you may have about the entire process. If you are planning on heading to various bridal salons during the dress shopping process, you should be planning to spend a good amount of time in each. This way, you can check out the different gowns each salon has. Be certain you are bringing along supportive people with you. You want to bring people who have a keen sense of style and who will be able to give it to you straight. 
4. Believe In Love at First Sight
A lot of women fall into the trap of having paralysis by analysis. Believe it or not, but you can fall in love with the very first dress or one of the first few dresses you see. Don't be afraid to pick one of those dresses. Don't think you have to continue to shop around to identify a dress you like more. There is such a thing as love at first sight when it comes to your wedding dress. You will know it when you see it. You need to trust your gut throughout the entire dress shopping experience. 
By using the tips above, you will be able to nail your shopping for a wedding dress in New Jersey or anywhere you wish. Set out a clear budget that will give you a baseline to work with and try to plan far in advance. Be certain that you are doing the necessary research to identify the right dress that you love. Bring those whose opinions you care about. This way, you can get real feedback from those who know you. 
However, don't be swayed by anyone but yourself. If you love a dress, it's your wedding. Your opinion is most relevant and you should have the final say. By prepping for your shopping experience, you should be able to make it a much less stressful one and you should have no problems finding the dress of your dreams. Moreover, make sure to prepare for your wedding dress preservation needs.