Your wedding to-do list is a long one, so the last thing you've probably thought of is what to place for your loved ones on your wedding reception tables.  But, those small trinkets that say thank you for all the years they've looked out for you shouldn't be overlooked. Your wedding guest list has been broken down under a microscope and everyone coming played at least a small role in getting you here, so, these integral people deserve more than just a hug and a kiss as they exit your special event.  Send them off with something practical, yet creative to remember your wedding day!  
I was just on the Web and stumbled upon a site that offers a wide variety of unique wedding favors for reception tables, Forever Wedding Favors.  There you can find an assortment of top-notch items for your reception on their simple-to-search online store.  I really enjoyed the following assortment of products and couldn't believe all of the wedding themes that were covered on this cool site.  Forever Wedding Favors will help guide you through ideas for your wedding, no matter what the theme.  
How cute is this?  There is no better way to open a bottle of wine than with a bottle of wine! Personalize a special note for your guests and they will love this practical wedding favor.  These petite wine bottle openers come with a bow and customized note.  They are an ideal way to say thank you to your guests and will bring a smile to their faces each time they pop open a bottle of wine at home.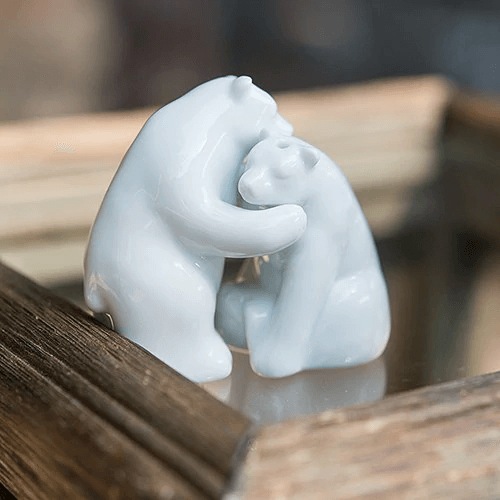 Hugs are aplenty at weddings and that's why these Hugging Polar Bear Salt and Pepper Shakers are perfect wedding reception table gifts.  These cute offerings will bring a smile to the faces of your guests as they get to bring them home and enjoy for a lifetime.  Each one of your family and friends will remember the warm embrace you gave them when you said thank you for attending their brig day.
This Vintage Key bottle opener is a perfect wedding favor gift at a traditional, classic wedding.  Spreading these trinkets on the reception tables will bring out that rustic charm.  A functional favor is the best kid, and this bottle opener can be brought home by each guest and used on a daily basis.  Let your loved ones remember your wedding each time they pop open a beverage at home.  
Click here to search all bottle openers
LOVE will be on the refrigerator of all of your wedding guests after your big day.  It will remind them of the love you have for them and your new bond with your significant other.  Everyone needs a fridge magnet, so why not gift out these adorable computer key LOVE letters to hold up Johnny's school work?  Let the letters of LOVE will be on full display at all times in the homes of your family and friends.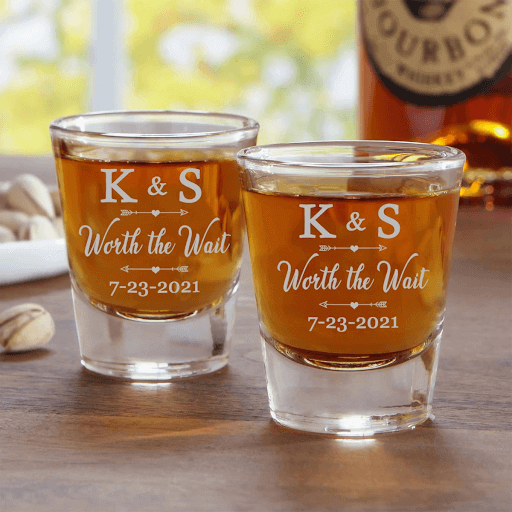 There's no better way to join the party and liven things up than a round of shots.  Personally engrave your wedding information on these high-quality shot glasses and have them set up for a drink at each reception table.  Give cheers to your loved ones and enjoy an ounce or two of your favorite beverage together as one.  After the wedding, your guests will love to bring these shot glasses home and remember your wedding day for many years to come.   
Click here to shop shot glasses
Go Fish!  Every household needs multiple sets of playing cards to keep the family game night going.  So, what better offering to hand your friends and family than these personalized wedding playing cards.  From poker to rummy, your loved ones will take these cards out and enjoy your big day while they have quality family time at home.  This is an ideal functional wedding gift for all!
Check out all playing cards here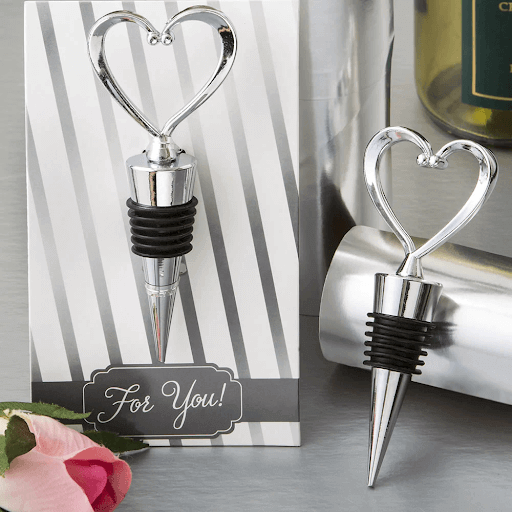 Not that a bottle of wine lasts too long, but if you only go for a glass at a time these wine stoppers are the gift for you.  No matter the wedding theme, there is a wine stopper for them all!  From pink flamingos to airplanes, you can find a wine stopper for any occasion.  The classical heart shape is my favorite but I truly do love them all.
Check out stoppers by clicking here
No one enjoys a drink mark on their coffee table, and it seems like everyone is constantly looking for quality coasters to protect from them.  Enter these high-quality slate coasters!  Personalized with your wedding information, these coasters are perfect for gifting to your guests.  Slate is sheik and will be great to protect any table out there from those dreaded ring stains.
Click here to shop more coasters
Whether you're having a spring or fall wedding, these adorable candle favors are perfect giveaways at your wedding.  Many can be customized with your names and wedding date.  Candles are a practical gift that anyone can enjoy in their homes.  These wax burners come in many themes and colors.  The floral candle pictured above fits a spring wedding perfectly and will be a sight for sore eyes on your reception tables, with their bright colors and charm.   
For more candle ideas click here
I can spend all day sifting through ForeverWeddingFavors.com's awesome site.  Their countless items of all wedding themes are well worth the time to check out!  So make your life easier and head over to the site and you'll have one less thing to worry about for your big day.  From travel themes to pineapples, I'm sure they've got your wedding theme covered.