Having a child might be one of the most beautiful and challenging things to happen to you. No matter how excited you are to start your life with your little one, you'll soon end up feeling overwhelmed and maybe even scared. This is mostly because, once you have a kid, everyone is suddenly an expert of babies. Be prepared for a number of pieces of advice from aunts, uncles, grandparents, and even friends. With so much information, it's hard to recognize what's actually relevant. Don't fret, this checklist is there to help.
1. Baby's sweet dreams
Decorating the nursery room will be one of those activities your partner and you will most bond over. Choosing the cot and mattress is a fun thing to do together but also offers a moment of intimacy when you imagine your child's first nights spent in this very cot. That's why it's important to choose a high-quality mattress– you want them to have good support and be comfy. On the other hand, you don't have to pay so much attention to the sheets.
You'll be washing those regularly, so there's not much logic in opting for designer sheets. They'll get ruined as fast as regular cotton sheets. Instead, you can invest this money in a cute and snugly stuffed animal your baby can share the cot with.
2. Stocking up on supplies
It's very important to stock up on baby formula, bottles, and everything else that needs to be replenished often. In fact, this is best done before birth when you have time to shop on sales. You'll be ready for the arrival of your little one and you won't spend as much money in the process. That being said, there is one thing you need to pay attention to.
Nappies are the number one thing new parents stock up on, and that's for obvious reason. Still, most make the mistake of buying too many newborn nappies. You won't believe how fast your child is going to grow. In the end, you'll just end up throwing those away and replacing them with bigger pairs, so try not to go overboard. It might be best to buy a few packs at a time.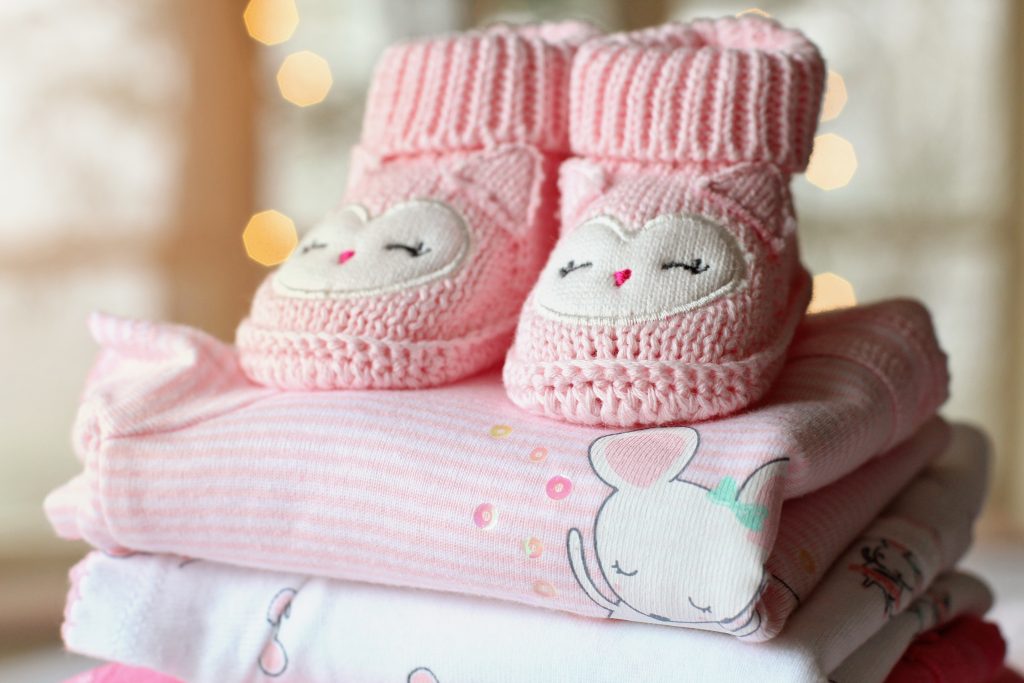 https://www.pexels.com/photo/close-up-of-pink-indoors-325867/
3. Dressing to impress
Though baby clothes may seem adorable and irresistible, you can't just buy everything you "Aww" at. First and foremost, your baby's clothes should be practical. It's easy to fall in love with an outfit full of buttons and zippers, but you'll hate it as soon as you have to put it on your baby. The truth is, they're small and fussy, so getting them an impractical outfit only stresses both of you out. Stick to simple baby clothes.
On the topic of shoes, it's important to say that baby shoes are a waste of money. Your little one isn't walking yet and will outgrow their shoes very quickly. They're expensive but don't have a real purpose. If you want to put on something cute and tiny on your kid's feet, opt for socks. These fashion tips may not have been what you wanted to hear, but don't worry, your baby will have plenty of time to be a fashionista once they grow a bit older.
4. Staying safe on the road
Your child's world might be your house for the first few weeks, but that's about to change pretty soon. You're going to have family outings, doctor's visits, or even just late-night drive-arounds when your little one can't fall asleep. For all of these adventures, you're going to need a luna car seat. Not only is a car seat required by law, but it's also extremely beneficial for your child.
They'll be able to stay comfortable and in place for the whole ride. This means you won't have to worry if you break too suddenly or jolt the car a little to avoid a pothole. Small children also have trouble staying still, so strapping them in for the road will keep them for accidentally hurting themselves.
5. Your baby's vehicle
While on the topic of road safety and transport, we should also mention your baby's vehicle- a pram. When you're not driving, you'll be walking. Whether it's to take a stroll around the neighbourhood or to have a more comfortable vacation, your pram will be the most useful thing you ever buy. A quality stroller will be able to support your child from birth to an age when they outgrow it.
This is a safe and convenient method of transportation, and it lets your kid enjoy the world around it while staying very comfy and snug. You'll also be able to bring any necessities with you, making picnics and beach days a breeze.
Conclusion
Hopefully, your confidence and excitement have returned a little after reading this article. After all, now you're one step closer to creating a safe and loving environment for your new bundle of joy. Don't pay attention to what other people have to say, as this is your child and you'll do what you think is best for it. Of course, you can always ask for advice and support, but don't be afraid to trust your new-found parental instinct either.