The idea of showing your kids the big wide world while they are at a young age and see the magic in everything is a compelling one. In an ideal world, we would all be jetting off with them and watching them experience the wonders of London, Paris, Sydney, Tokyo, Dubai, and a dozen other iconic destinations.
Of course, we then wake up from our daydreams. But the truth is, traveling to far-flung places as a family is within closer reach than you might think if you follow these simple tips.
Shop around for everything
This is an age of choice. Whatever you are looking for, there will be plenty of people wanting to supply it, and desperate for your business. This puts you in a strong position. Flights can vary enormously in price if you are prepared to be a little flexible as to dates or you don't mind flying indirectly. The same goes for travel insurance, where you can visit a site like uhcsafetrip and be selective about what you need and what you don't. It all adds up to maximum bangs per buck.
Stay Longer
It sounds counter-intuitive, but if you have a short break, you tend to splash out on restaurant meals, taxis and other expensive costs that you would be less likely to incur on a longer visit. Essentially, the longer you stay somewhere, the lower your costs per day, so think long and slow. It's also a far better way to really experience a different culture if you are shopping in local supermarkets, taking bus journeys and strolling beyond the main tourist areas. Not to mention that if you drop by Idaho, there are ski resorts near boise idaho to visit.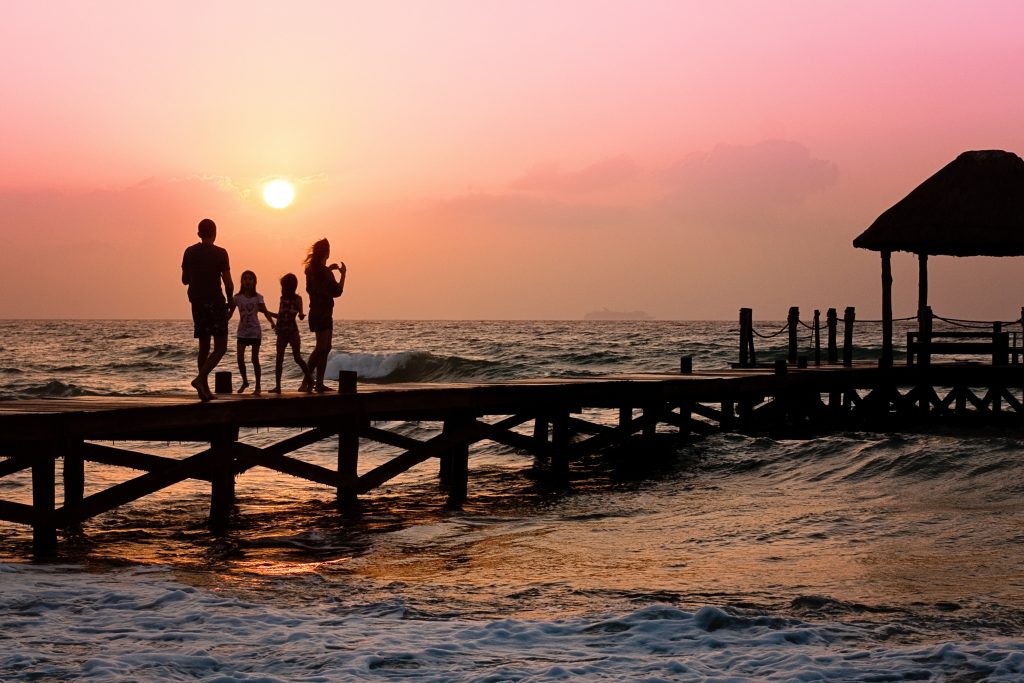 Photo credits: https://www.pexels.com/photo/man-beach-holiday-woman-39691/
 Travel further
There is a similarly twisted logic when it comes to where you travel. Once you are on a plane, the further you go, the less it is costing per mile and the long-haul carriers are really working hard to reduce costs. But the savings are even more tangible than that. Destinations in Western Europe such as England and France are very popular with American travelers but are also expensive. Consider a trip farther afield, for example to China, Indonesia or even Africa. This brings two advantages.
The first is that basic expenditures when you arrive are far lower for things like food, local transportation, and accommodation. The other advantage is that this provides a great opportunity to show your kids a truly different culture, as opposed to western Europe that is really not so different from America.
Do free things
Sure, every kid wants to visit a theme park or a zoo, and there is no reason not to include one or two of these kinds of activities in your vacation. But try to make those the exception, not the rule, and when you do, book in advance to take advantage of online discounts and reduced family rates that might be available.
For the most part, however, remember that long days at the beach, walks in parks and even visits to local museums will not cost you a cent, and these are often the things that create the most memorable vacation experiences.