The beach season is upon us but sometimes, instead of joy, it can cause unnecessary stress and anxiety. Everybody is obsessed over their beach body, but the truth is that every body is a beach body. There's absolutely no reason to miss the opportunity to enjoy the water, sand and the sun just because you may not look like a runway model. In the end, it all comes down to finding the best style of swimsuit for your particular shape in order to look your best and feel comfortable and confident. If you need some guidance on how to pick the perfect swimwear for your body type, keep on reading.
1. Pear body shape
If your hips are wider than your chest, and you also have slender shoulders with a clearly defined waist, you probably have the so-called pear body shape. When you're picking your swimsuit, you want to add more balance to your look, considering that your bottom half is more prominent than your upper half. With that said, striking and bold patterns and ruffles for the top combined with plain, single-color bottoms work great. You may also want to check out bottoms with skirts.
2. Inverted triangle
In case your shoulders are broader than your hips, and your figure is generally slender and maybe even a bit masculine, you have an inverted triangle body shape. Since this particular figure usually means that the person is athletic, you can get away with plenty of different swimwear styles. For starters, you can count on the fact that quality sports swimwear will make a great choice. On the other hand, triangle bikini tops as well as flashy bikini bottoms with ruffles, fringe, and similar, will look positively stunning on you, too.
3. Rectangle body shape
In general, people who have shoulders and hips of the same width, yet lack definition in the waist area are usually said to have the rectangle body shape. And when you're choosing your ideal swimwear, feel free to go for bikini tops. Whether you'd want to enhance this area more with ruffles, bright patterns, and other details or wear a padded top will depend on your bust and is entirely up to you. The bottoms should create visual curves, and in that sense, ruffles and fringes are a good choice. High-cut bottoms are also a good option in this case. And if you like one-piece swimsuits, opt for a plunging neckline. Finally, bold geometric patterns and striking prints will always look good.
4. Apple-shaped body
If you're curvy all around, with a rounded tummy as well as a fuller bust, you have the apple-shaped body type. In this case, you may want to check out the retro-inspired high-waisted swimsuit bottoms and underwired balconette bra tops with extra support. A one-piece swimsuit that's also underwired and adds a bit of structure and support in the tummy area is also a popular choice for apple-shaped figures. In general, any color is fine, but it would be best to stay away from some really flashy prints and color combos.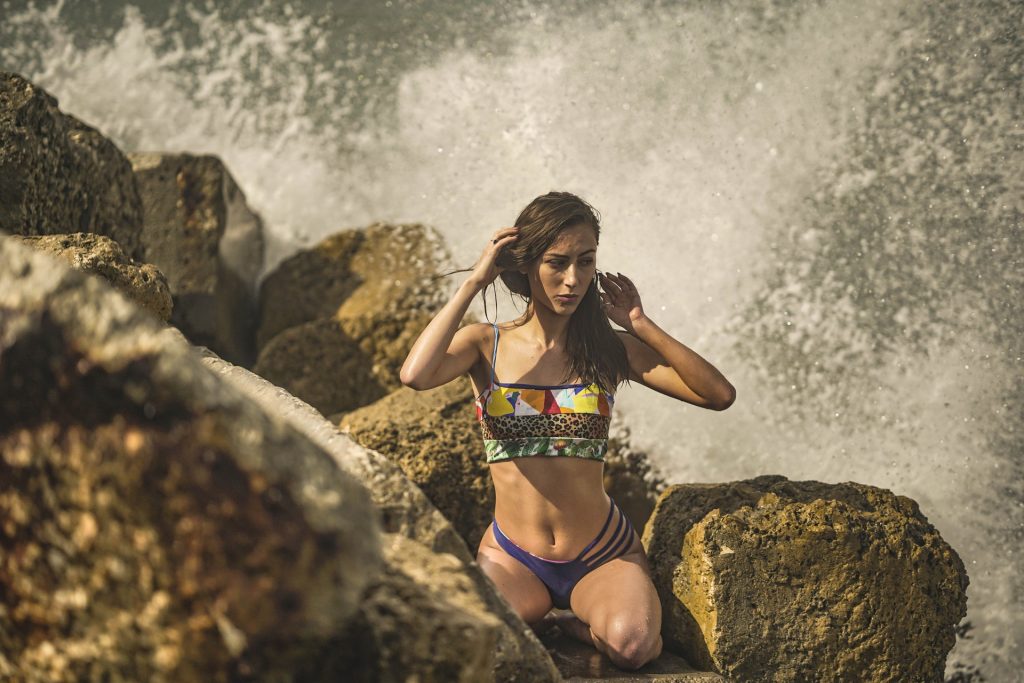 5. Hourglass figure
If you have an hourglass figure, you have equally wide shoulders and hips, with a tiny waist. With that said, you're really lucky as you can basically get for whatever style swimsuit you want. However, the most popular option involves flaunting the tiny waist, which is why bikini tops and bottoms rock. Triangle and balconette top together with high and Brazilian cut bottoms will always look absolutely amazing, but, as mentioned, you can wear anything you'd like because it all looks great on you!
In case you feel really self-conscious about your body and want to cover up as much as possible, you may want to look into thin and cool sarongs that you can use as wrap dresses. There are also very thin tunics made to be worn over the swimsuit. However, keep in mind that summer is there for you to enjoy yourself and have fun – not to stress over your body shape!