Being a busy mom is challenging daily, so it makes sense that the wayside often leaves one's style choices. However, that doesn't always have to be the case. You can adopt style choices that fit your lifestyle.
With that in mind, this article brings you nine style tips you can use, even as a busy mom.
1. Invest in versatile clothing
Just because you're a busy mom doesn't mean you don't get to look or feel good about your style.
However, that doesn't negate the fact that picking out a style for you when you're that busy is challenging. To help you with that issue, you can always invest in versatile clothing that's in fashion no matter when and where.
Versatile clothing pieces are the secret weapon for busy moms who want to maintain a stylish and put-together look without sacrificing comfort or wasting precious time. Versatile clothing refers to pieces you mix and match easily, allowing for endless outfit possibilities.
It offers flexibility throughout the day, too.
Whether running errands, attending meetings, or chasing after little ones at the park, these adaptable pieces can easily transition from one occasion to another with simple styling tweaks.
Furthermore, investing in versatile clothing allows busy moms to maximize their wardrobe while minimizing clutter. By choosing high-quality pieces that you can wear in various ways, you can create a capsule wardrobe that is both functional and fashionable.
Buying essential closet pieces like those from Andiamo women's clothes is one of the fashion choices to ensure you have versatile clothing that is easy to wear and fits your style.
2. Stock up on basics
Basics in clothing refer to those timeless and versatile pieces that form the foundation of any wardrobe. They are classic, simple, easily mixed, and matched with other items. If you need a shopping list to reference, think of essential items like the following:
plain t-shirts
well-fitted jeans and shorts
neutral-colored blouses
plain-colored sleeveless shirts
comfortable yet stylish footwear
a simple black dress
Whether it's a casual playdate at the park or an important meeting at work, these timeless pieces are something you can dress up or down effortlessly. They are a reliable foundation that you can elevate with statement accessories or pair with more formal attire.
3. Choose pieces in neutral colors
Bright colors are nice to look at, but they often require a closer look before deciding that they fit your coloring and style. Finding matching clothing pieces can also be challenging because of their colors.
Neutral colors like black, white, beige, gray, and navy are versatile and timeless. They provide a foundation for endless outfit combinations, and they have a subtle sophistication that exudes elegance.
They create a sense of balance and harmony in an outfit while allowing the wearer's natural beauty to shine through. Whether a classic black dress or a crisp white blouse paired with jeans, neutral-colored clothing pieces effortlessly elevate any look.
For busy moms juggling multiple responsibilities, choosing clothing pieces in neutral colors simplifies the decision-making process each morning. With a wardrobe filled with neutrals, you can easily create chic outfits without worrying about clashing shades or patterns.
4. Adorn yourself with gold jewelry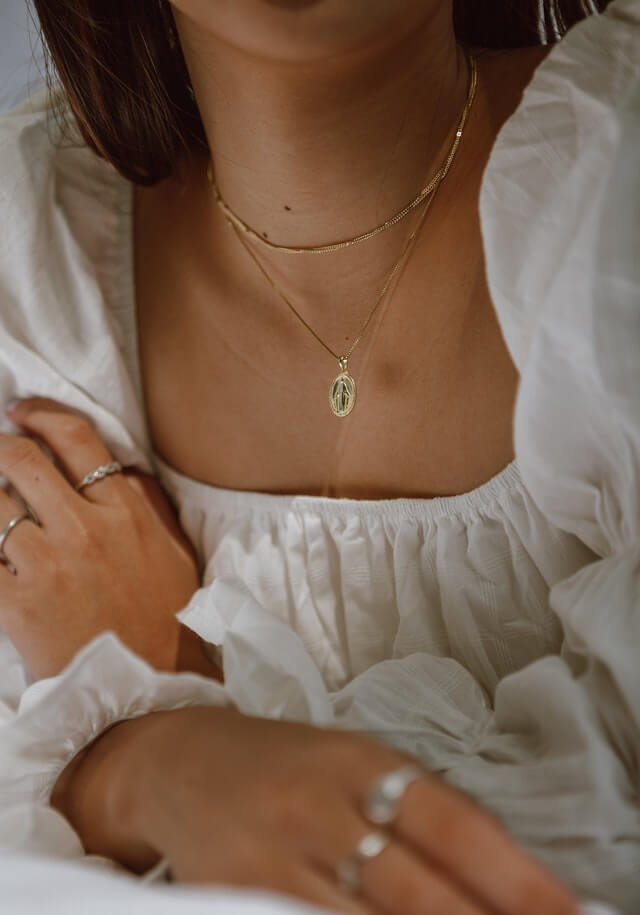 We've mentioned earlier that you should be able to elevate your essential clothing pieces at will. For that purpose, a secret weapon can help you achieve that with any ensemble and add a touch of elegance to even the most chaotic days: gold jewelry.
Gold jewelry has long been revered for its timeless beauty and ability to enhance any outfit.
From delicate necklaces and bracelets to statement earrings and rings, countless styles can be tailored to suit every busy mom's taste and lifestyle. Whether it's a classic pair of hoop earrings or a dainty pendant necklace, these accessories can transform even the simplest outfits into something remarkable.
In addition to its aesthetic appeal, gold jewelry also holds sentimental value. These timeless pieces can serve as cherished heirlooms you can pass down to your kids.
5. Avoid fussy fastenings
Let's cover a style tip that will help you figure out what not to get as a busy mom.
One of those style hassles would be clothes that come with fussy fastenings. For example, if the clothes have zippers in harder-to-reach places, like your back, then opt not to get them.
Sure, they may look cute, but you might find yourself needlessly frustrated with the fastenings when juggling kids while rushing out the door.
Many clothing options are comfortable, easy to put on, and stylish. You might have to look for them until you find one that fits you and your style.
6. Have a trusty pair of jeans
We've pointed out earlier that you should have clothing staples, but in this section, we'll emphasize how proper a trusty pair of jeans is.
Since jeans are made of thicker material, getting one from a reliable source will ensure that those jeans last a long time. Unless you're doing some manual labor, your jeans will be there for you for a while. Therefore, just picking one trusty pair will be your best choice.
7. Complete the look with a handbag
Another reliable accessory with practical use would be a handbag.
A handbag (or a tote bag) can help you bring anything you need in style. These bags can be as small or as large as you need them to store some items.
Keep the number of handbags you get to a minimum. As with your clothes, you can choose bags based on a neutral color scheme to swap one for the other at any time.
8. Invest in quality shoes
This tip is obvious but skip the cheaper shoes. You want to get comfortable, stylish shoes that will last long. So, initially, you can expect to pay a higher price for quality shoes.
However, in the long run, these quality shoes will be with you for a long while. And, if you get a fairly straightforward pair of shoes, whether for formal or casual events, they should fit a lot of outfit choices, so they're going to be timeless as well.
9. Opt for a simple makeup routine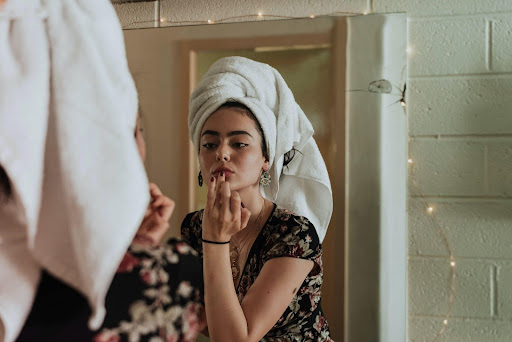 Perfecting your makeup routine to accommodate your lifestyle is another style tip you'll use repeatedly.
When you have a go-to makeup look that looks good on you no matter what event, or you can upgrade just with a bolder lip color or a more vibrant and glamorous eye look, that will save you a lot of time.
Conclusion
These tips help you maintain your sense of style, even through the various escapades that motherhood will lead you to. These are suggestions you can incorporate into your life however you want.
Remember to adapt these style tips to your lifestyle, not vice versa. That way, you'll enjoy being the stylish but busy mom you are and not feel like keeping up with stylishness is an additional burden.