Baby proofing isn't just a buzzword; it's essential to ensure your child's safety. Creating a safe environment for your little one is a top priority as a parent. From understanding your baby's developmental milestones to identifying potential hazards in your home, we've got you covered. 
Babies go through various milestones and stages in their early years. From the moment they crawl, their curiosity and exploration know no bounds. It's essential to consider these factors when baby-proofing your home.
Before we jump into the tips for baby proofing, let's begin by doing a thorough room-by-room evaluation. Identifying common household dangers is the first step toward creating a safer environment for your child.
Here, we'll delve into thirteen crucial tips to help you baby-proof your house effectively.
1. Install Baby Safety Gates and Barriers
Baby safety gates and barriers are your first line of defense. They help keep your little explorer out of harm's way. Baby gates can be installed at the top and bottom of staircases and in doorways to rooms with potential hazards. These barriers are essential to prevent accidents, especially when your child begins to crawl or walk.
2. Get Cabinet Locks and Latches
Cabinet locks and latches are your second defense against curious little hands. These nifty devices prevent your child from accessing dangerous items, such as cleaning products, sharp utensils, or even heavy pots and pans. They offer peace of mind and keep your child safe while allowing you to maintain a functional kitchen.
3. Secure Electrical Outlets with Covers and Plug Protectors
Electrical outlets can be fascinating for babies but pose a hidden danger. It's a good thing that there are covers and plug protectors; it's a must-have baby-proofing essential. These simple yet effective tools are easy to install and provide an added layer of safety, ensuring that your child cannot access the electrical outlets. By securing your electric outlets, you can create a safer environment for your little one and prevent accidents caused by electrical hazards.
4. Do Cord Management
Dangling cords from blinds or curtains can pose a strangulation hazard for curious little ones. Implement cord management solutions to keep cords out of reach. Cord winders and cord shorteners are handy accessories that ensure a safer environment for your child.
5. Guard Corners with Edge Guards
Sharp furniture corners can be a source of injuries for babies who are learning to walk. Installing edge guards would help prevent accidents caused by sharp edges. These soft, cushioning guards provide a protective barrier between your child and the sharp corners. You can ensure that your child's first steps are less risky and more fun. Edge guards are a simple and effective solution that can prevent injuries caused by sharp furniture corners, ensuring a safer environment for your little one.
6. Use Door Stoppers
Prevent little fingers from getting trapped in doors by using door stoppers. These simple devices act as a cushion, preventing doors from closing fully. They are especially useful in preventing accidental door slams that could hurt your child.
7. Safety Straps and Anchors for Furniture and Shelving
Tall furniture and shelves are known to tip over if your child tries to climb them, making them a potential hazard. You can prevent potentially dangerous accidents by securing these items to the wall using safety straps and anchors. Ensuring a safe home for your little one is the most important part of baby-proofing. 
8. Shop Refrigerator and Freezer Locks
Refrigerators and freezers often contain tempting treats and potential choking hazards that could risk your child's safety. Installing locks on these appliances can restrict your child's access and ensure that they don't accidentally consume anything harmful. Moreover, it also helps you maintain food safety and hygiene by preventing contamination. 
9. Keep Poisonous Substances Out of Reach
Poisonous substances, such as cleaning products, should be kept out of your child's reach as they can cause serious harm if ingested. It's essential to store such items in secure, inaccessible cabinets for your little one. Consider installing safety locks on these cabinets to add a layer of protection and ensure your child cannot accidentally access these dangerous substances. 
10. Use Toilet Safety and Precautions
Toilets are a potential drowning hazard for babies who are top-heavy and curious. To keep it safe, you need to consider using toilet lid locks to keep your toilet lid securely in place. This simple yet effective precaution ensures that your child cannot access the toilet bowl, reducing the risk of accidents. By taking this step, you can create a safer environment for your little one and provide yourself with peace of mind, knowing that they are safe from potential hazards when using the toilet.
11. Prioritize Toy Storage Solutions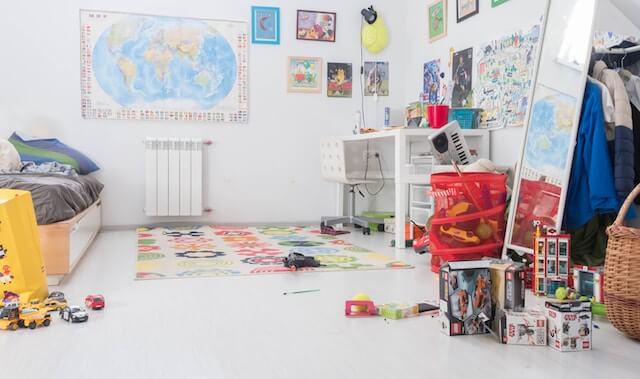 Keeping toys and playthings organized and out of the way when not in use is essential when baby-proofing your home. Not only does it help in keeping your home clutter-free, but it also reduces the risk of tripping and falling over scattered toys. Toy storage solutions such as bins, shelves, and baskets are handy in keeping your little one's toys organized and accessible. By storing and organizing the toys, you can reduce the risk of accidents caused by tripping over toys.
12. Schedule Child Safety Checks Regularly
Child safety is an ongoing process that requires regular attention and effort. Regular safety audits ensure your baby's environment remains secure as it grows and develops. As your child learns new skills and reaches developmental milestones, potential hazards may arise, making it important to stay vigilant and make necessary adjustments to keep pace with their changing needs. 
13. Keep Up with Your Growing Baby's Safety Needs
As your child grows, their safety requirements evolve. Be proactive in understanding these changing needs and adapt your baby-proofing measures accordingly. Stay informed about the latest safety recommendations and products to protect your child.
Conclusion
Baby-proofing your house is an ongoing process that requires careful attention to detail. As a parent, the peace of mind that comes with knowing your child is safe is invaluable. Make safety your top priority by following these essential tips to start baby-proofing your home and enjoy the journey of parenthood with confidence in your child's well-being.