The calendar says July and with it brings trips to the beach, outdoor dining, family barbecues, and late nights by the fire pit with friends.  Summer is a time of excitement, where love breeds and relationships strengthen with the many fun activities out there.  Whether it's a couple's hike to a waterfall or a beach weekend getaway, summer is the time for love.
So, let's show that special lady in your life how much you appreciate them!  Get them something that will bring a smile to their face and functions this time of year.  Something fun yet practical…FUNctional.
Bags for days!  Ladies fill their closets with bags, but they're always looking for more.  This one is as unique as they come.  This heart-shaped wood beaded tote bag shows her your love is real and is functional and classy.
Follow your heart, listen to your voice, and stop caring what others think. It's a sweet quote that inspires us to create this heart-shaped beaded tote bag, hoping to inspire others to listen to the voice within their heart and believe in themselves. Handmade with natural wooden beads by Fitria, a housewife in Borneo who works from her home, while raising her children and nurturing her family.
What woman isn't walking around with a personalized tumbler these days?  Get your best lady one that's better than the rest, a tumbler that will turn heads for sure.  Customized and full of fun and unique designs and colors, these tumblers are awesome gifts!
The perfect gift for anyone with a sense of style! This stainless steel thermal bottle tumbler can be personalized with any name or name & title of your choice. We can customize the name on this tumbler with any of our vinyl colors, so she can pick her favorite! Each tumbler comes with a straw and push-down lid and keeps drinks cold for 24 hours or hot for 12 hours.
I'm sure she has a closet full of towels, but this will be THE towel, her go-to from here on out!  This personalized towel can dry her off and is big enough to cover her spot on the sand on that perfect beach day.
Are you looking for the perfect beach towel for your friend? Look no further! Our personalized towels are perfect for a day at the beach or lounging by the pool. Each towel is personalized with a different shade of green leaf and the girl's name in black script.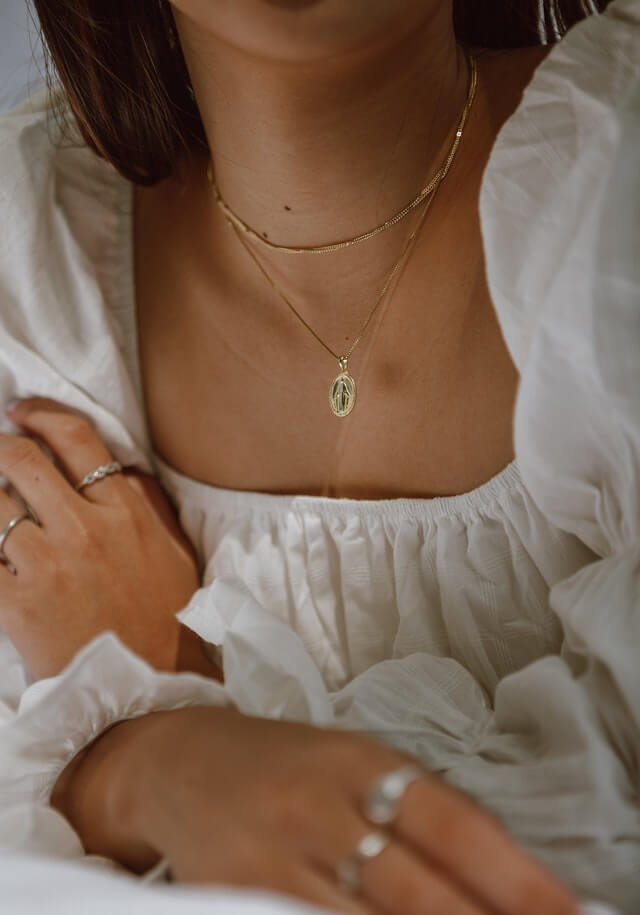 Get that Leo in your life with one of these cool zodiac necklaces.  Now, this is a unique gift that any lady would love!  She's the best woman in your life, so let her know how much you appreciate her with these cute astrological sign necklaces. Get her a necklace representing her astrological sign that she can wear 24/7 and for years to come.
This necklace includes one necklace with the astrological sign of your choosing, including a personalized note all in a cute gift box. No girl can resist this gift. The gold necklace is 14K Gold with a zodiac design engraved onto the front. From wedding days to nights out this necklace will be a go-to for any woman.
For a late night bath after a long day at the beach!  This adorable personalized gift box set is exactly what she's looking for at the end of the day.  A candle and a bath bomb, along with a good book in the bath are the ideal way to unwind before bed!  Set your lady up for late-night success with this set.
It's a mysterious white round box with her name on it. Oh, would she be so excited to open it and find out what's inside! This My Heart In A Box is the ideal gift for any woman in your life. Each complete set has a cute geometric heart design and includes a glitter bath bomb, matchbox, candle tin, and personalized compact mirror. All the items are packaged together with white shreds in a white round gift box. A mini "hello beautiful" card (blank inside) is included to personally write your message for your favorite girls in the world!
Imagine a quiet night at home, outside by the fire table.  Sushi take-out is on the menu and you serve it up on this classy slate serving board with your initials. This is a unique gift that the two of you can share for years to come. This slate serving tray is the perfect gift for two love birds that love to host. They can display this slate serving tray for all their guests to adore.
This slate serving tray is perfect for serving cheese with wine, hors d'oeuvres, charcuterie, and bread to pair with their favorite wines at any celebration. This tray is unique in the fact that its material is mined from the slate quarries of Pennsylvania and shaped by hand. This tray is engraved with a heart and arrow that can be personalized with their initials.  Your lady will love it!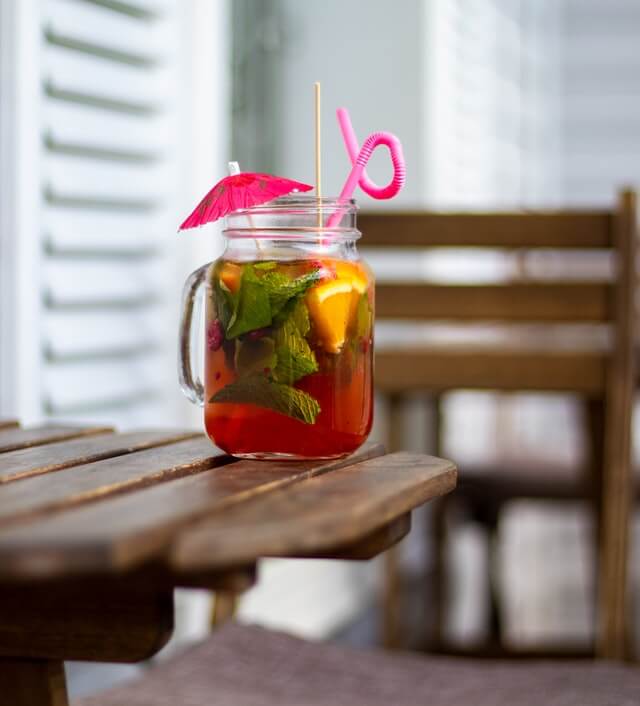 There is no cooler way to take a fun and colorful summer drink than in a personalized mason jar! Every year, I wait patiently for the mason jar trend to fizzle out, and it never does. Its conquest of home décor has been steady rather than dramatic — you don't see mason jars everywhere, but you are guaranteed to regularly see them somewhere.
When I order a drink and it comes out in a mason jar, I know I picked a winner.  There's something about the look that makes me feel summer and warmth and automatically young and fun!  Get a set for the best woman in your life and she will feel the same each time she takes a sip.
There are so many bracelets out there perfect for gifting, so we went out and found one so unique that it will turn heads.  This Rocky Stone Beaded Bracelet is one for the ages as its Blue Sodalite will sparkle for eternity.
Sodalite showcases medium to deep blue shades, accented with white or gray calcite that gives it the look of denim lapis. Sodalite is an opaque stone with a vitreous luster.  Women will love this bracelet as it can be worn for all occasions and even for everyday use.
I'm not sure how many women can make a beach trip without this amazing bag!  The Boho Beach Bag is so perfect for summer getaways and sandy beach trips.  As classy as her, this personalized bag is just what she needs to haul all of her summer must-haves into one place.
These bach bags are a trendy and cute way to hold all of your necessities this wedding season. Whether it be to the bridal shower, the bachelorette weekend, or the wedding day, this bag is lightweight, stylish, and functional for you and your girls to carry around.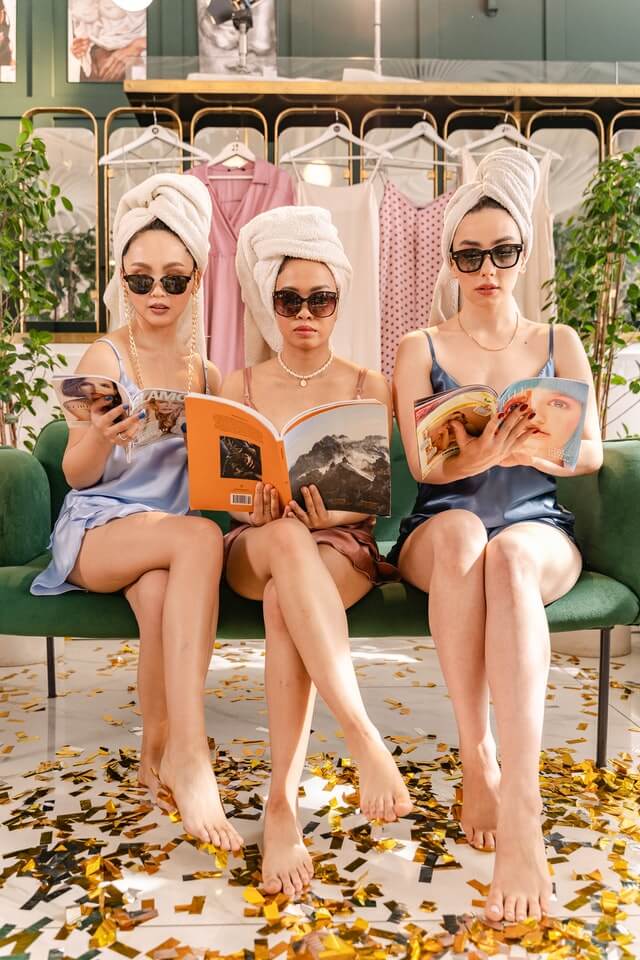 It's hot on those summer nights, so get your woman something she can slide into at night to keep her cool.  This personalized sleepwear set comes in a cute floral pattern that she will love!
Matching PJs are a must for any cute group of bridesmaids. This adorable pajama set will look so cute in getting-ready photos, whether they're worn on their own or under beautiful matching satin robes!
The Sleeping Flowers PJ set is silky, comfortable, and oh-so-soft. Its relaxed fit and non-clingy material make it flattering on any body type and perfect for sleeping in. Choose from two beautiful colors and customize them with each bridesmaid's name, initials, or monogram – it'll make it extra special, and make sure no one mixes them up!