My favorite crafts are those that can be done with materials we already have on hand, and with little or no prep work. My daycare kids had so much fun with these Cheerio acorns and we were able to work on some important skills!
For this craft, we used:
(affiliate links provided for your convenience)
White Construction Paper
Brown
Markers
Cheerios Multi Grain Cereal
Glue
I drew an acorn with brown marker for each of the kids. They then used glue to trace the outline of the acorn. Squeezing the glue helps them work on the hand muscles that they will need for writing. It also helps with hand-eye coordination and attention to lines.
Once the glue was on, the kids got to work placing all of their Cheerios. I promised the kids that they could eat the leftover Cheerios so they were pretty good about finishing their craft before digging in.
The finished products ranged from completely covered to perfect acorns to pages dotted with Cheerios, and that is perfectly okay. The point of this craft is to give kids an opportunity to work on their fine motor skills, to review the color brown, and to work on new vocabulary as we discuss acorns and Fall activities. The process is much more important than the finished product.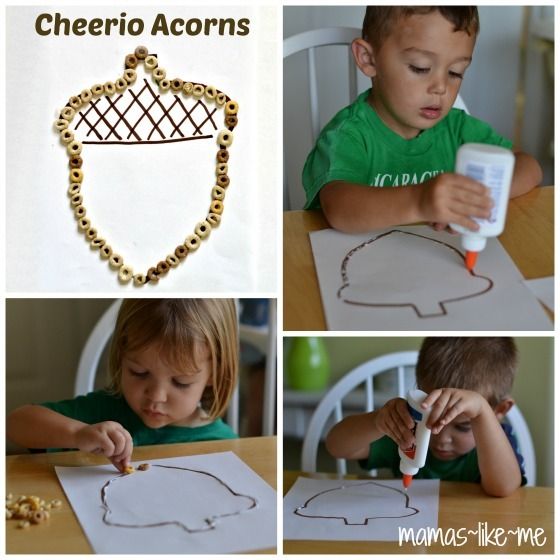 If you're looking for more ways to learn with your toddlers and preschoolers, I hope you'll check out our
Kid Crafts
page for lots of thematic ideas. You can keep up with all our favorites activities, along with all our own learning fun by following us on our
Facebook
or
Pinterest
pages or
signing up for emails
!