When the weather warms the wedding bells chime.  Summer is upon us and so is wedding season!  The Big Day is a great time to catch up with family and friends while making life-long memories all night long.  A time to grab your favorite date and dance the night away with your favorites.    
When you think of weddings, you tend to think of the bride and groom, what you're going to wear, and your hotel reservations, but there is one important thing to remember…wedding gifts!  Make sure to put a lot of thought into the offering and get the bride and groom something that will put a smile on their face.  Get them each something that will make them say Wow!  
So let's take a look at some unique wedding gifts for this season.
There's not much on the raw material front that is going to hypnotize your friend more than the sultry grains of a real live bourbon barrel.  The character and personality in the planks of wood once used to cure the manliest of spirits will haunt your man's drinking soul with every sip.  To make a flask of something so drinking spiritually, should almost be illegal.  Bless your friend with a flask that will make him dream of his next sip. 
The Bourbon Bottle is like no other, this 3oz stainless steel flask is wrapped in authentic spent bourbon barrel wood and finished with nomadic buffalo leather.  The front side features the classic look of the barrel while the back is made using the toasted charred inside of the barrel and comes in the American Flag packaging that says "Bourbon Barrel Buffalo Leather Flask".  These awesome personalized flasks can be customized with up to 3 initials.  
This ain't your mother's everyday bracelet! Personalized jewelry is all the rage these days and women can't get enough of them.  This piece comes in four individual bracelets that can be worn in any order.  There is a "Love" bracelet and others that feature a knot, a cactus, and two arrows.    
With 4 bracelets per set, this makes for a fun wedding gift for any woman!  Made of crystal and high-quality zinc alloy, they are sturdy and hold up to everyday living.  One size fits all so easy for sizing.
If you're a part of a military wedding then these personalized military gifts are ideal! Do you love golf? Do you love America? Hell yeah, you do!  Well here is your red, white, and blue golf set to show off your patriotic pride of yours all over the golf course!
Start off with a white microfiber waffle towel to add to your bag that comes personalized with two initials on the outside of the golf club design.  The clubs are in a red-colored thread and your initials are in navy blue! Add in a USA stars and stripes-themed head cover for any blade-style putter!  Made of high-quality leather and lined with fleece to keep your putter protected and looking stylish.
Lastly, this set comes with a heavy-duty stainless steel 3 in 1 golf tool.  Repair your divots, crack open your favorite bottled beverage, and mark your ball with the USA flag ball marker.  The perfect set for any Patriot!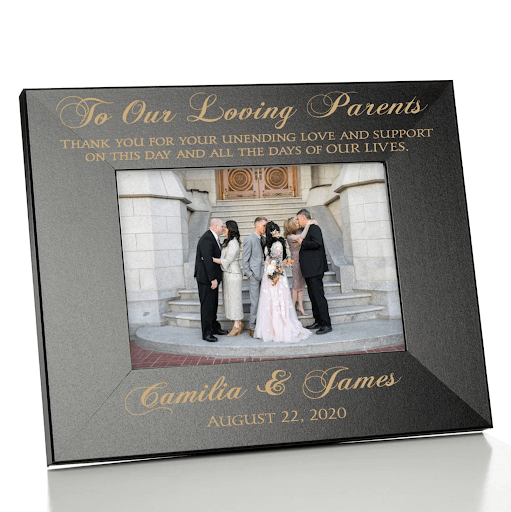 Without your parents, you and your guy wouldn't be here! Show your loving parents how much you appreciate them by gifting them this sentimental picture frame. A personalized picture frame to say thanks for all of their help getting you down the aisle.  All of your parents will display the picture in their homes for everyone to see how much you love them and they love you.
This picture frame comes in two options, a white or black veneer made-to-fit frame. The engraving on the top of the frame will read "To Our Loving Parents" followed by "Thank you for your unending love and support on this day and all the days of our lives." Personalize this frame by adding you and your significant other's names as well as your wedding date to the text box above. Follow the example below for accuracy.
When those dog days kick in and your man starts salivating like Pavlov's dog for an iced cold you know what, nothing is going to wet that pallet more deliciously than a brew slowly cascading off the rim of a frosted mug.  Turn that average sip into one of glacial beer magic with a mug that is going to satisfy his mug.  Personalize that frosty wonder and you have a gift that will ring true with your guy, it will be appreciated with the grandest of man smiles.  
Frost in Translation is a personalized and funny 22 Oz frosted beer mug that comes with its very own caricature printed on it.  The caricature is 100% hand-drawn and digitally printed on it using the highest-quality process. We can include any message you want as a caption on the mug, be it a funny remark, their titles, or the date of your wedding!  You come up with the ideas and we will make them happen.  Along with the personalized beer glasses, you will receive the drawing in digital format to share however your heart desires, making this one of the best guy gift ideas out there.  
Show your significant other how much your love means to them! This personalized sign is the perfect sign to get that job done. Now whenever any of her friends come to visit, they'll know exactly what infinity love looks like.  
It can also be bought as personalized housewarming gifts for your favorite couple! This sign is made of steel and is carefully laser cut so that your personalization is made to perfection.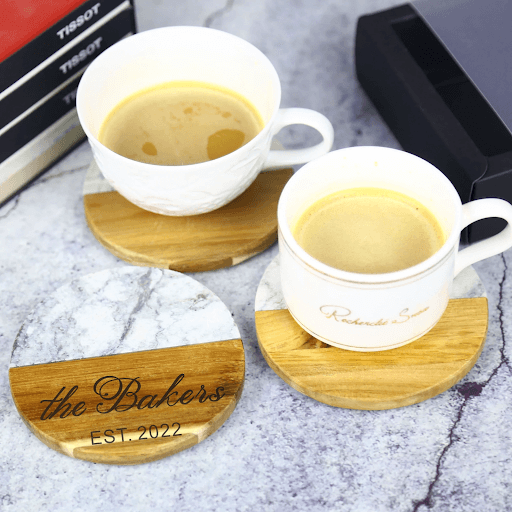 The Stained & Marbled Coaster Set is a beautiful and classy addition to any home. Add a touch of luxury to your home with this stunning coaster set. Made from natural wood and marble, each coaster is unique and full of character. 
They're perfect for protecting your furniture from scratches and stains, and they make a great conversation starter. The set comes with a black paper box, making it a great gift for anyone who loves entertaining. Personalized coasters don't sound overly exciting until you get a look at this set! 
For her special day or any special occasion, get the love of your life something that she will be able to use and will enjoy forever! This Succulent Gift Box will do just that with its natural scented candle and real-life succulence that will bring life into any room and takes only minimal effort to take care of. 
She will be so grateful as she opens this beautiful packaging to find a box filled with goodies that are made just for her. Be prepared, it is going to take a lot to top this unique gift.  This box also comes with a beautiful greeting card that will have a personal message from you to your girl.  These gifts for women will put a smile on their faces and warmth in their hearts!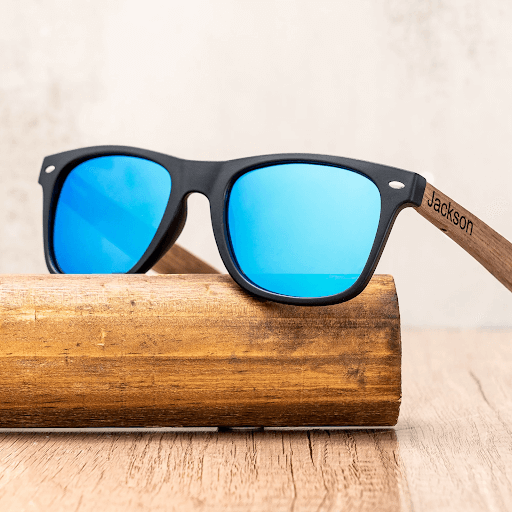 Take it back to that vintage old-school sun-kissed Cali look with a set of shades that come with a salty breeze.  Slap a pair of these sunglasses on and you'll feel like you're high-fiving Tony Hawk on a beachside quarter pipe.  
If you want to gift your groomsmen a set of personalized sunglasses that come with styling swag, pop a few pairs of these to your groomsman party to accompany their big day ensemble.  Your men will look great in these shades!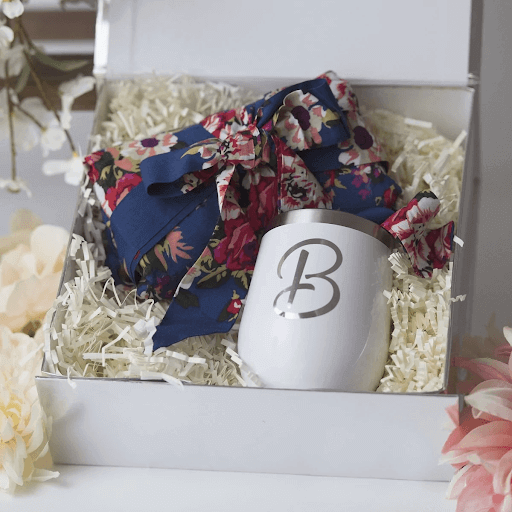 You and your bridesmaids deserve the finest things.  Our luxuriously filled, personalized Sip in Style Gift Box is a good way to treat them to the best. Let them relax and enjoy a cool drink with this personalized modern tumbler while comfortably wearing a silky smooth robe.
This set comes with a sleek, clean, black or white tumbler which can be customized with any initial in our gold or silver vinyl.  The tumbler includes a straw for sipping.  Also in the set is a silky-smooth cotton robe that can be personalized with an initial in one of seven different foils or glitter choices.  The 10 X 10 magnetic closure gift box can be customized with any name.  
The box comes with a choice of gold or silver coloring, which also matches the lining of the box. Not only is this box elegant, but it is made of thick durable lasting cardboard and will be around for many years to come.   Some basic assembly is required ( will only take minutes to put together).  You can also include a pre-made proposal card.  A truly classy personalized robe set for women! 
There are so many personalized groom gifts out there that it may be difficult to choose. An everyday carry stash is crucial for every guy. This set has him covered. Equipped with everything your groomsmen could need to throw in his pockets for wherever his day may take him all with a personalized touch to remind him how much he means to you.
This everyday carry set comes with an engraved pocket knife with a spring-assisted blade and attached belt clip. Light and durable for fighting bad guys or just opening the amazon packages. Also included is a carbon fiber minimalist wallet with RFID (wireless theft protection). More than just holding your cards, this wallet doubles as a bottle opener. The tactical ballpoint pen doubles as a flashlight when the need arises. Throw in a custom flask and your groomsman has his everyday essentials covered. All this in a handsome wooden keepsake box.
Shot glasses seem like a mundane wedding gift, but not these bad boys.  These personalized shot glasses might be the coolest wedding gift out there!   Painted perfectly by our caricature artist, these shot glasses are for that fun-loving couple that we all know.  
Sports lovers rejoice!  This super cool personalized groomsmen gift idea is a home run!  Chug batter, batter, batter.  You may not be swinging for the fences with this fine piece of lumber, but you will be chugging your way home.  Nothing pairs up better than America's pastime and a cold frothy beer.  While you may not be in the stands during the 7th inning stretch knocking down that beautiful brew, sucking it out of the sweet spot is the absolute next best thing.  This gift is a grand slam, a ninth-inning walk-off.  Treat your man to some 4 bag timber. 
The Louisville Chugger is an amazing one-of-a-kind gift for the guy that loves himself some baseball or just loves to drink. This dandy of a mug pours 12 ounces of cold suds directly into the barrel. This baseball bat mug will have baseball players, fans, and coaches of all ages chugging out of this mug the instant they receive it.