Summer is almost over and autumn is right around the corner. For many mamas, your due date is nearing and it is almost time to meet your baby! Or maybe you are ready to announce that you are expecting a little addition to your family and need ideas on how to announce your pregnancy. Look no further for inspiration and ideas on how to tell the world of your wonderful news.
We compiled a list of ideas on how to announce your newborn baby to the world with some cute fall baby announcement ideas. From pretty photo props to playful social media captions, read on if you are ready to announce the new pumpkin in your family patch!
Safety First
Before sharing your baby with the world, here are a few things to keep in mind. Be careful what kind of information you share on public platforms such as Facebook or Instagram. Some new parents may choose to withhold certain information from public sites by only sharing a photo of the baby's feet, without showing the face. They can be careful to blur out information if they post a photo of the baby in the hospital. You can also choose to not announce a baby at all online.
What to Include in a Newborn Announcement
Now that you have your family's safety in mind, here are some details that many people do include when announcing a new baby to the world! First up is the baby's name. You can include the first, middle, and last name, or choose an endearing nickname to make it more private. Typically parents choose to include the birth date, how long the baby was, how much they weigh, time of birth, and the gender. You can add along any other information you want to include and of course, a sweet personalized message and a photo.
Fall Photo Props
Not that you have gathered the information you want to include with your announcement, but here is how to give it an Autumn vibe. It's all about making sure your photos are seasonal and fun—and these ideas are definitely both of those things! Use one or several of these elements to add some autumn vibes to your announcement:
1. Pumpkins – A classic autumn item that can be used in several different ways! You can use physical pumpkins around the baby along with some flowers. There are some cute graphics you can print out with pumpkins. My favorite is the pumpkin tushie! It is such a cute idea where the baby's bottom is painted into a pumpkin bum! This one might be better saved for family only but another version is having a photo of the baby on their tummy and you are holding a mini pumpkin right over their bum so that the baby's bottom is covered up in the photo.
2. Sunflowers – This lovely flower is everything we love about fall, add it around the baby for a timeless photo, make a custom plaque of the baby's name with sunflower illustrations adorning the border. And my favorite is having the baby wrapped in a pretty sunflower swaddle blanket.
3. Leaves – Leaves are such a classic sign of fall and so easy to incorporate into photos. I love using a leaf instead of a pumpkin to do the bird-eye view photo with the leaf looking like a blanket over the baby. They are also so easy to add to the borders of a letterboard sign or as a part of a baby's outfit lay flat. Easy Peasy!
4. Wheat – Another great picture of the fall season is the sheaths of wheat. It might be harder to find physical wheat to use as photo props but I have seen plenty in craft stores during the autumn season. There are also cute baby bodysuits or blankets that would go great for your baby's grand announcement! 
5. Apples – I just love the idea of using apples for a fall-themed photo shoot! There is a sense of childhood and coziness to them! The "Apple of my Eye" theme is most fitting for your precious new addition! The best part is that you can add the cutest pun-filled caption to go with your apple photo props.
6. Fall Colors – You can stick to a more simple way just by adding warm autumn colors to your photo! Just use a simple yellow or mustard baby wrap, a plum or peach is perfect for a little girl. Or stick to a more timeless color palette like creams and beiges. You can implement them in the baby's outfit and accessories for a subtle fall vibe. 
Clever Fall-Themed Captions
Now that you have an adorable fall-themed photo of your new baby, it is time to post an announcement with a perfect caption. Here are some cute ideas on what to write. Some are sentimental and some have playful puns— but you can't go wrong with any of these:
You Autumn know that we had a baby! 
Hello Pumpkin!
Added a pumpkin to our patch!
Happy to the core with our newest blessing (apple themed)
Added a little apple to our family tree
Feeling extra thankful this year…
We can't be-leaf it! We had a baby!
Introducing the Apple of our Eye
Trick or Treat, our family grew by two little feet!
 Fall is in the air and we have news to share.
How Do You Reveal Pregnancy On Social Media?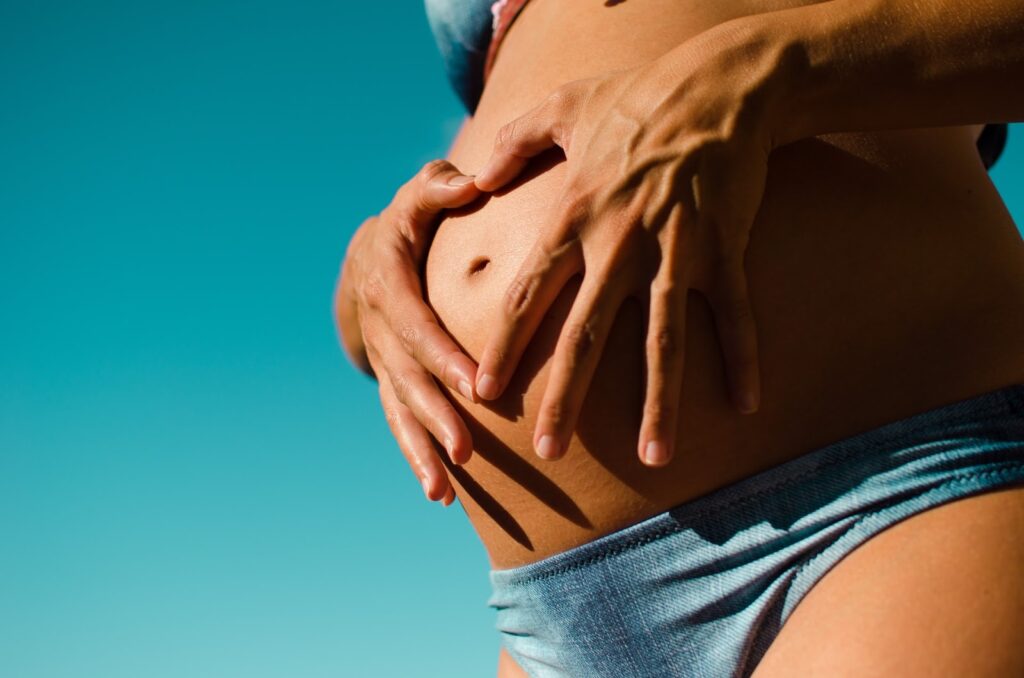 There is nothing more exciting than sharing your good news about a growing family. You want it to be special and memorable. You might be looking for ideas on how to break the sweet news with your partner, and later on how to share it with everyone else.
Some mamas can't wait to tell everyone while others choose to wait a few months before sharing it with their friends and family. However you decide to make the announcement, here are some cute ideas to use when the time comes:
We're expecting a little pumpkin
We're ready to "fall" in love.
Don't eat pumpkin seeds!
Bun in the oven!
Mom is cooking more than just a turkey!!
It's not a trick, we're expecting a little treat.
A pumpkin spice latte isn't the only thing brewing..
Stuffed with love!
Here we grow again.
One more reason to be thankful this year.
You can also use the newborn announcement captions and rewrite them just a little to make it a pregnancy announcement. For example instead of "Added a little apple to our family tree" you can switch it to "ADDING a little apple to our family tree". 
I hope you found some cute ideas that you can use when the time comes.
That's 'fall' folks!