This is a guest post by Stacy Thomas
You have put in lots of hard work and effort to convert the dingy and boring basement into your dreamy man cave. Don't stop with bar counter and bar stools and add finishing touches to make your bar stylish, sophisticated and cozy place to hang around with your pals. You can request free catalogs for inspiration and ideas for decorating your bar or simply check out the tips given below for the same.
Bar Rail Molding
          Installing bar rail molding makes your bar more functional by providing armrest and also keeps floors safe by preventing spill leakages by restricting them to the bar top. It also incorporates professional polish to your home bar. Bar molding comes in different types of wood varieties like Cherry, Oak, Hard Maple, etc. They can cost around $100 for 8 feet of wooden material. Most of the times they are precut to fit bar top and hence are easy to install with help of nails, hammer, light sanding, and varnish so as to complement the bar.
Refrigeration
Instead of old and worn-out mini-fridge opt for kegerators for your DIY home bar. Kegerators are a good option if you are planning to drink or booze beer at home. They keep drinks fresh, chilled and carbonated for comparatively for long duration. For chilled wines and cold mixers, you can opt for under-the-counter temperature controllable beverage centers which will cost you around $500 and are suitable to provide necessary chilliness to your drinks.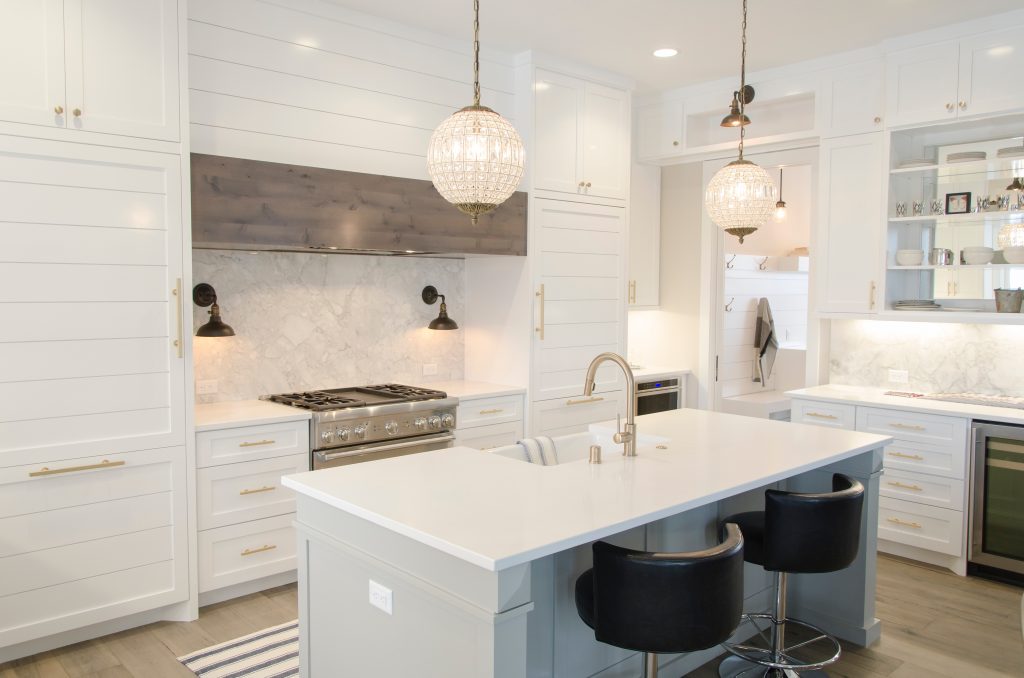 Lighting
The proper amount of light is necessary to set the mood and create an ambiance to unwind and relax at your home bar. Lighting plays a significant role in enhancing visual appeal and increasing functionality of your bar. Use of layering technique with ambient lighting, task lighting, and accent lighting is a popular trend among interior experts. Use unique lighting for shelves and cabinets that showcase glasses and bottles. You can buy simple LED lights to illuminate the backdrop and create an appealing visual effect.
For sitting area track lighting or pendant lighting may do the trick by providing a sufficient amount of light without taking much counter space. You can utilize flexible LED strips that can be easily fitted under cabinets or bar top to give sophisticated look. Give your bar flexibility by installing a dimmer switch that lets you control the ambiance of the room with accordance to the occasions.
Upgrading Drinkware
Buy glasses that match the drink that you intend to serve. Cocktails, beers, and wines are served in a specific and particular type of drinkware. You can upgrade your inventory with cocktail napkins, shakers along with a variety of glassware such as identical cut-glass pieces, quirky antic glasses or unique flea market finds.
Back Bar 
          Back Bar designing is as important as other elements in your bar. If you are going to stock variety of liquor then go for glass cabinets or open shelves. But if your bar mostly consists of keg and beer then choose a single large centerpiece like a large mirror, a vintage map or portrait to fill in the empty space. A good mirror visually expands the space while decorative and artistic elements like map or portrait can become part of the overall design.
You can also add many re-purposed items from barrels to bookcases to beer cans and corks/caps in order to showcase your inventive and creative side to the world.
Three-dimensional wall tiles or panels can give an elegant and striking appearance to your back bar. They come in various colors and texture and can be easily found in any home décor stores and have the ability to uplift the style and appearance of your home bar.
Bar Carts
Instead of stationary bar counter opt for bar carts that can be wheeled around. Bar carts come in a variety of styles and materials like wood, metals, and glass and give you the opportunity to serve drinks indoors as well as outdoors. They are a great alternative to serve a large crowd of people when compared to traditional bar counters.
Conclusion
          With proper bar molding, refrigeration, lighting, drinkware, and eye-pleasing bar décor that matches the overall theme of your bar, you are ready to show off your man cave on upcoming Saturday night.
Author Bio
Stacy Thomas is a freelance writer who has been writing for various blogs for the last few years. In this post, he has written about the benefits of Social Media Marketing, Business, Finance, Fashion, Health as well as the features related to the same.