We all know how special our mothers are. They have done everything possible to provide us with warmth and love since we were born. Chances are that you have even seen the discomfort your mother has had to go through just to make you happy.
However, how often do you appreciate your mother for all her sacrifices? Do you ever find yourself in a situation where you are wondering whether you really deserve all the love that your mother has given you since you were born?
Well, chances are that you would want to do anything possible just to make her happy. But since this might not be possible for you, why not surprise her with a bouquet of flowers? You can make your mother happy with any of the following ideas.
Get Flowers in a Glass Vase
You should make sure that your mother is happy with the flowers you are giving her. Even though there are many ways you can do that, the way you present the flowers can make or break your efforts.
If you can, look for flowers in a glass vase. You want the bouquet of flowers to have a premium look that proves that they are coming from a special person and going to an even more special person.
In addition, a glass vase can stay for an even longer time. Your mother can use it for other purposes long after the flowers have withered away. You can even bring her flowers from time to time to ensure the flower vase is filled.
Get a Surprise Delivery
Who does not like surprises? How do you feel when a loved one surprises you with a gift or even something you have wanted to have for a long time? Well, chances are that even your mother loves surprises. So why not surprise her with a bouquet of flowers?
You can get a surprise delivery from Bouqs and customize it to match your requirements. Since you know what your mother likes, you just need to make sure that you get the right flowers and provide Bouqs with her address for delivery.
When getting this delivery, ensure that your mother does not know anything about it. You can involve someone else at home if you are not there just in case the delivery service provider has issues getting to your mother.
Fresh Bouquet of Flowers in a Basket
Your mother's love is still fresh in your life. No matter how old you are, there are things your mother has done for you that you cannot easily forget. Of course, there is nothing you can do to surpass this love, but getting a fresh bouquet of flowers can go a long way in helping you make your mother happy.
But how can you do this? Well, the first thing is to make sure that you have access to fresh flowers. You can then get a basket and arrange the flowers in the basket. If your mother loves a particular type of flower, then fill the basket with those flowers.
If not, then pick different flowers and ensure you have matched the colors. You can have them delivered home or to their workplace. This can make the perfect gift for your mother on mothers' day.
Get a Multi-Tier of Sunflowers
If your mother is as special as most of our mothers are, then you know that she deserves the best. So, when you are presenting her with a bouquet of flowers, you can also consider getting a multi-tier bouquet of sunflowers.
But why sunflowers? Well, did you know that people associate sunflowers with appreciation and adoration? Did you even know that they have been used for many years to show admiration, appreciation, and love?
So, if you want to show your mother how much she means to you, then get her sunflowers. And not just a single sunflower, but get a multi-tier bouquet of sunflowers. In addition, ensure you have decorated the bouquet to make it look even better.
Get a Chocolate Bouquet of Carnations
Have you ever met a person who does not like chocolates? We are not saying that we all take chocolates, but most people do, including our mothers. So why not satisfy the sugar cravings of your mother with a chocolate bouquet of carnations?
Did you know that carnations have been used to show the admiration, faithfulness, and love that mothers have for their families? Now that your mother has always loved and remained faithful to you, then get her a chocolate bouquet of carnations.
This is one of the best gifts your mother would appreciate on her birthday. Make sure that they are beautifully arranged and get the chocolate flavors that your mother loves.
Show Devotion and Purity With Lilies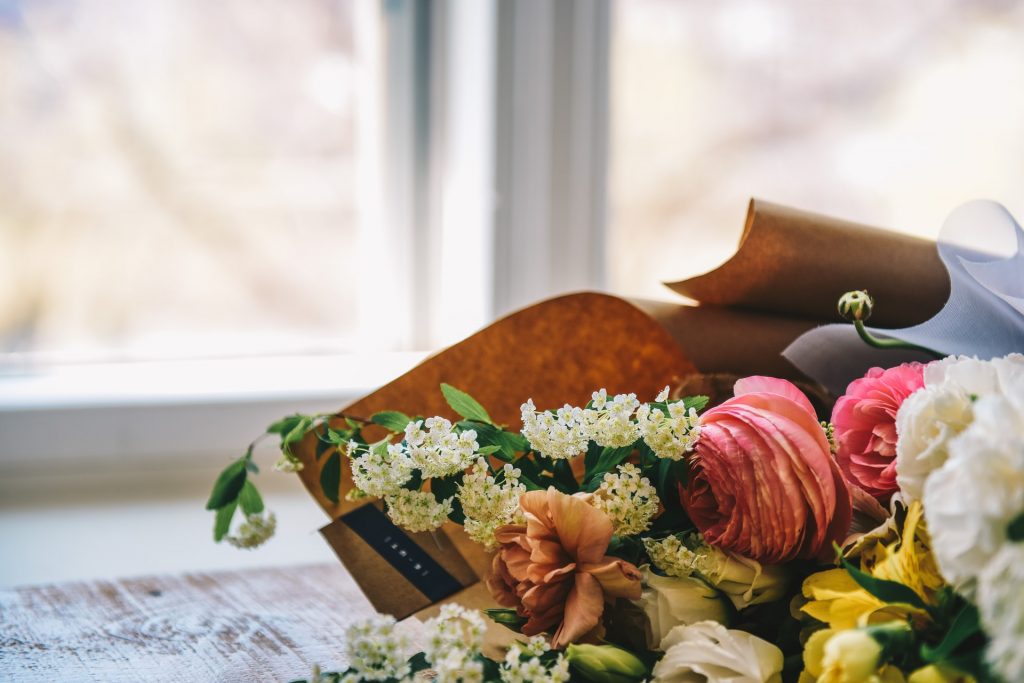 Chances are that among the many flowers you have interacted with since your childhood, lilies are among the top few on your list. Did you know that lilies have been used for many years as a sign of devotion and purity?
If you are a Christian, chances are that you know that lilies have also been associated with Virgin Mary. This would make a perfect way to present flowers to your mother especially if she is religious. Get a bouquet of lilies and show your mother how special she is to you.
There are many surprising ways to present your mom with a bouquet of flowers and make her feel special and appreciated. However, to ensure that the bouquet of flowers you choose does what it is supposed to do, follow the guidelines discussed in this article.