There comes a time in the life of almost every parent when a child is ready for a pet and starts asking for one. Children usually make this request after seeing their friends with pets or after spending time with one at the park or with neighbors. When this happens to you, there are two ways to go: get them a pet or tell them to wait a while. In other words, you can either tell your children that they're still not ready for a pet or you can use this as a learning opportunity. Having a pet will introduce your children to animals in a safe environment, boost their love for pets, and teach them to take care of someone else. Either way, there are numerous benefits to having a pet and enjoying time with a new member of your family which your children will cherish, so here are a few things you need to know.
Going for a walk
Going for daily walks is something you'll need to do if you get a dog, and since most kids want a dog, this is one of those tasks your children could do on their own. Depending on the age of your child, you can go for a walk together and let your child assist you, or if your child is old enough, you can let them enjoy a walk alone. There are a few things to consider, though, so don't let your child go far away from home, make rules for a walk, and be sure your child feels safe going for a walk alone. When it comes to going with your kids and the dog, let them walk the dog for a while, with your assistance, just for them to get a better picture of what walking a pet actually means and why it is so important.
Feeding time
This is the easiest task you can make your child do and you can do everything together – from buying the food and preparing it to fill the bowls and cleaning them later. This will show your child that pets need to eat too and that they have their own requirements and obligations, so they can't forget certain things when it comes to their pet. In addition to that, you'll teach your child a thing or two about routine and why it's important to pay attention, be dedicated, and do these things daily. This is especially important for children who have lots of extracurricular activities and parents who want to be secure that children will do these tasks all the time.
Regular pet care
Just like people, pets need to visit a vet and do check-ups regularly and have someone who'll take care of them. Before choosing a pet, let your child know everything there is to know about their health and maintenance For example, there are strict rules in Australia when it comes to immunization so dogs need to be vaccinated properly by a vet in order to prevent different diseases. Learn about these things and make sure to find a vet who's able to perform dog vaccination in Sydney which will make your pet safe and healthy. This is the perfect opportunity to teach your child about why it's important to have a healthy animal and why immunization is so important in their future.
Playtime and learning tricks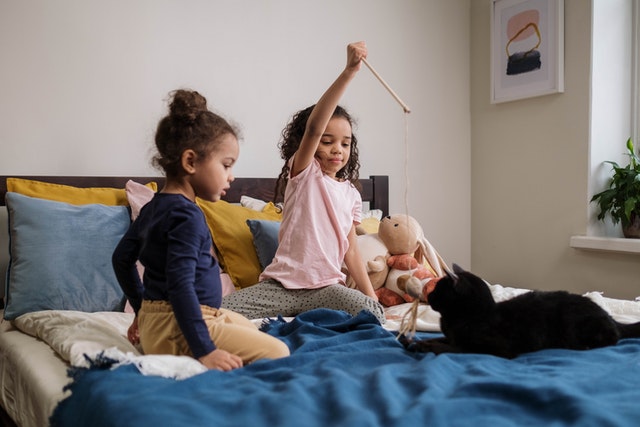 Having a pet doesn't mean that you won't need to spend some time teaching them a few tricks or helping them use their energy in the right way. This is the perfect opportunity to allow your children to use up their energy and do some exercises. Educate your children on different ways they can impact their pets and how they can teach them different tricks. You can create a small playground in the backyard and work on a playground that's going to boost the value of your home and create an amazing space for your kids and their pets.
Having a pet has always been challenging, but it's also something beautiful and fulfilling, especially if you have kids as well. And if you want to make it all work for you and your loved ones, use these tips to maximize everyone's enjoyment!