Cruising is often thought of as the ultimate vacation: spending your day lounging by the pool, fruity drink in your hand and enjoying a beautiful sunset before dancing the night away and then spending the next day with your toes in the sand on a beautiful beach. If you're a parent of young children though, the idea of "getting away from it all" while changing diapers, dealing with toddler tantrums and trying to keep picky eaters satisfied can seem overwhelming at best and the impossible dream at worst.
Cruising with small children doesn't have to be complicated or scary! With a little preparation (and a healthy dose of flexibility!), you and your children can make a lifetime of memories aboard your favorite ship.
Planning Your Cruise
When cruising with small children, careful planning can make all of the difference. Before you book your cruise, it's important to research your options and pick the ship and destinations that suit your child's temperament.
Perhaps your dream is to sail on transatlantic cruises from Florida? Maybe you want to see all that Alaska has to offer? Maybe spending the day swimming with dolphins on the shores of Mexico is more your style? Whatever your dream cruise is, it is important to choose the right ship. Many ships today have abundant offerings for young children, from all-day childcare to pools and water parks just for the ship's youngest passengers. It is important that the ship is a good match for your child's temperament and personality. If you know your child will have a meltdown when hungry, for example, book your cruise on a ship with all-day buffets or kid-friendly food options. If your child needs to be in bed by sunset, look for a ship with early dining options and evening in-room childcare.
Ships with family cabins can also help make cruising with small children easier. Family cabins often have connected rooms or ways to section off a child's sleeping area so that the adults can watch tv or enjoy conversation without waking up a baby. It is important to note that many ships do not have bathtubs in the staterooms, so if your child cannot use a shower, you might wish to pack an inflatable bathtub or plan on sponge bathing your child during the cruise.
Arriving at the Ship
When cruising with young children, it is essential to give yourself extra time to deal with diaper blowouts, hungry children or frequent bathroom breaks. If you can, plan to fly in a day early to account for any delays or last-minute issues. This also gives you time to pick up some snacks, diapers or other important items before you get on the ship.
When you first arrive at the ship, it is possible that your stateroom will not yet be ready for you. If you brought a stroller or a baby sling, start by taking a leisurely stroll around the ship to acclimate yourself to the ship's layout—if you're lucky, your little one will decide to take a nap during your walk!
Enjoying your Cruise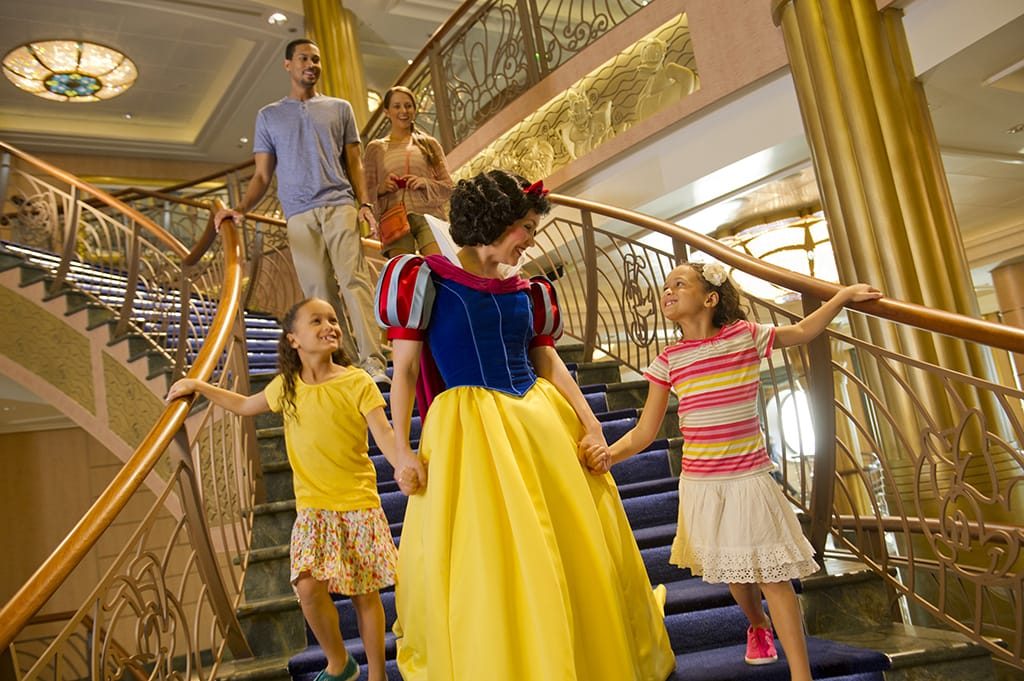 Cruising with small children might look a bit different than cruising with teens or adults. It is important to understand that many areas on a cruise ship are not necessarily baby-proof. Seek out safe places for your little one to freely explore. On many ships, there are designated areas designed just for young children. These areas are often staffed with caregivers trained to work with young children. During the day, childcare (or Kids Clubs) are often free of charge, allowing your child to play and enjoy their vacation with new friends while you enjoy some much-deserved kid-free time.
Evening childcare or in-room childcare is often offered at an additional charge. Check with your cruise line before embarking to see how in-room childcare works. For some cruise lines, these services can be booked before you board, while for others, in-room childcare is first to come first served.
Excursions and On-Shore Experiences
Many people find on-shore experiences to be some of the most memorable parts of cruising. When choosing your excursions, pay careful attention to the intended age of the excursion. Many cruise lines set age limits for excursions for the safety and comfort of all participants. Another consideration is the length and intensity of the excursion. If you have a child who is impatient with long bus rides or needs a middle-of-the-day nap, a long excursion might not be a good option. Look for family-friendly or child-friendly excursion options, especially if this is your child's first travel experience.
Finally, it is important to remember that you and your child are on vacation! Relax, slow down, eat well and make memories. One of the best things for a child is to travel and experience the world. With careful planning, cruising with your young child can be a memorable bonding experience for your entire family.