Do a fast Google search to remind you how in the sixties and early seventies, rock stars looked like. You would see that these celebrities were inter-connected by some fashion accessories. Hats were the connecting link between these charming old-school heroes. The most prevalent accessory worn by all the heroes was the iconic and classic floppy hat that always had a cool hatband. During those days, the celebs took pride in their hats and always wore hats with hatbands and decorations that seemed unique and essentially homemade. Hats are currently in vogue. Hatbands give a whole new look to your casual hats. According to Vogue, wearing a hat is an easy way of adding visual interest to your attire. 
Know the Difference
A hatband is a band that runs around the outside of your hat. A sweatband, on the contrary, is the band running inside the hat. The hatband helps to absorb the sweat from your forehead. Hatbands are available in a broad spectrum of materials. It is quite simple to add a new lease of life to your hats in the wardrobe. You may just use a scarf or bandana or just a piece of fabric. You may use a large bead for cinching the scarf to your favorite hat. Fashionable women have a good collection of vibrant silk scarves. Often your scarves are sitting idle in the wardrobes waiting to be used. Use a scarf as a hatband to flaunt your style and get adequate protection from the scorching sun. 
Tips to Choose the Best Cowboy Hat 
There are endless options while choosing the best cowboy hat for your use. Remember that the right hat is waiting for you. It seems like you are Harry Potter searching the destiny wand. You may consider trying diverse styles and sizes. Some of the cowboy hat styles are the derby, the pinched front, the gambler, the cattleman, and some more modern interpretations. Choose the best hat that fits you perfectly. Do not get swayed, but stay firmly grounded while choosing the perfect hat.
Straw hats are casual hats best for daily wear, while felt hats are far dressier. Do not buy a hat that overwhelms you; instead, choose a hat that complements your facial shape. Choose a hat as per your unique requirements and preferences. You may opt for a perfect hat looking at its buckle or when you consider the slightest details like suede weave or crystal embellishments. 
Concho-Decorated Bands for Your Hats for Ultimate Fashion
Concho in Spanish means 'seashells'. Conchos are generally oval or round disks of silver utilized for decorating mostly your leather accessories. Your leather saddlebag or belt may have sleek Conchos attached to them. Concho is predominantly, used for adorning thick leather bridles, belts, & saddles, clothing, hatbands, picture frames, boots, holsters, jewelry, and bolo ties.
Start by poking a hole through your chosen material for fitting the Concho securely onto the material. Conchos usually are available with screws on their back like Chicago screws. Conchos are best for embellishing your hatbands, as they are sparking silver decorative pieces.
Many centuries ago, Conchos were launched by Native Americans. Earlier Conchos were manufactured from stones and shells. It was much later when Conchos were manufactured from hammered silver dollars. You may find Conchos at farm outfitting stores, leather retailers, and online stores. Buy eye-catching Conchos for your hatbands. Concho hat bands are best for creating a fashion statement.
Tips to Attach a Concho
The exact way of attaching a Concho depends primarily on the backing. Here are the basic steps to fix a Concho on a hatband. Start by punching a hole in your leather hatband with the help of a keyhole puncher, slightly smaller in comparison to the Concho diameter. It allows for a secure and tight fit. Consider screwing the Concho seamlessly through the hole until the screw end is sticking out of the leatherback. Then, strategically place the perfect screw cap and tighten firmly with pliers. Alternatively, turn over the leather hatband and keep hammering the rivet until it is flattened against the leather. Consider placing a washcloth carefully over the rivet for protecting the leather hatband from getting damaged by the hammer.
Tips to Buy a Concho Hatband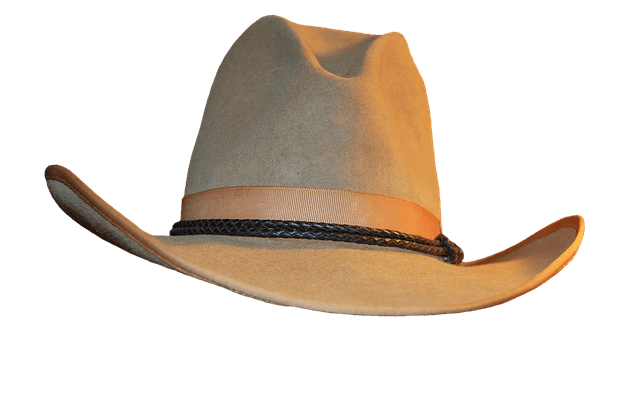 Team up Perfectly with Your Outfits: Your Concho hatband must complement the kind of cowboy appearance you are hoping to project. The hatband should complement the cowboy hat and make you look cool in a pair of jeans, a casual t-shirt, boots, and a cowboy hat with a dashing Concho band.
Choose a Design with Wisdom: When you buy a hatband, you will come across several options. You may opt for a band with a precise fit. You may choose a leather hatband with conches or a ribbon hatband, or a woolen one.
Avoid Getting Swayed By Criticism: No need to seek others' advice or opinion for styling a cowboy hat with a Concho hatband. Just choose a hatband that looks amazing and complements your sense of style or fashion. When you wear the hat it should make you feel confident and give you an iconic appearance.
Conclusion
Understand and embrace the essence of flaunting a cowboy hat. Perfect adjustment of a hat is of pivotal importance. It speaks volumes about your personality and lifestyle.