For all the moms who have getting rid of that old mattress at the bottom of their priority list….
Find the next destination of the old mattress sitting in the basement collecting dust. Based on the condition of your mattress, we will help you decide if it should be recycled or donated – never dumped.
For all the moms out there itching to do some spring cleaning, you're going to want to read this.
Have you ever wondered what to do with your old mattress? Maybe your kid's old twin beds have been sitting in the basement for the last five years. Or perhaps, you've had a teenager leaving for college and you are stuck with their old furniture. How inconvenient.
Getting rid of a mattress is probably at the bottom of your priority list. Why? Because it's a hassle. Who wants to lug an 80 lb bed through the house? You have more important things to think about.
For an item purchased every 7 to 10 years, it's not surprising people have no clue how to get rid of it when it reaches the end of its life. The general assumption is to leave it on the curb for your city's bulk waste pickup to deal with. Unfortunately, that's illegal in most places.
That's why we are giving you two easy steps for moving that old, lumpy mattress out of your house and onto bigger and better things (than rotting in the basement).
Step 1: Assess the condition of your mattress
If the mattress you are getting rid of belonging to a child, chances are it has a few rips or stains. If that's the case, you'll want to recycle your mattress. There are laws against donating mattresses in poor condition. This is for the health and safety of the next owners of your old bed.
However, if the mattress is stain free and appears to have no major rips or tears, that's great! Consider donating your mattress to a family in need. You might even consider your own family member or friend that needs a new bed.
Step 2: Identify a charity or organization in your area that will take your mattress
Here's the thing. Mattresses are 85% recyclable. That's why you should avoid sending your mattress to the dump at all costs.
Thirty-three million mattresses are manufactured every year in the United States and 20 million are dumped. That's a lot of mattresses to go in a landfill.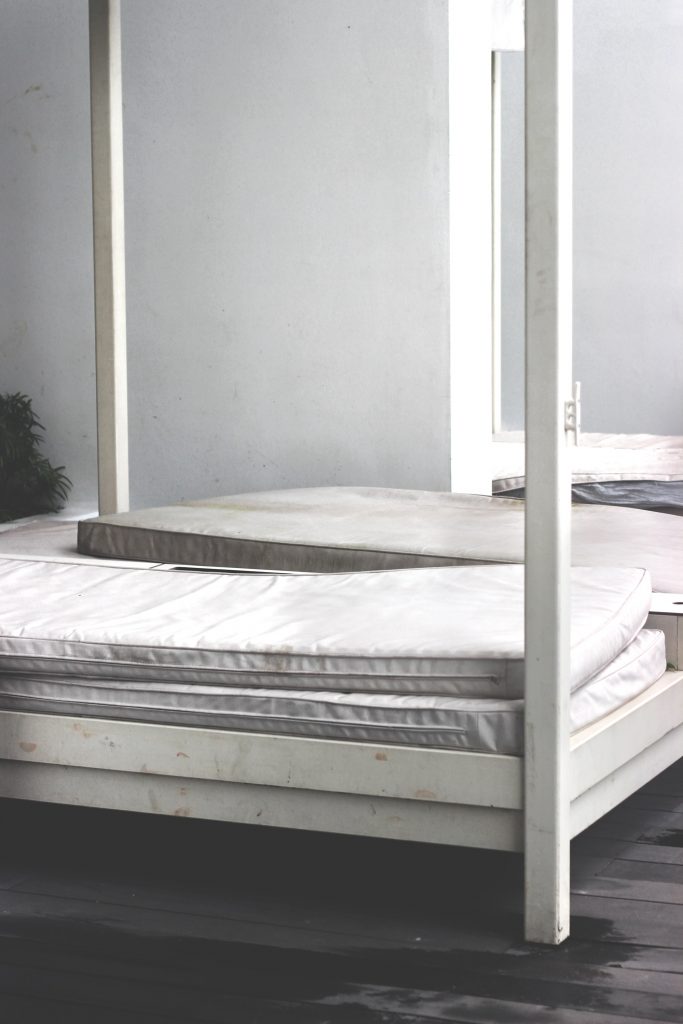 Based on the condition of the mattress, you should either find locations to recycle near you or call the local charity in your area to see if they accept mattress donations. It's important to note, laws regarding reselling mattresses vary from county to county. While one branch of a charity may accept your mattress, another may not. All you have to do is make a few calls.
Regardless of whether you donate or recycle, the good news is most organizations will come to pick up your mattress for you! All you have to do is open the door.
Both of these options are just as simple as taking your old, lumpy mattress to the dump – not to mention, it's better for the planet. And if you're not in love with either, yard sale season is in full swing!
Once your old mattress is gone, find the next best mattress to replace it!
Happy cleaning.