In the pursuit of achieving optimal health and well-being, traditional workout routines can sometimes feel monotonous and uninspiring. However, there is an exhilarating alternative that not only elevates your heart rate but also brings joy to your soul: dancing.
Whether you're twirling to a catchy beat or learning intricate choreography, dancing offers a vibrant and dynamic way to achieve weight loss and improve cardiovascular health. However, using a declining treadmill can also give you great results.
Let's explore the benefits of dancing and discover why it can be an excellent addition to your weight loss journey.
Burns Calories and Promotes Weight Loss
Dancing is a fantastic cardiovascular exercise that can help you burn calories and shed excess weight. It involves constant movement, which elevates your heart rate and increases energy expenditure.
The intensity of dancing can vary depending on the style and pace, allowing you to choose a level that suits your fitness level and preferences. A vigorous dance session can burn anywhere from 200 to 600 calories per hour, depending on factors such as body weight and intensity of movement.
Full-Body Workout and Muscle Toning
Engaging in dance routines provides a full-body workout that targets various muscle groups. Different dance styles involve movements such as twists, turns, jumps, and lifts, which engage your core, legs, arms, and back.
Regular dancing can lead to improved muscle tone, strength, and endurance. Additionally, dancing can help improve posture, flexibility, and coordination, enhancing your overall physical fitness.
Working out on a home treadmill and including HIIT workouts in your fitness routine can also show you great results.
Cardiovascular Health and Endurance
Dancing is an aerobic exercise that elevates your heart rate, promoting cardiovascular health and endurance. Regular dance sessions can strengthen your heart and lungs, improving their efficiency in delivering oxygen to your muscles.
Enhanced cardiovascular fitness reduces the risk of heart disease, lowers blood pressure, and improves overall circulation. By incorporating dance into your fitness routine, you can boost your cardiovascular health while enjoying yourself. Using the best elliptical for small spaces can be a great option if you're looking to boost your cardio health at home.
Stress Reduction and Mood Enhancement
Dancing has been shown to reduce stress levels and enhance mood. The rhythmic movements, uplifting music, and social engagement create a positive and joyful environment. Dancing releases endorphins, which are natural mood-boosting hormones, leading to feelings of happiness and relaxation.
Additionally, the social aspect of dancing provides opportunities for social interaction and connection, further enhancing your mental well-being.
Improved Balance and Coordination
Dancing requires balance, coordination, and spatial awareness. As you learn and practice different dance steps and routines, you enhance these skills. Improved balance and coordination not only benefit your dance performance but also carry over to your daily activities, reducing the risk of falls and injuries.
Developing better balance and coordination can also enhance your athletic performance in other activities and sports.
Increased Cognitive Function
Engaging in dance has cognitive benefits as well. Learning new dance moves, memorizing choreography, and coordinating your body movements with the music stimulate your brain and improve cognitive function.
Research has shown that dance can enhance memory, attention, and problem-solving skills. By dancing regularly, you can boost your brain health and keep your mind sharp.
Versatility and Enjoyment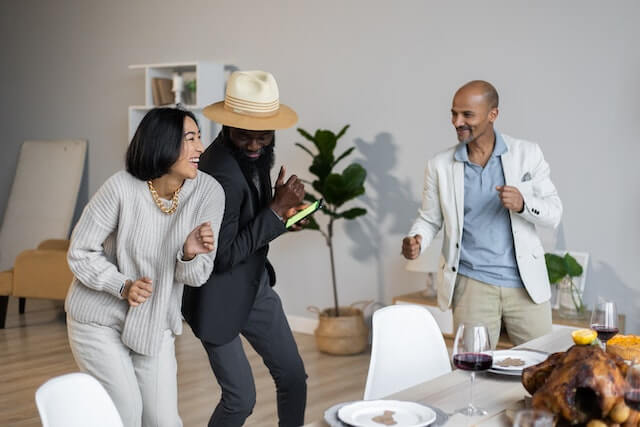 One of the greatest advantages of dancing is its versatility. There are numerous dance styles to choose from, including salsa, hip-hop, ballet, Zumba, and many more. You can find a style that resonates with you and matches your fitness level and interests.
The variety keeps your workouts exciting and prevents boredom, making it easier to stick to your weight loss journey. Moreover, dancing is a fun and enjoyable activity that allows you to express yourself creatively and let loose.
Tips to Get Started with Dancing:
      Choose a dance style that interests you: Explore different dance styles and find one that resonates with your preferences and goals. Whether you prefer energetic and fast-paced movements or graceful and controlled motions, there's a style for everyone.
      Take classes or join dance groups: Join dance classes or local dance groups to learn from experienced instructors and interact with fellow dance enthusiasts. This provides a structured environment for learning and progression.
      Dance at home: If you're more comfortable dancing at home, there are plenty of online tutorials and dance workout videos available. Clear some space in your living room and let the music guide your movements.
      Incorporate dance into your routine: Set aside dedicated time for dancing each week. Aim for at least 30 minutes of moderate-intensity dancing on most days to reap the cardiovascular and weight loss benefits.
      Warm-up and cool down: Before and after dancing, take the time to warm up your muscles with dynamic stretches and cool down with static stretches to prevent injuries and promote flexibility.
      Have fun and be creative: Remember that dancing is about enjoying yourself and expressing your unique style. Let go of self-judgment and have fun with the movements. Don't be afraid to get creative and add your flair to the routines.
Dancing is a powerful and enjoyable way to support your weight loss journey while reaping the benefits of improved cardiovascular health, strength, and mental well-being. So put on your dancing shoes, turn up the music, and let the rhythm guide you to a healthier, happier you.
Author Info: By healthyandkhush.com
Summary:
Healthy and Khush is a blog dedicated to sharing science-based tips and hacks that will help you lose weight and keep it off.