If you care about fashion, you know very well that you can't have just a "party outfit". Different party settings require different outfits, and you want to be sure you don't miss the point. On the one hand, you don't want to be overdressed in a group of people who are all in jeans and T-shirts, but even worse, to be underdressed when everyone around you is done-up. The best thing to do here is to ask the host what level of casual is expected and act upon that. So, to make sure you're ready no matter their answer, here are a few different outfits to make you look great at a house party.
Girl next door
If you want to play it safe and make sure you'll fit in no matter what the setting is, you might want to go for a "girl next door" look. For starters, it means not overdoing it with your makeup and hairstyle, but rather going for something that makes you look put-together and soft. As for the outfit, something like a midi skirt and a button-up shirt will look casual enough for a little BBQ get-together, but also fancy enough for something like an evening party or dinner. Your shoes can play a big role here because wearing something like Converse sneakers will make the look more casual, while a strappy sandal with a heel will instantly make it look more formal. If you want a nice middle ground, go for ballet flats. Of course, accessorize with your favorite pieces (a headband would go great with this!) and you have a finished look.
Fancy party
For something like a New Year's party or a Christmas party, you're going to want to dress up a bit more, but still less than if you were going out somewhere to celebrate because a home is still a more casual location. For this occasion, the perfect outfit would be a chic party dress, preferably something that is made of a comfy material because you'll still be hanging out on a couch. This is the time to make your makeup and hair as glam as you want, so get out the red lipstick and go to town. When discussing shoes, platforms will probably be a better bet than heels because the last thing you want is to leave scrape marks all over someone's floor.
Style up jeans
Jeans can be quite casual, but there are also ways to style them up, making them the perfect versatile option. You can wear jeans with a casual graphic T-shirt from Designhill and a blazer on top for the perfect mix of casual and partywear. A more professional option is to wear them with a button-down with a French tuck or completely tucked in. Accessories will play a big role here because putting a good statement necklace on top of a plain T-shirt will change the entire vibe of the look. Jeans also allow you to be more casual because you can sit in any possible way, whereas dresses can limit your range of movements and the ways you can sit without causing a scandal.
Ultra-casual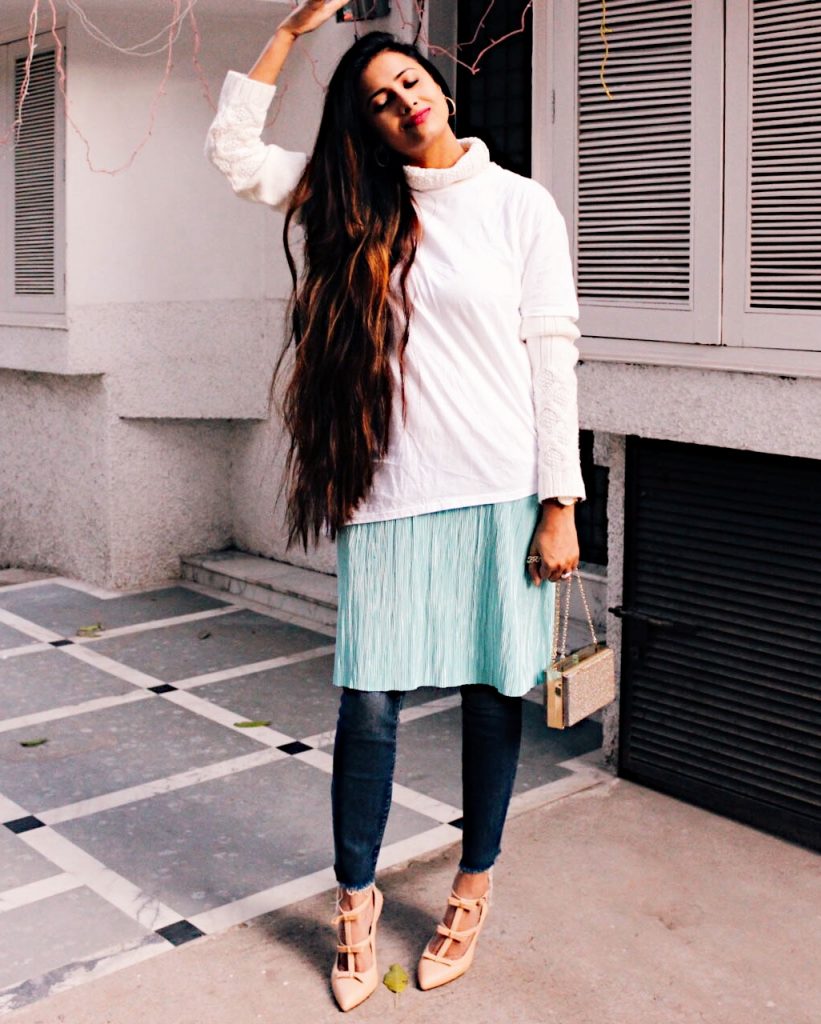 If you have a really casual house party, like a movie night or a sleepover, you can dress however you want, but if you're reading this – you care about what your outfit says even if it's the most casual situation. For this, you can follow sportswear fashion because it will give you a casual look without being in sweatpants. Something like yoga pants with a sports bra and a wind jacket over top is a good example, paired – of course – with sneakers. Put your hair up in a sleek ponytail or a messy bun, and you are ready for the party.
Of course, you don't want to lose your personal style and touch just because you don't think it will go with the style of the party because house parties are all about meeting other people and having fun, so try to put your looks at the back of your mind and enjoy yourself!