A mother's love is unconditional and never asks for anything in return. She would do anything for her child, so it is only fair that we give her something on her birthday. It doesn't have to be expensive; a card or a bouquet could be enough to make your mom happy.
We should never underestimate the power of words, so why not send your mom a heartfelt message on her birthday? You can use these messages as inspiration:
Of course, you might ask yourself, what gift should you give your mom for her birthday?
This question is one that every son or daughter needs to ask themselves before picking out a gift for their mom on her birthday. It is not easy to pick the perfect gift for your mom. It takes time and consideration, but it also carries an understanding of what she likes to do, what she wants to eat, and what she likes to wear.
The best way to find out what your mom wants as a present is by asking her directly. You can also look at the things around the house and try to match them up with something in one of her favorite stores. If unsure, you can always buy her something from her favorite store that you think will make sense for her.
However, if you want more ideas, here are five lovely gifts your mom would appreciate on her birthday.
1. Personalized book
If you're planning on elevating a birthday or mothers day gift book, you should consider personalizing it in some way or another.
There are two ways to go about this. The first way is to create a personalized book for your mom, and the second is to buy one for her. The first option is more personal but requires more time and effort. The second option is less personal, but it's easier and faster.
A personalized book is a thoughtful gift that will make your mom feel special. It is not just a book. It is a gift that she will cherish for the rest of her life.
You can make this gift with love and care and tailor it to your mom's tastes. You can write a story about how you were when you were younger, or you could write about your favorite hobby or interest.
2. Handmade birthday box
You can give your mom a handmade birthday box that she would appreciate on her birthday.
A handmade birthday box is an excellent present for any occasion. It's not only original but also has sentimental value and shows you put some time and effort into the gift. You can use it for any occasion, but it would work incredibly well for your mom's birthday because she knows how much you care about her, and she will love knowing that you took the time to make something just for her.
It is the perfect time to show your mom that you care about her and that she is unique in your life. The best way to do it is by giving her a handmade birthday box on her birthday. It can be a small gift, but it will make her feel special and loved.
3. Customized jewelry
The best way to make your mom feel special on her birthday is by giving her something she will appreciate. For example, if you know that she loves to wear accessories, you can get her customized jewelry. This way, she can wear it and enjoy it every day.
Moreover, if you are unsure what type of jewelry your mom would like or what size of ring she wears, you can find out by asking her friends or family members about it.
The best way to find out what your mom likes is by asking her or checking out what she has in her jewelry box. You can also get an idea of what she would want if you look at the jewelry stores in your area or online.
A personalized piece of jewelry can be a thoughtful and memorable gift for any occasion. It can be a sentimental reminder of your love and care for your mom. You can customize it with her birthstone or a unique engraving on the back.
4. Poem birthday card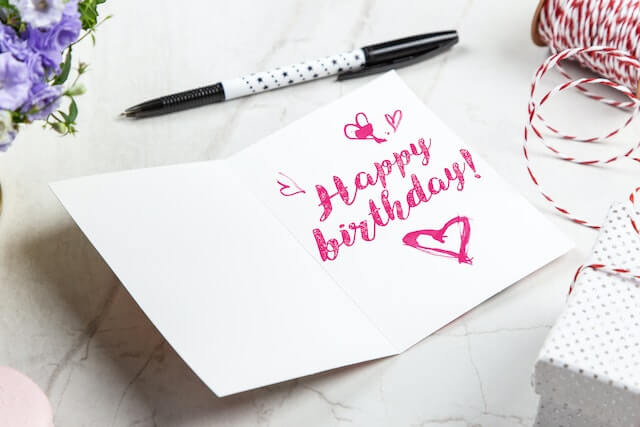 The best way to get your mom to feel loved on her birthday is by giving her a poem birthday card that she would appreciate.
A poem has a lot of sentimental value and will remind your mom of the time you spent together.
You can also write down everything you love about your mom and why she is so unique to you.
5. Stress Relief Card
This year, give your mom a stress relief card that she would appreciate on her birthday. You can personalize the card to show your love and appreciation for her. It can also have a fun message that will make her laugh and forget about the stresses of life.
These words of affirmation can help your mom destress, and it helps if you add a spa day coupon for her there too.
Conclusion
These gift ideas for your mom's birthday can be an excellent way for you to make your mom feel appreciated. Of course, you shouldn't only do that during their birthday, but it certainly will be good for them if they receive these gifts from you on their day, so try giving these gift ideas to them on their birthday.