We're gearing up for our Thanksgiving Unit. This year, we'll be spending a week on Turkey crafts and learning activities. To go along with our Turkey Theme, I've rounded up some fabulous Turkey-themed books. Some of these are in our personal collection and some I'm requesting from our local library. Here are 10 turkey books that we'll be enjoying this Thanksgiving
(affiliate links included for your convenience)
.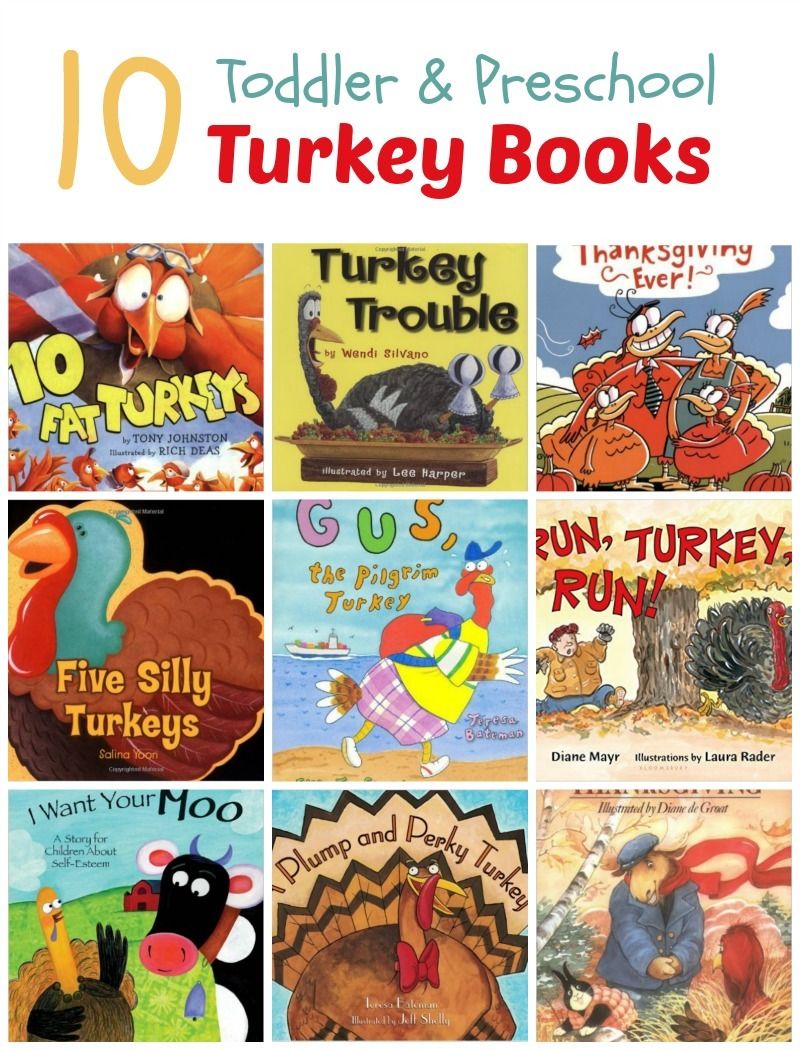 10 Fat Turkeys
by Tony Johnston - a hilarious turkey counting book in the vein of No More Monkeys Jumping on the Bed. The kids will love the antics of these goofy turkeys
A Turkey for Thanksgiving
by Eve Bunting - This is the sweet tale of Mr. and Mrs. Moose who invite all their friends to dinner, but Turkey is missing. When they finally find him, the scared turkey is relieved to find that he is not on the dinner menu!
Five Silly Turkeys
by Salina Yoon - This board book is perfect for little hands. The shiny fabric feathers in this book make it extra fun for toddlers to discover what these silly turkeys are up to in this colorful counting book.
I Want Your Moo: A Story for Children About Self-Esteem
by Marcella Bakur Weiner and Jill Neimark - This award winner tells the story of a turkey who doesn't like her "gobble gobble". Throughout the story she searches for a new sound and discovers that she's just the way she was meant to be. This is a great story for showing kids that they are special exactly the way they are!
Turkey Trouble
by Wendi Silvano - In this tale, Turkey finds himself in big trouble. It's close to Thanksgiving and he's going to be the main course...unless he finds a way to NOT look like a turkey!
Run, Turkey, Run!
by Diane Mayr - It's the day before Thanksgiving and Turkey must hide from the farmer who's looking for a plump turkey for dinner. Young kids will love the being able to chime in on the repetitive "Run, Turkey, Run" throughout the book as turkey attempts to hide from the farmer!
Gus, the Pilgrim Turkey
- by Teresa Bateman - Gus loves being a turkey until he finds out about Thanksgiving. Then, he becomes a pilgrim himself and flees south to avoid being Thanksgiving dinner.
A Plump And Perky Turkey
by Teresa Bateman - The townspeople have hatched a plan to catch a turkey for Thanksgiving. They're hosting a turkey arts & crafts festival and advertising for models. Young children will love this silly story with its poetic rhymes and hilarious illustrations!
The Best
Thanksgiving Ever!
by Teddy Slater - This rhyming story about a family of turkeys that celebrate Thanksgiving is great for read-alouds. It focuses on the importance of being thankful and spending time with family as the turkey family gathers and celebrates their Thanksgiving feast...of corn!!
The Thanksgiving Surprise
- by Peggy Archer - In this tale, two Pilgrims go searching for a turkey for Thanksgiving, but the younger brother has doubts about bringing home the turkey. As the turkey hides, he pretends not to see his hilarious hiding spots. In the end, he helps the turkey to hide and convinces his brother to bring home a large pumpkin instead. Little kids will love the silly hiding spots of the turkey and will love the ending where pumpkin pie takes center stage on the Thanksgiving table.
Want more ideas for spending time with your kids? Be sure to follow us on our
Facebook
or
Pinterest
pages and
sign up for emails
to keep up with all the latest crafts, activities, and kid-friendly recipes!