I am blogging on behalf of

Walmart.com

and received compensation for my time, but the views expressed here are solely mine, not Walmart's. Shop online and save money to live better at

http://www.walmart.com

.
I don't normally get the chance to post adult crafts, but, with my niece and I both expecting, I have baby showers and all things baby on the brain. One of my favorite gifts for a new mom is a
diaper cake
. It's a beautiful and practical gift that any mom is sure to love! Plus, you can customize it to your budget and personality. I have made tons of diaper cakes throughout the years and this is by far my favorite method. It's quick, easy, and sturdy enough to transport without worrying that all of your hard work will go to waste.
With my first diaper cakes, I began by rolling each individual diaper and securing it with a clear elastic band. This process was not only time-consuming for the gift-giver, but also for the new mom who had to unroll each diaper before being able to use it. For this diaper cake, there is absolutely
no diaper rolling involved
. I completed this entire cake from start to finish in just over an hour while the rest of my kids napped.
For this cake I used:
3 toilet rolls
1 wrapping paper roll
1 10" cardboard cake circle (although I'd recommend a 12")
2 packages of size 2 Pampers Swaddlers (Pampers work best because they are white on the outside, but you'll notice that I used a generic brand on the inside of my cake)
1 roll of 1/2 inch ribbon
1 roll of 1 &1/2 inch ribbon
3 paper clips
hot glue gun
crinkle paper
silk decorative flower
large rubber bands
Normally, I would have headed to my local craft supply store to stock up on supplies for this cake, but I was running low on time so I headed out to Walmart and found the perfect ribbon and a beautiful hydrangea stem for my cake. I was thrilled to save myself the 30-minute drive!
To create the base for the cake, I cut the wrapping paper roll half an inch shorter than the three toilet rolls stacked together and glued it to the center of the 10" cake circle. I wanted to be sure that you wouldn't see the wrapping paper tube poking out of the top of the cake.
In past cakes, I've used baby bottles or baby shampoo as the center, but I just love how sturdy the wrapping paper tube makes the cake. Plus, I was able to assemble and disassemble the cake quickly and easily while decorating.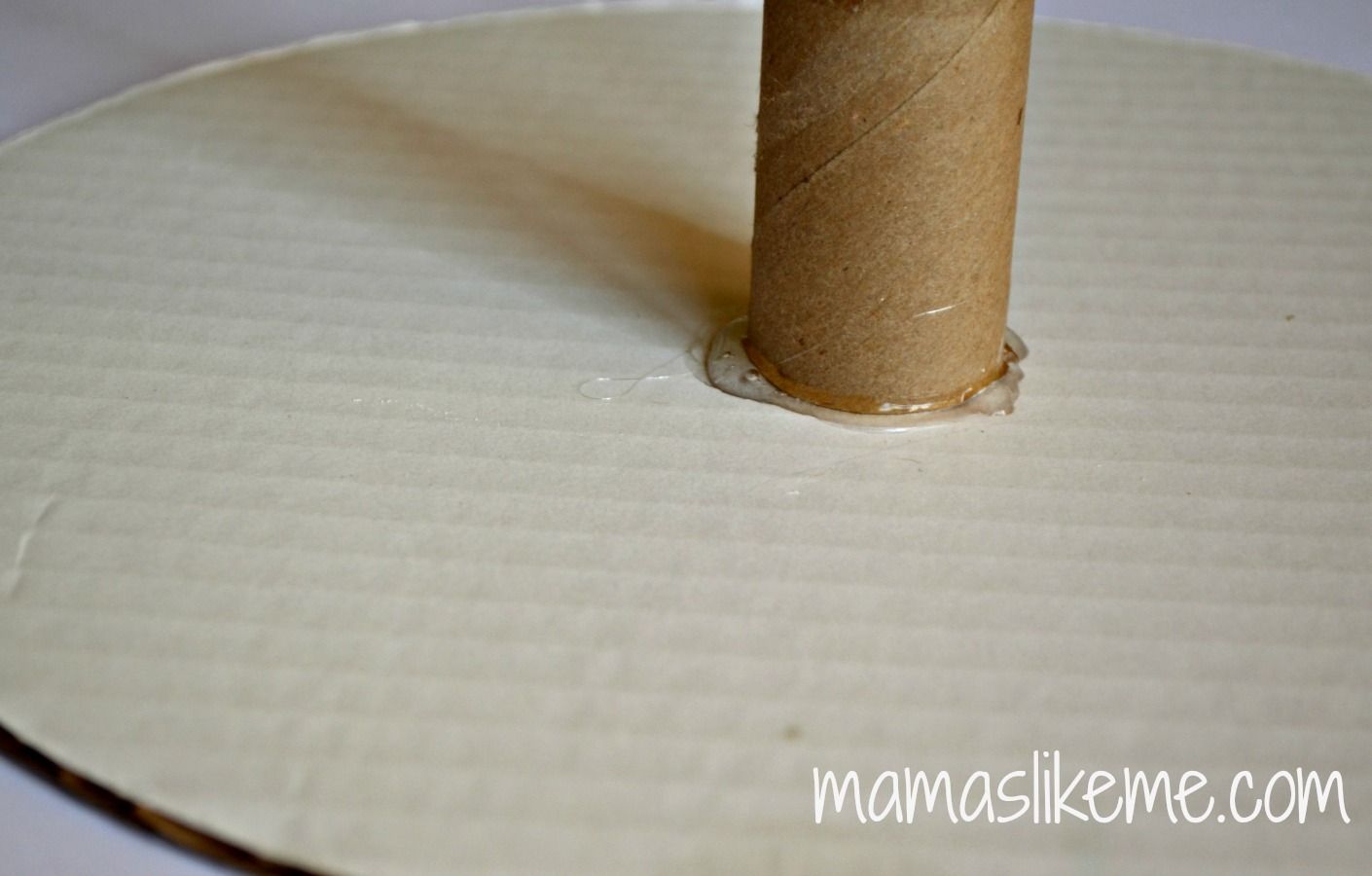 While the cake stand was drying, I began assembling the layers with my baby diapers. I knew I wanted to use some of the
many, many
size 1-2 diapers I had on hand for this project so I only purchased one package of Pampers size 2 diapers. You want to use Pampers so you get that nice clean, white finish on the outside of the cake. Size 2 diapers are perfect for these cakes because they're a little bigger, allowing the new mom time to enjoy her beautiful cake as a nursery decoration before tearing it apart for the diapers as her baby grows.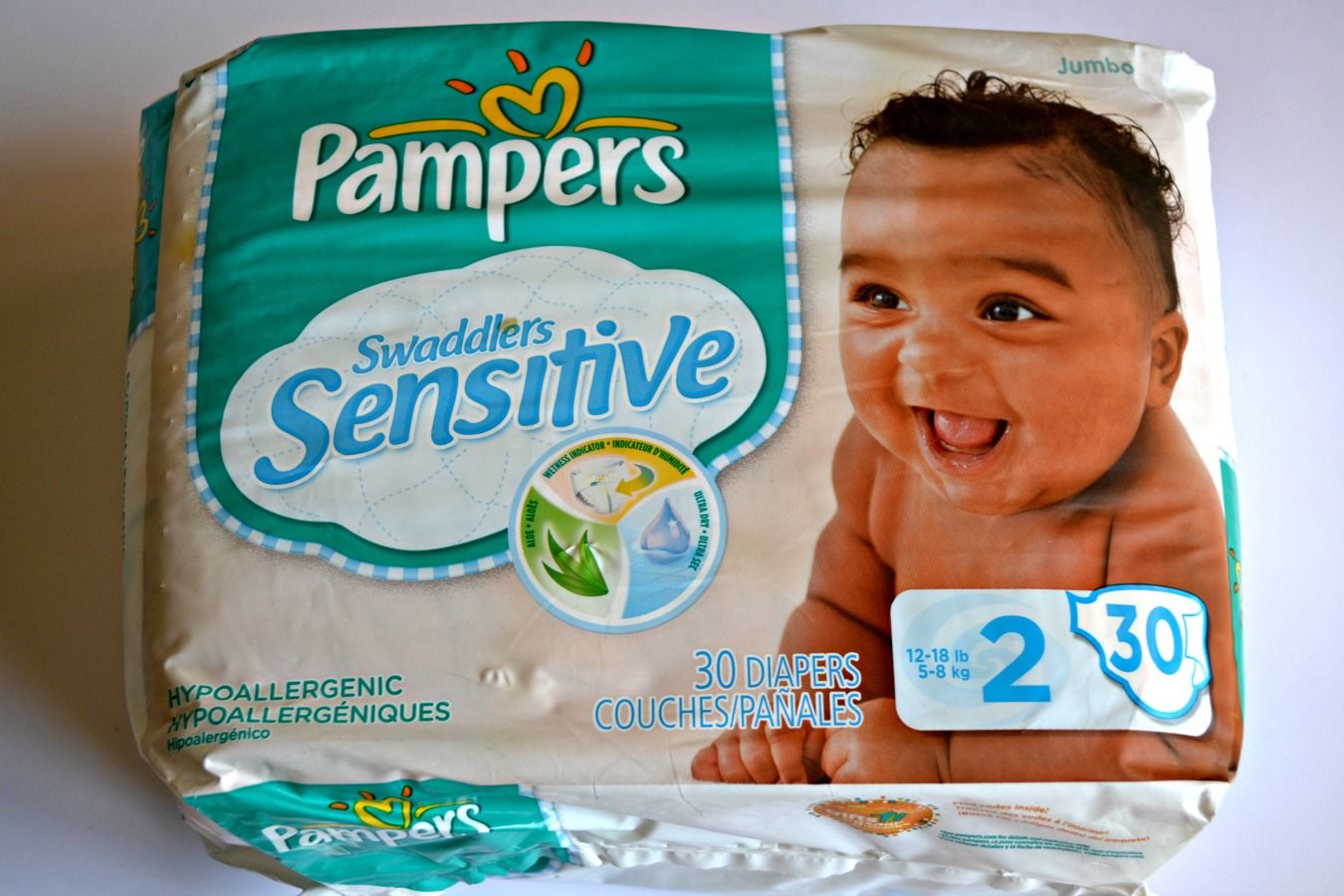 I used rubber bands to attach the diapers to the toilet roll. You'll notice that the diapers on the inside of my layers have patterns on them, but, as I worked toward the outside, I made sure that the pattern faced inwards, leaving the white side for everyone to see. You can stretch the rubber band out to keep adding more diapers, overlapping them to create a uniform layer. I used about 30 diapers for the base to make everything look symmetrical. If you've never made a diaper cake before, just keep at it. It sometimes helps to have an extra set of hands for this part, but I promise you can still do it on your own with a little patience.
Repeat this process for the middle and top layers. I used about 20 diapers for the middle layer and just about 10 diapers for the top. Make sure that each layer is smaller than the one below it to create a tiered effect. I was able to easily eyeball this by sliding the layers together and then taking them off and adding more diapers as needed.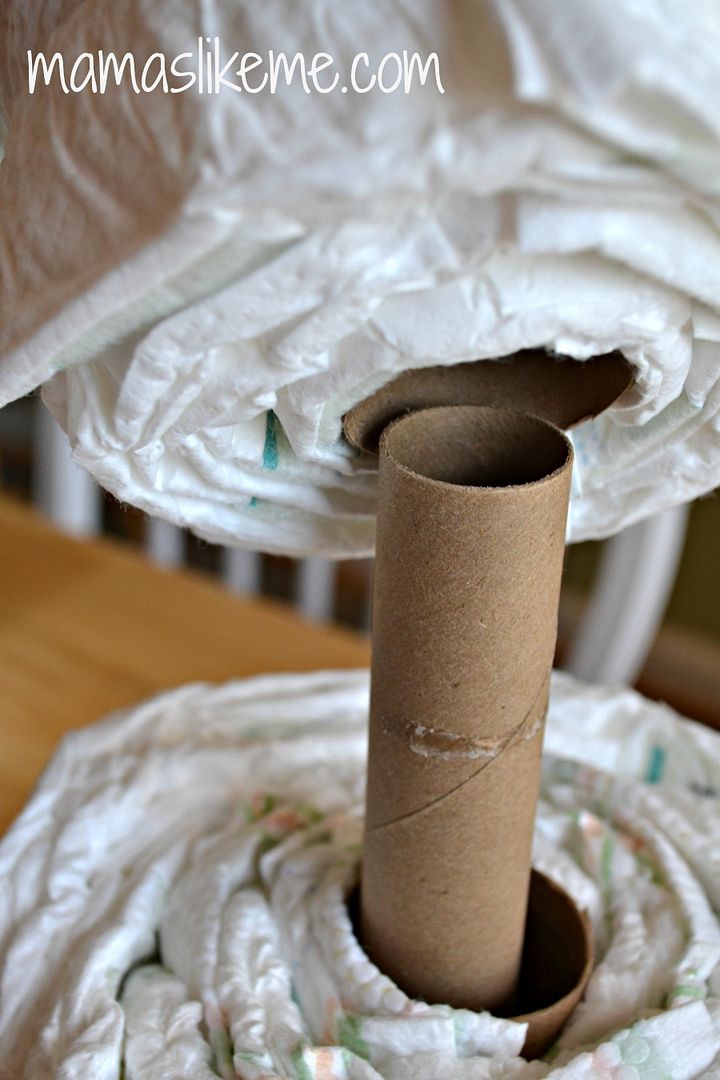 Once all three layers are done, you are ready to assemble your cake. I added crinkle paper in between each of the layers because I loved the extra pop of color it added. I've also seen this done by cutting and adding a layer of scrapbook paper, but I loved how easy this was. I chose to add one layer at a time and attach the ribbons, but you can assemble the whole cake with layers of crinkle paper first and then add the ribbon if that's easier for you.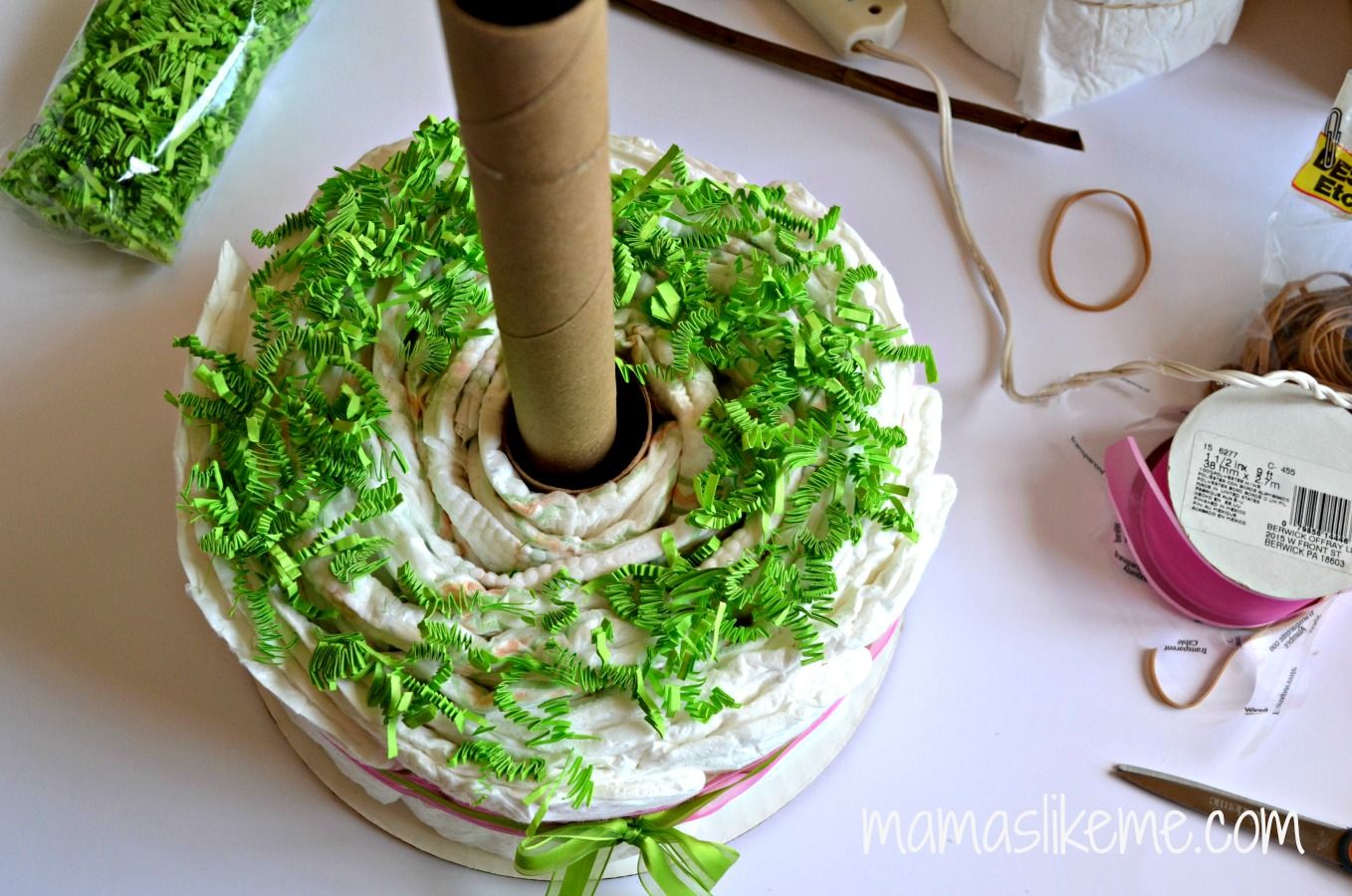 To add ribbon bows, I attached the ribbons to the diapers with paper clips and hot glue. Be careful when using hot glue - do not attach the ribbon directly to the diapers with hot glue as this will ruin them.
I wrapped the ribbon around the cake, overlapping and gluing the ends together. The ribbon goes right over the rubber bands, hiding the construction. Next, I added the half-inch ribbon on top to create a layered effect and tied a simple bow. I did add a dot of glue to hold the ribbon in place, but slipped my finger between the ribbon and the diapers to keep it from seeping through.
For the last step, I trimmed the stem on the hydrangea blossom and inserted it into the toilet roll on top (no gluing necessary). This makes such a beautiful centerpiece for baby showers and you can add as many decorations or baby supplies to the outside as you like.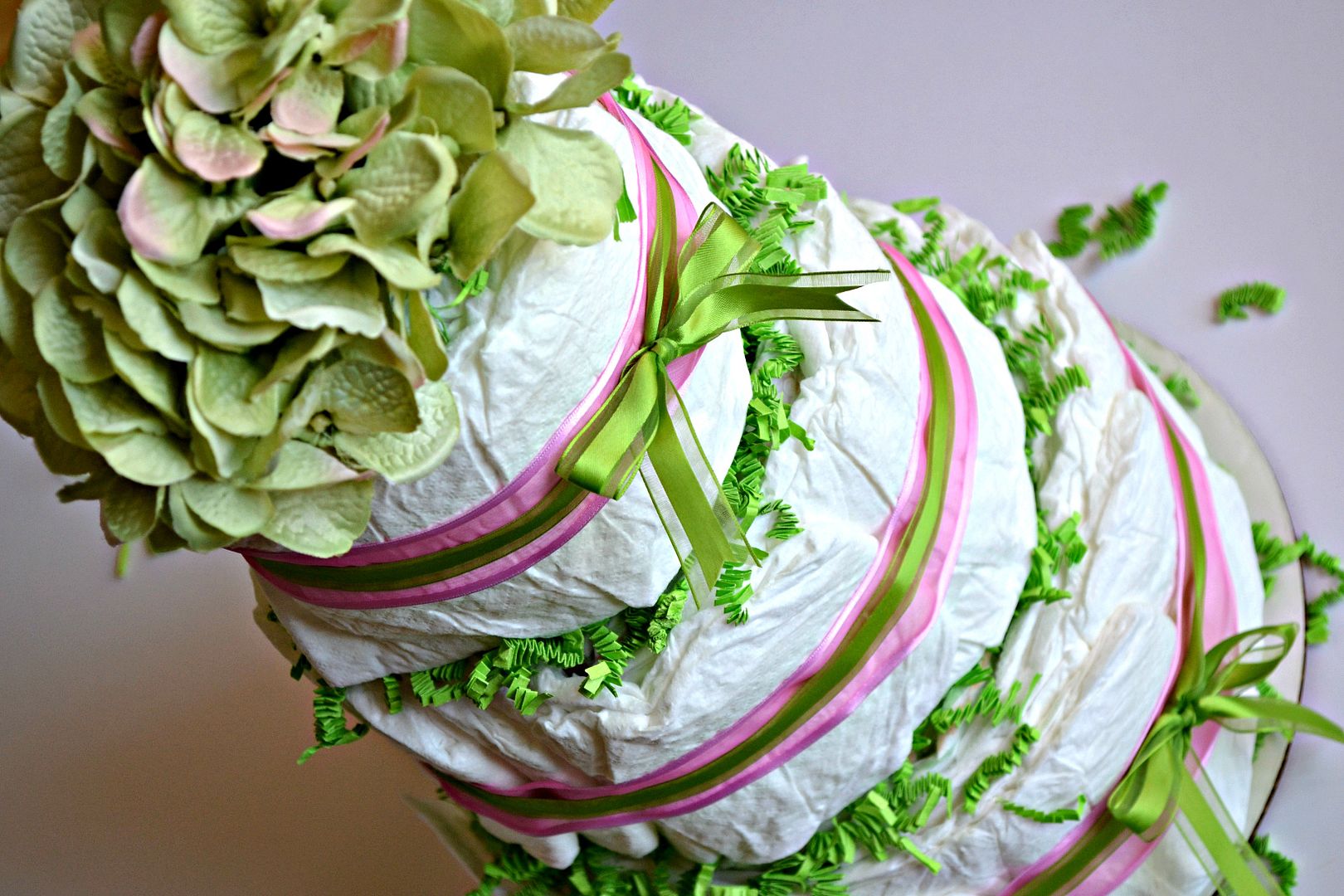 Optional alternative decorations:
Use a rattle or stuffed animal in place of the decorative flower.
Attach travel size powders, lotions, and soaps along the edges.
Decorate the bottom of the cake with bibs or a tutu.
Attach baby utensils or pacifiers to the ribbon bows.
Thanks for stopping by! I'd love to hear from you in the comments.Join us again soon!
Want more ideas for spending time with your kids? Be sure to follow us on our Facebook or Pinterest pages and sign up for emails to keep up with all the latest crafts, activities, and kid-friendly recipes!