Most parents (unless you are one of those incredibly lucky ones with an easy baby) will tell you that teething is NO JOKE! A teething baby is a fussy baby! A teething toddler can be a nightmare! There are few things that can bring a house to their knees like a teething baby who isn't eating or sleeping well. Now, if we were back in my Grandmother's day, I'd tell you to rub some bourbon on their gums and then take a shot of it yourself to make everyone sleep. I'm pretty sure that's illegal, though, so thankfully I have lots of other remedies submitted by moms just like you on our
Facebook page
.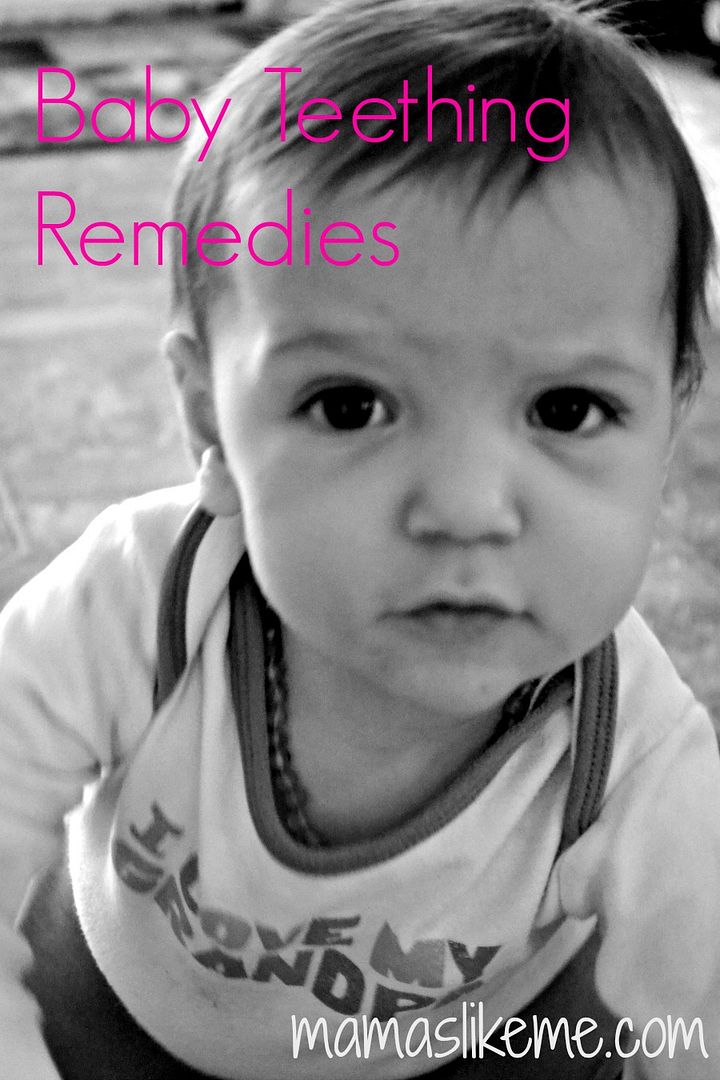 (This post contains affiliate links for your convenience. We appreciate your support.)
When teething strikes, give these a try:
Frozen teething rings
Frozen waffles - these have built in "drool cups"
Sophie the Giraffe Teether
Freeze a bottle nipple and let them chew on it.
Frozen fruit/melon in a mesh teether
Frozen washcloths (make sure you wet them first and then place in the freezer in a Ziplock baggie)
Hyland's Teething Tablets
Carrot sticks or large pickles (Watch your child to make sure they can handle biting a piece off or that they won't be able to)
Teething Pacifier
Frozen bagels
Frozen bananas
Teething Biscuits
Ice Pops (We used to give these unopened to my second son when he was getting his 2-year-molars. They were great because he could get them all the way to the back and they didn't make a mess!)
Clove Oil - Here is an easy recipe for Homemade Teething Oil using this from Mommypotamus
And, probably my favorite natural remedy are the
Amber teething necklaces
. I was introduced to these with my third baby and instantly fell in love. (My husband likes to joke that I've become more "crunchy" with each baby - he's probably right!)
Amber Teething Necklaces are natural, don't require me shoving my finger inside a cranky baby's mouth, and (unlike traditional medicines) have no side-effects. Baltic amber has been a natural pain relief remedy for hundreds of years. It contains 3-8% succinic acid, found in the external layer of the stone. As your baby wears the necklace, their body temperature warms the stone which releases the succinic acid and allows it to be absorbed through their skin.
Shortly after I found out that we were expecting Baby #5, I was contacted by
Amber for Babies
to see if I would be interested in doing a review of their Baltic Amber Teething necklace. I was thrilled to do this because I truly believe that they are a great pain relief and I love to share the things I love with all of you. Like most companies, Amber for Babies provides necklaces that have individually knotted beads, strong silk and a screw safety clasp to make them safe for babies. That being said, teething jewelry is only meant to be used under direct supervision and should be removed before bathing and sleeping.
For the month of February, Amber for Babies is offering 20% off of their teething necklaces!
They are also offering one of our readers a necklace of their choice. To enter, simply use the Rafflecopter form below! Good luck!!
a Rafflecopter giveaway