When it comes to packing a diaper bag, the bag itself usually isn't the most important factor. I happen to be fond of my new
Yummy Mummy bag
from
Pink Lining
. It has insulated bottle holders that keep bottles of breast milk warm for up to three hours (or you can use them to keep juice boxes cold). It also has two inner pockets for diapers and wipes, a zipper pocket, wet bag, changing pad, and sections for your cell phone and a pen. It has plenty of room for everything I need and is super stylish, which is more than I can say for a lot of things in my Mommy wardrobe!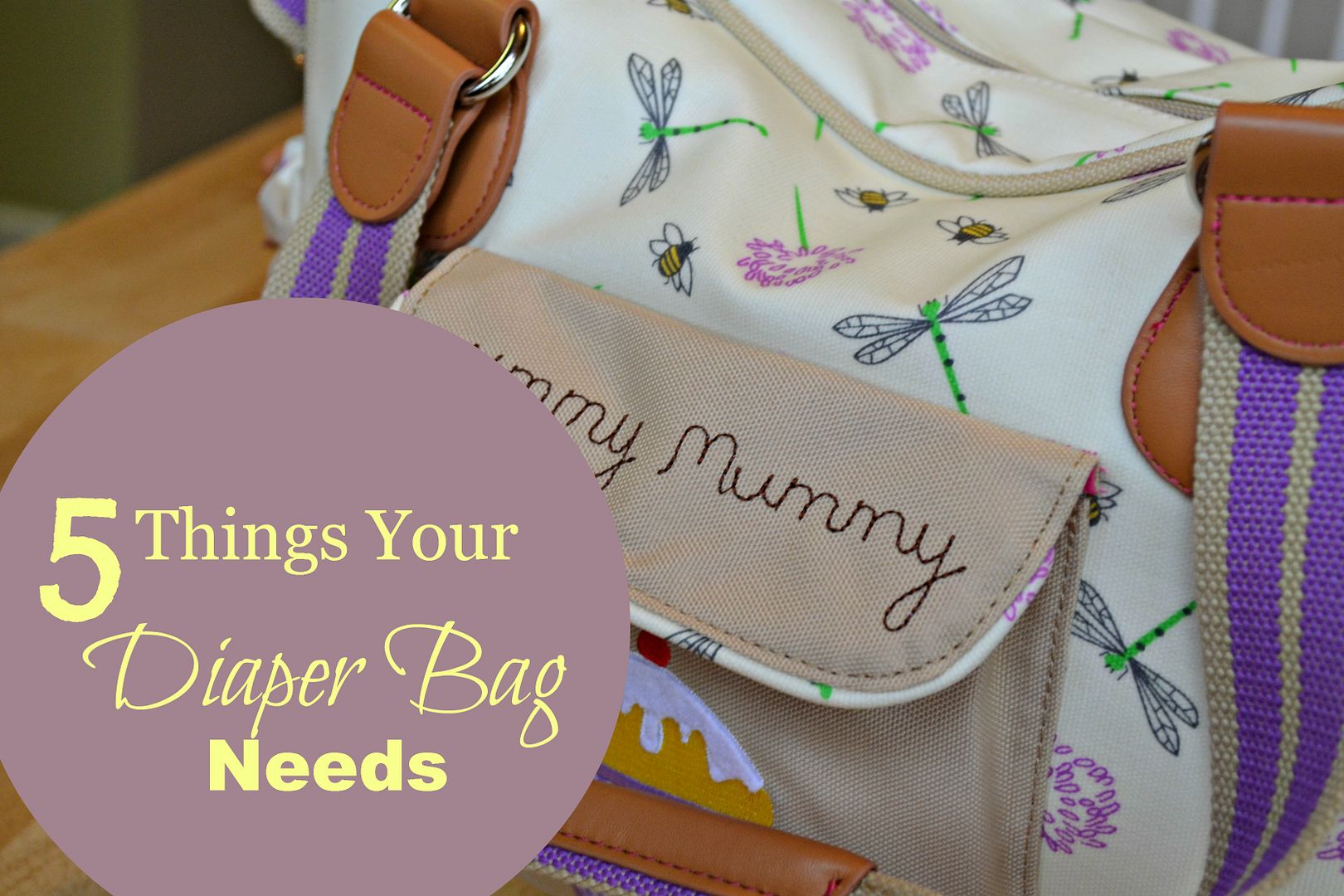 The most important things, though, are the things you keep
inside
the diaper bag. There are certain things that every mom should include in her bag to keep her prepared no matter what baby throws at her. Most people automatically remember the diapers, wipes, and bottles, but there are other things that can make life a little easier:
1.
Diversionary Devices
- This can mean the difference between a minor annoying delay or a major meltdown in public. We try to keep crayons, small toys (cars, action figures, etc.) and a board book on hand in case we find ourselves waiting in a restaurant, traffic, or even the DMV.
2.
Snacks
- This certainly came in handy a few weeks ago when we found ourselves stuck in traffic because of an accident. I always try to have extra snacks in our bag. I've found that fruit snacks, raisins, pretzels, and extra baby food can be life-savers. Don't forget to throw in a granola bar for yourself, as well.
3.
Extra Clothes for Everyone
(including a shirt for Mom) - When traveling with a baby, it is necessary to always have an extra set of clothes for those unexpected blow-outs and spit-up. If you go ahead and throw in a wrinkle-resistent t-shirt for yourself, you'll thank me when you find yourself at the library covered in spit-up - been there, done that!! I even keep a small bag in the back of the minivan with a change of clothes for my older boys as well. You never know when you're potty-trained child will suddenly forget that he's potty-trained, or your toddler will decide that puddle-stomping on the way into church is an absolute must!
4.
First-aid kit
- A well-stocked diaper bag should always include a small pouch with band-aids, antibiotic cream, and a fever-reducer. We also keep Little Noses saline solution.
5.
Wipes/Hand-Sanitizer
- This comes in handy when there aren't any sinks to wash little hands or when you're out at a restaurant and napkins are just NOT going to cut it! Are my kids the only ones who look like they're trying to wear their food?? We also keep a container of wipes in the car for those unexpected spills. (I remember the days when we swore we'd never let our kids eat in the car - HA!)
6. (I know I said 5, but this one comes in handy!!)
Extra Comfort Object
- Whether it's a pacifier, stuffed animal, or blankie, it's helpful to keep an extra in the diaper bag in case one gets lost or you find yourself running late for nap and your little one needs something to help them sleep.
Here's a look at my diaper bag. While we use cloth diapers at home, we will often use disposables for the nursery at church or when we are going to be out for the day.
The side pockets hold a water bottle for me and a sippy cup for my toddler.
Inside you can see the two sections of diapers with my diaper cream. I use one section for the baby and one for my toddler. If you only have one child, you could use one section to keep a few toys and board books handy. My nursing cover is easily accessible on top, but I have wipes and extra clothes rolled up underneath (including a shirt for myself!) There's a pen hiding in the back because you never know when it might come in handy (like drawing shapes on a napkin to keep your child entertained at a restaurant). I use the zippered pouch for fever-reducer and saline drops and that blue plastic container holds my other first aid supplies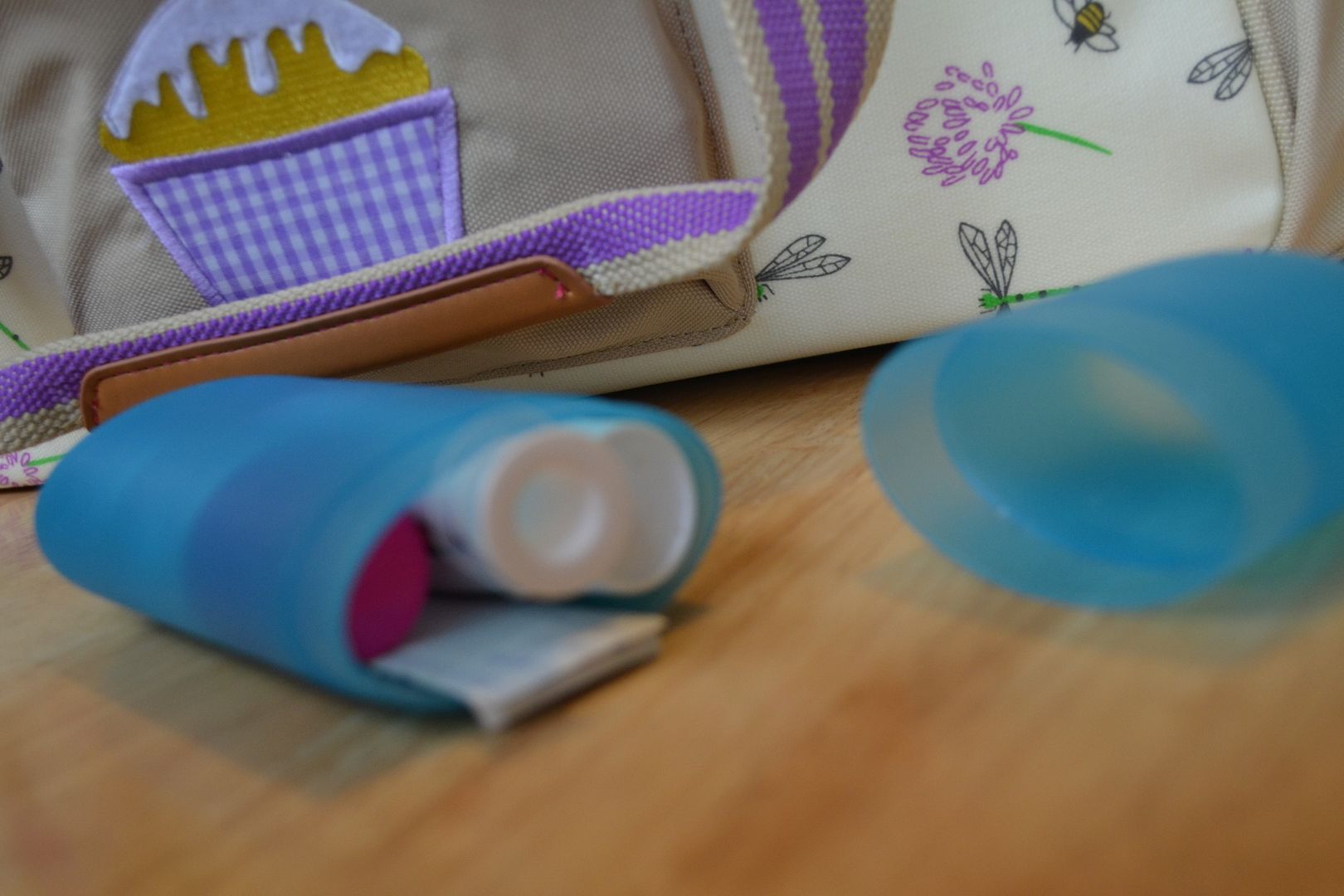 It's a little hard to see, but there are some band-aids, a tube of antibiotic cream, and a sunscreen stick in that container.
On this side I have juice pouches in one of the insulated compartments and snacks (raisins and fruit snacks) in the other. There's also two toy cars and a small pack of crayons hiding under the raisins. The middle pouch holds a bib, spoon, baby food, and an extra pair of socks.
The outside pocket is my "Mommy pocket". It holds my cell phone, lotion, lip gloss, and keys. Please excuse the green tint on my fingers. I was painting with the kids before we took these pictures! :)
As your kids get older, you'll find that you can leave some of the diaper bag essentials at home. You'll also find that you can back some emergency clothes and wipes in the car, but until then, a well-stocked diaper bag can mean the difference between a happy Mommy and a stressed-out crazy woman!
What items are a MUST for your diaper bag?
Want more ideas for spending time with your kids? Be sure to follow us on Facebook or Pinterest and sign up for emails to keep up with all the latest crafts, activities, and kid-friendly recipes!