Today, we explored with mixing colors and made these festive green shamrocks.
For this craft, you'll need:
White construction paper
White construction paper shamrocks
Blue and Yellow washable paint
Gold Glitter Glue
*Before beginning this craft, I cut out a shamrock shape for each child out of white construction paper.
1. We began by reviewing how some colors can be mixed together to form new colors. These are called Primary colors. I showed them to the kids and they named them. Then we talked about what colors each one can make. Then, I challenged them to come up with a way to make our shamrocks green without using green paint. They figured out that we should use the yellow and blue paints. So, I put some of each on their papers.
2. The kids then used their hands to mix the blue and yellow paints and create green shamrocks. I put their shamrocks on a large sheet of white construction paper to help contain the mess. When we took the shamrocks off they had another shamrock underneath!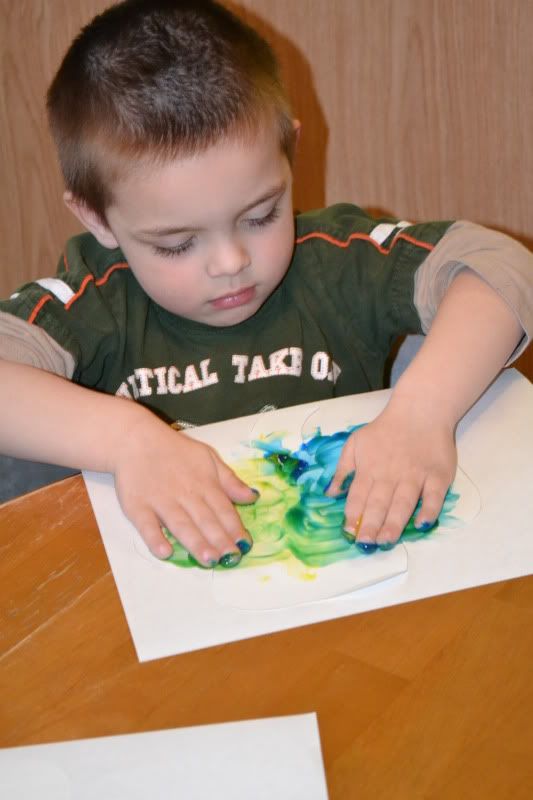 3. Once they dried, we used gold glitter glue to put their names on their shamrocks.
4. Then, we glued a shamrock poem to the back of their shamrock.
I'm a little shamrock
I hide along the ground
When you come and find me
Don't make a sound
Pick me up so carefully
Don't let me fall apart
Then go ahead and wish on me
And hold me to your heart!
These would be fun decorations to hang on a bulletin board or in a window. You could even gather a branch from outside and make your own "Shamrock Tree" :)
Thanks for stopping by! I'd love to hear from you in the comments and have you join us back again!
Want more ideas for spending time with your kids? Be sure to follow us on our NEW Facebook or Pinterest pages and sign up for emails to keep up with all the latest crafts, activities, and kid-friendly recipes!