Dressing up for Dr. Seuss week seems to be a popular activity in preschools and elementary schools around the region :) Today, I made these super simple Cat in the Hat hats with the kids out of construction paper and paper plates. The kids were so excited about wearing them while we read The Cat in the Hat. Big Brother will be making one next week when his class dresses up for their Seussical celebration.
To make these hats, we used:
Red and White construction paper
paper plates
Scissors
Glue
Stapler
To prep for this activity, I took large sheets of red paper and cut them lengthwise into 2 inch strips (no, I didn't actually measure them) and cut the middle circles out of the paper plates. Older children could cut their own red strips.
1. Give each child a large sheet of white construction paper.
2. Show them how to spread their red strips out on the paper to create a red and white stripe effect. Allow the kids to glue their strips of red to the white paper.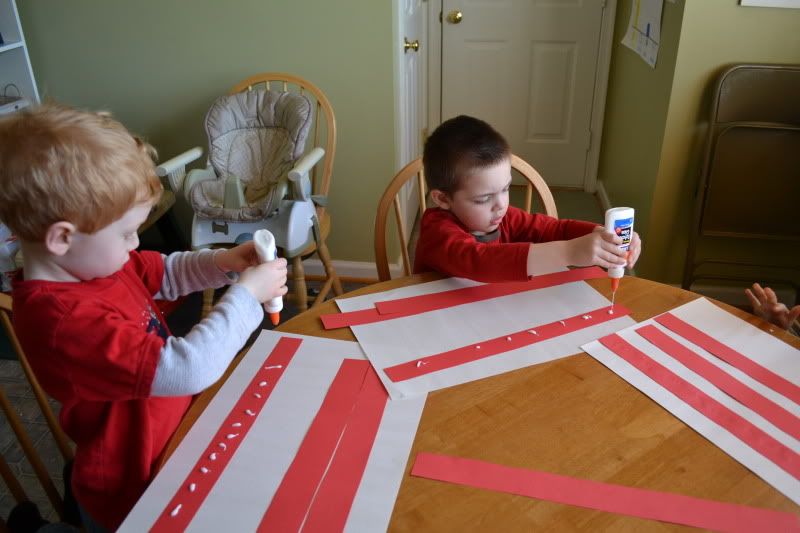 3. Once dry roll the paper into a cylinder and slide through the opening in the paper plate. Using the plate to guide how wide to make your cylinder, staple the paper to make a hat shape.
4. Cut 2 inch slits around the bottom of your paper cylinder. Fold them under the rim of the paper plate and staple them to secure your hat as shown.
5. If you plan to have your child wear this throughout the day, you may want to hole punch the sides and tie some yarn beneath their chin to help hold the hat in place.
And there you have a super simple hat to celebrate Dr. Seuss' birthday :)
Thanks for stopping by! I'd love to hear from you in the comments and have you join us back again!
Want more ideas for spending time with your kids? Be sure to follow us on our NEW Facebook or Pinterest pages and sign up for emails to keep up with all the latest crafts, activities, and kid-friendly recipes!