Aren't these adorable! They're brownie, strawberry cake, and vanilla frosting cupcakes - perfect for Valentine's Day!! I found the picture on Pinterest and made them for a recent luncheon at church. We even pulled out the Valentine's Day sprinkles that I bought after Valentine's Day last year. Yes, I'm one of those people who stocks up on sprinkles, cupcake wrappers, Valentines, and other decorations the day after a holiday :)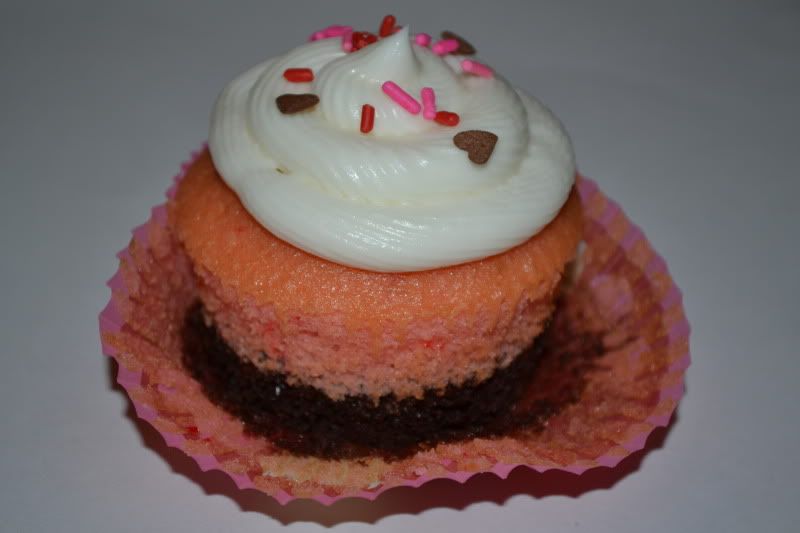 There really isn't much of a recipe for these, but I will share my frosting recipe with you.
For these cupcakes, I used:
1 box of brownie mix
1 box of strawberry cake mix
My frosting recipe
1. Preheat oven to 350 degrees. Prepare brownie and cake mixes as directed on the boxes.
2. Fill 1/3 of muffin cups with brownie mix.
3. Top with strawberry cake mix until the muffin cups are 2/3 to 3/4 full.
4. Bake 18-20 minutes or until cake tests done.
5. Cool completely and ice with vanilla frosting.
Vanilla Buttercream Frosting Recipe:
2 lb. powdered sugar
1 cup milk (use less for a stiffer frosting)
1/2 teaspoon salt
1 teaspoon vanilla
2 sticks butter, softened (not melted)
2 1/4 cups shortening
Beat butter for a few minutes on medium speed. Add powdered sugar and turn your mixer on the lowest speed (so the sugar doesn't blow everywhere) until the sugar has been incorporated with the butter. Increase mixer speed to medium and add vanilla extract, salt, and milk and beat for 3 minutes. Add in shortening and beat until frosting doubles in size.
Enjoy!!
Thanks for stopping by! I'd love to hear from you in the comments and have you join us back again!
Want more ideas for spending time with your kids? Be sure to follow us on our NEW Facebook or Pinterest pages and sign up for emails to keep up with all the latest crafts, activities, and kid-friendly recipes!