*Update: Since this post, we've done another Budget-friendly Batman Party for my 2nd son's 5th birthday. So, if you're looking for some more Batman-themed games, food, and decorations, you'll want to check out our
Superhero Academy
!!
This past weekend, my oldest son celebrated his 6th birthday with a Batman party. As with everything, I try to keep our budget in mind and stretch our money as far as it will go when it comes to birthdays. I can't promise that all of these tips will work for you, but they help us to wonderful parties without breaking the bank. Our boys are still talking about how much fun they had and my son asked if he could do this for his birthday every year!
1.
Keep the party at home!
- I read a wonderful book by
Kevin Leman
(a wonderful speaker/author on parenting and birth order) that encouraged families to spend time making memories at home. If all of your children's parties are away from home, they may get the idea that home is not a place for friends to come over or for fun. I want my kids to make their best memories at home. Plus, having parties at home saves you rental fees. Now, I know that there are some situations where you can get great deals or all-inclusive packages. And, sometimes it's just more convenient. Two weeks after our last son was born, we threw a birthday party at a local ice cream shop and pottery place. We got a great deal and it was a lot less stress for me having it somewhere else with a newborn in the house. You should always balance the benefits of savings with the benefits of keeping your sanity :)
2.
Make your own cake!
- I love to bake and decorate cakes. They don't always look professional, but my kids love them and I'm not spending a ton on something that will be eaten in a matter of minutes. Since I already have a huge assortment of pans and decorating tips, I only pay for the cake and icing ingredients. This cake cost less than $5.
3.
Keep the games simple
- I love games that can be adapted to any theme and require few materials. For our Batman theme, we played:
Batman, Batman, Joker - This is basically Duck, Duck, Goose with a play on the words. The younger kids at the party loved this one because it's something they recognize and can easily play.
Mr. Freeze Dance - Freeze dance with a cool new name :)
Batman Says - Again, "Simon Says" with a Batman theme.
Stomp the Bad Guys - I blew up a bunch of balloons and filled them with candy. (I recommend smarties or the rolls of sweet tarts. They're the easiest to get into the balloons.) Then, I printed out pictures of Batman Villains. I found mine here and just copied and pasted them into a PowerPoint slide for easier printing. I cut them out and taped one to each of the balloons. Then, the kids stomped on all of the balloons to defeat the bad guys and get their candy. (We actually ran out of time during the party for this one so I ended up doing it with my daycare kids instead)
4.
Save on Entertainment
- If you feel the need to have entertainment, look around for cheaper alternatives. We are extremely fortunate to know the amazing
Johnny-O
and
GlitterBugz Facepainting
team. They do an amazing job and my kids love them. If you can't hire professional entertainers, though, consider your local high-schoolers. Many of them can do facepainting or dress up as characters that your kids would love - or do it yourself. You can arrange a Princess Tea or Spa party, rent or borrow a moonbounce from a friend (we did this with one of our son's first birthdays), or have a water party complete with kiddie pools, water balloons, and super soakers.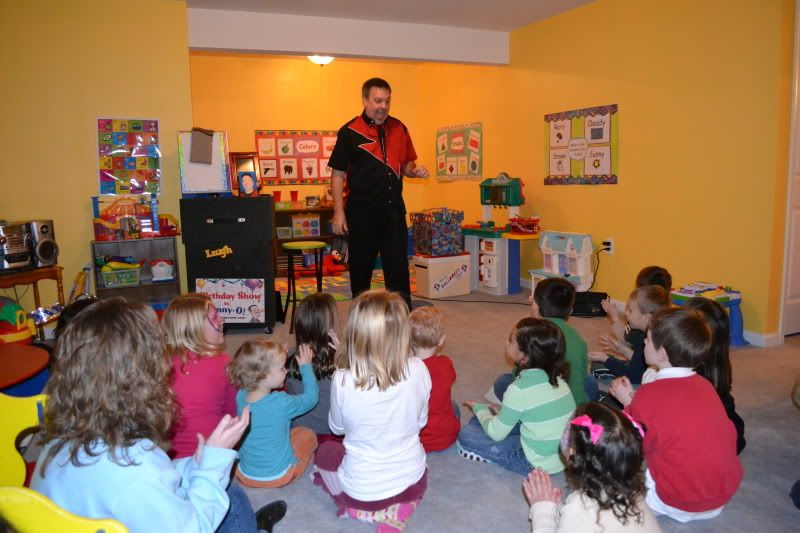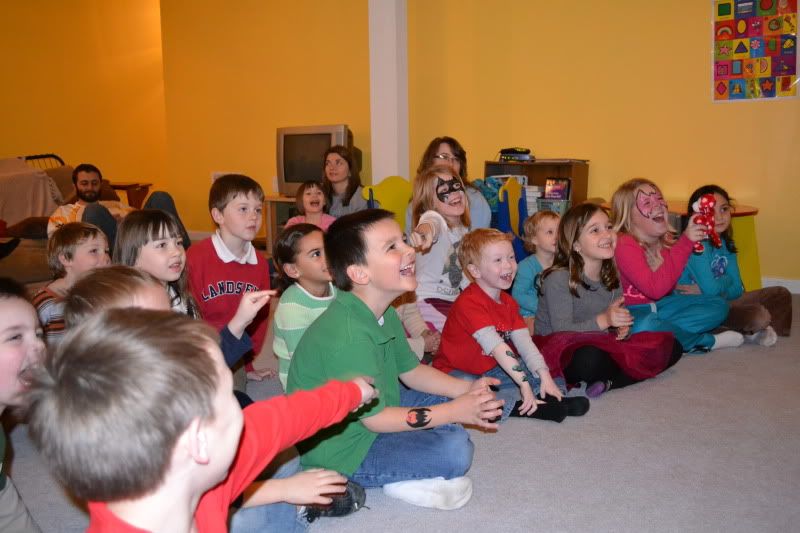 5.
Save on Goody Bags
- Actually, I personally think these are a waste, but since they seem like a time-honored tradition, I usually succumb and make them. This year, the daycare kids helped me make Batman sugar cookies for the bags. Then, I also made homemade Batman masks. I free-handed a picture of a Batman mask from Pinterest and used an Exacto knife to cut them out of foam that we already had at home. I bought elastic cord from the kids craft section of WalMart and finished 17 masks for $3.47. I tied off the goody bags with yellow ribbon and a Batman marker that I bought in packs of 8 in the dollar section at Target.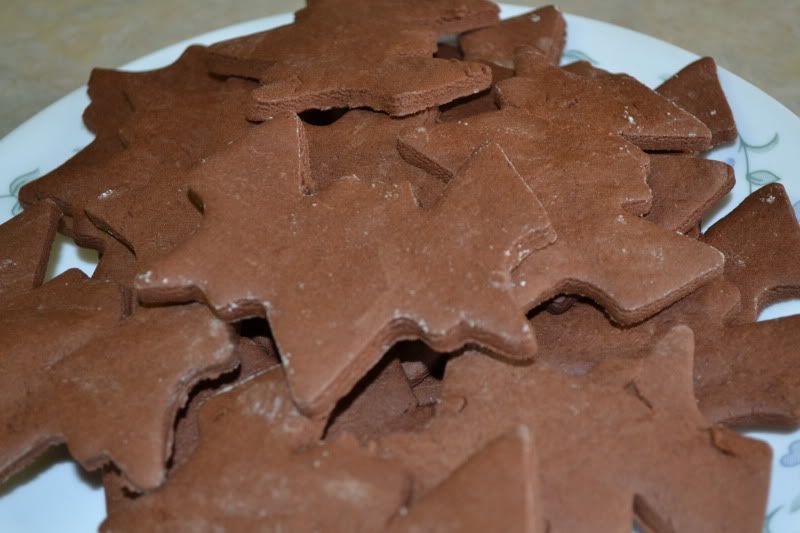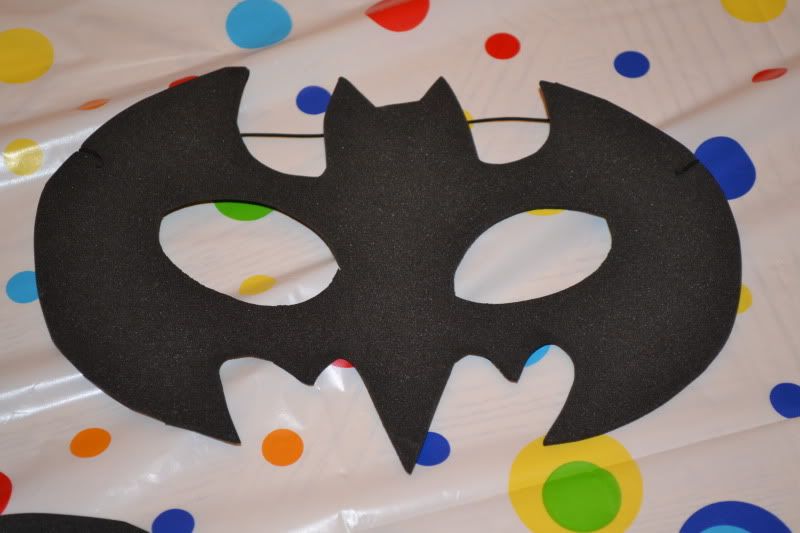 For the food table, the kids helped me make"Batman-themed" labels including Joker's Juice Boxes, Poison Ivy Pizza, Penguin Pepperoni Dip, Villains Veggies, Sandman's Snacks, and Dynamic Duo Dip. We even included name cards for each of the kids.
All in all, the party was a success and the kids had a blast! It looks like it's time to start planning Middle Brother's birthday this summer. He's asking for a Buzz Lightyear Party :)
Thanks for stopping by! I'd love to hear from you in the comments and have you join us back again!
Want more ideas for spending time with your kids? Be sure to follow us on our NEW Facebook or Pinterest pages and sign up for emails to keep up with all the latest crafts, activities, and kid-friendly recipes!