It's that time of year. The Pearson
Elf on the Shelf
(Pelf) will be making his appearance tomorrow. This year, we have five kids who are all obsessed with
Legos
and
Duplo blocks
, so I've determined that Lego will be playing a prominent role in Pelf's antics. As always, I began scouring the internet to find some great Lego ideas and I wanted to share some of my favorites. We'll be adding our own as Pelf makes his arrival. (Having a 4-year-old that doesn't nap means that I've lost most of my blogging time and all of my opportunities to stage these elf photo shoots!) I've made every effort to give credit where it's due, but some of these photos have appeared on Pinterest with no real way to track them. If you know the original source, please comment so I can give them credit!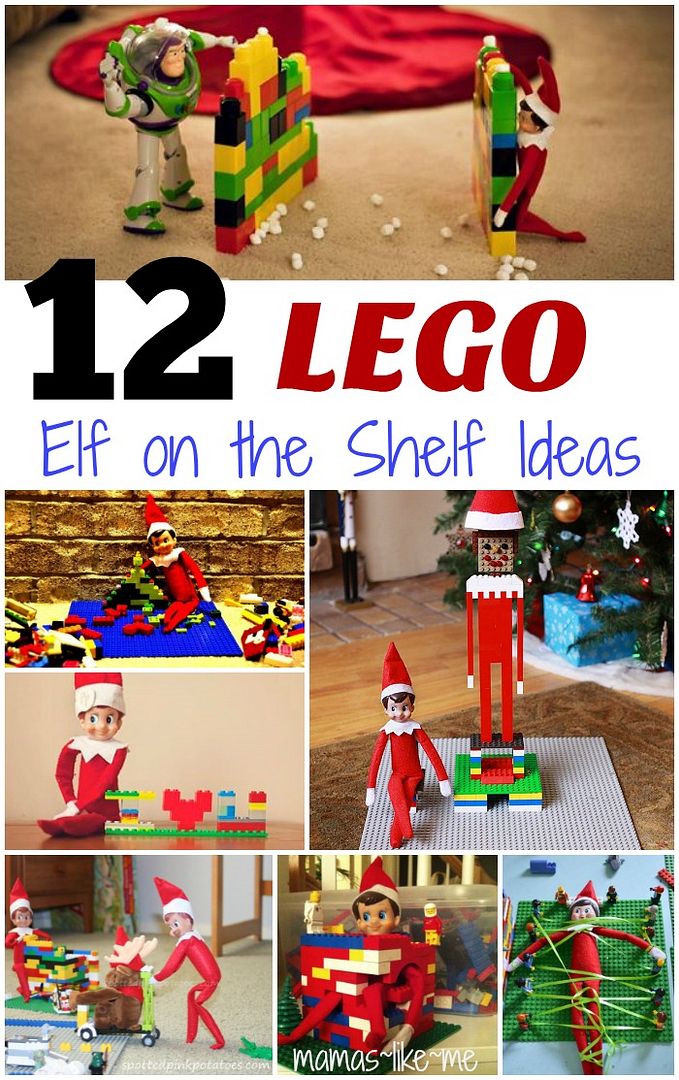 Self-Portrait in Legos
from Lime & Mortar
Elf Builds a Lego Tree
from Smarty the Elf
Lego Revolution
from A Few Shortcuts
Elf Duplo Throne
from See Mom Click
Lego Capture
from Concord Pediatric Dentistry
Elf Lego Factory
from Spotted Pink Potatoes
Lego Snowball Fight
from Nelly Cole Photography (There are some gorgeous photos of the elf on this site! Check them all out!)
Elf Race with Lego Finish
- from BabyCenter
Elf with Lego Candy Canes
Elf Duplo Train Ride
Elf Lego Messages
Elf attacked by Lego Star Wars
If you're looking for a great resource for Lego ideas, check out Sarah Dees' new book
Awesome Lego Creations with Bricks You Already Have
. Sarah writes at
Frugal Fun for Boys & Girls
and I was ecstatic when she reached out to me to check out her new book. I'm completely in awe of her. Like me, she has four boys and one girl, but somehow she still manages to run a full-time blog and keep her sanity!
My 8-year-old has been obsessed with Lego for years, but was really in a creation rut. He was building houses and cars, but this book has really opened up his mind to possibilities he had never considered. It has become his favorite nightly reading and I can hear him tinkering with Legos hidden under his pillow. This book is a must for any Lego-lover and is sure to be a favorite in our house for years to come!
Want more ideas for spending time with your kids? Be sure to follow us on
Facebook
or
Pinterest
and
sign up for emails
to keep up with all the latest crafts, activities, and kid-friendly recipes!