It's birthday season in our house! Three of our five children have birthdays in June or July and I celebrate my birthday in July, as well. Over the years, we've developed some birthday traditions and since our little Ladybug is getting ready to turn one, I thought I'd share some of them with you. We didn't start all of these with our first child, but I've come to cherish these little traditions more and more with each child since I'm seeing first-hand just how quickly these years are flying by!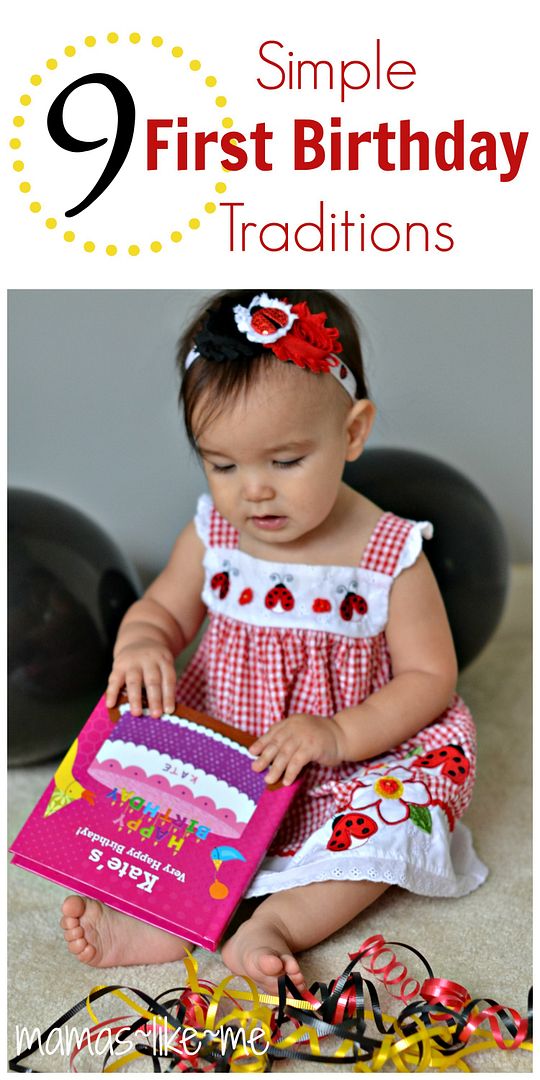 1.
Balloons
- No birthday is complete in our house without a whole mess of balloons! We decorate the house and the birthday child's room with them and the older kids end up playing with them for days. I recently saw an adorable photo op for filling your little one's crib with balloons. Yes, balloons can be dangerous so don't fill it while they're sleeping (like we do with the floor in our older children's rooms) and don't leave them unattended, but do snap some precious photos of a happy baby with balloons!
2.
Birthday Photos/Smash Cake
- I'm all about photos of the little ones so take this chance to snap a whole bunch of photos of your baby's first birthday. If you can't get professional one-year portraits done, you can definitely do them yourself. I recommend doing them on another day than your planned party so they're as stress-free as possible. Grab some fun props (#1, favorite toys, chalkboards, balloons, and a smash cake) and start snapping away. Jenae from I Can Teach My Child recently did a fun post on
how to DIY your own first birthday photos
and she has some great tips for getting good lighting and enjoying the experience. I love to do photos outdoors in the shade, if possible and I take as many pictures as I can before any guests arrive.
3.
Measuring Heights
- When I was little, we used to measure our heights on a door frame in the house. We have not continued this tradition, yet, with our kids but I See Me makes an adorable
personalized growth chart
for those who, like me, are a little squeamish about writing on their walls. This is a great tradition to start with a first birthday and growth charts can move with you from house to house!
4.
Birthday Child Dictates the Day
- In our house, the birthday child gets to decide pretty much every facet of the day, within reason. They choose their favorite meals, what fun things they'd like to do (within our budget), and get first dibs at everything (sitting by mom or dad, picking stories, choosing a movie...). For kids who spend most of their lives hearing "make sure you share with your brothers" this is a
huge
deal. So, maybe your one-year-old can't speak yet, but you can certainly plan meals around their favorite foods and make sure that the day includes lots of their favorite things, like dumping Cheerios all over the floor or pulling all of the wipes out of the container! Maybe that's just in our house...
5.
Birthday Shirts
- I admit it, I'm a sucker for a themed outfit for birthdays. When our 4th son turned one, we ordered iron-on transfers from Etsy for his
Mickey Party
and I'm already working on a tutu to go with Ladybug's first birthday! Our older kids typically get new shirts to go along with their birthday themes, as well. We've had Pokemon, Lego Movie, and Jake and the Neverland Pirates shirts so far.
6.
Celebrating the Year in Pictures
- Whether it's a clothesline with a picture for each month or a photo number collage, the first birthday is the perfect time to look back and remember all those fun milestones. Plus, guests love looking at pictures of your adorable baby (or, at least, they pretend to!)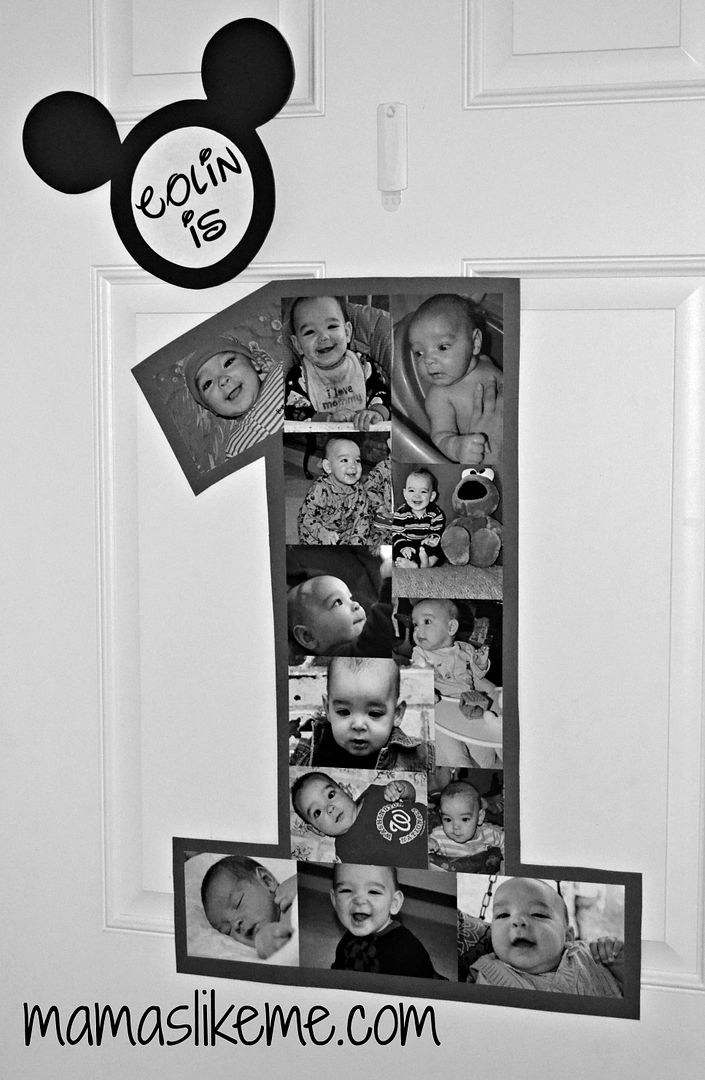 7.
Decorating their Door with Cards
- This tradition has evolved for us over the years and the kids now really look forward to it. For several weeks leading up to and following their birthday, they get to display all the cards from friends, grandparents, and distant relatives on their bedroom doors. Even though baby girl can't read yet, I'm sure she'll enjoy the extra visual stimulation!
8.
Birthday Letter
- On their first birthday, I include a birthday letter in the back of their baby books. I tell them funny stories about their first year and talk about all the things I wish for them in the coming years.
9.
Birthday Books
-
I See Me
recently sent us a copy of
My Very Happy Birthday
for Ladybug's first birthday. I am obsessed with their personalized children's books and have received so many compliments on our copies of
The Super, Incredible Big Brother
and
Goodnight, Little Me
! I'm hoping this birthday book will become a treasured birthday tradition for her, reading it each year and adding a new cherished book to her collection each year. I See Me makes it so easy to create
unique gifts
with personalized dedications. The kids just love seeing their pictures and names inside these sturdy books. I particularly love that My Very Happy Birthday is an extra sturdy board book and just perfect for little hands. Her brothers have already discovered baby sister's picture inside and love finding her name on each page! I see many, many more of these books in our future!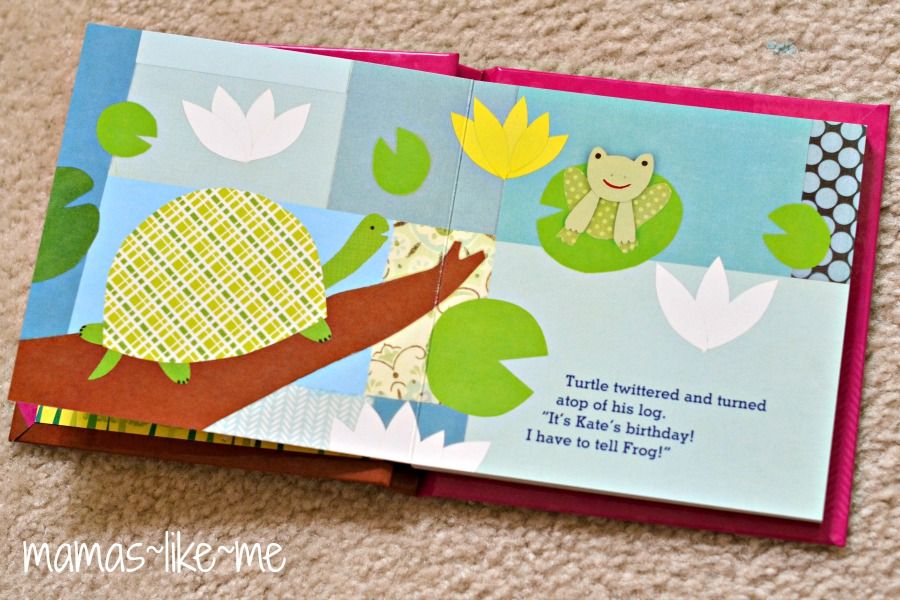 You can also find I See Me! on
Twitter
,
Instagram
,
Google +
, or just
sign up to receive their emails
directly about special sales and promotions!
Want more ideas for spending time with your kids? Be sure to follow us on our
Facebook
or
Pinterest
pages and
sign up for emails
to keep up with all the latest crafts, activities, and kid-friendly recipes!