Want more ideas for spending time with your kids? Be sure to follow us on Facebook or Pinterest and sign up for emails to keep up with all the latest crafts, activities, and kid-friendly recipes!
Halloween is almost here and I'm sure you're as done with the Halloween crafts as I am, but here's one more quick one for you just in case you need a quick craft (or one to save for next year!).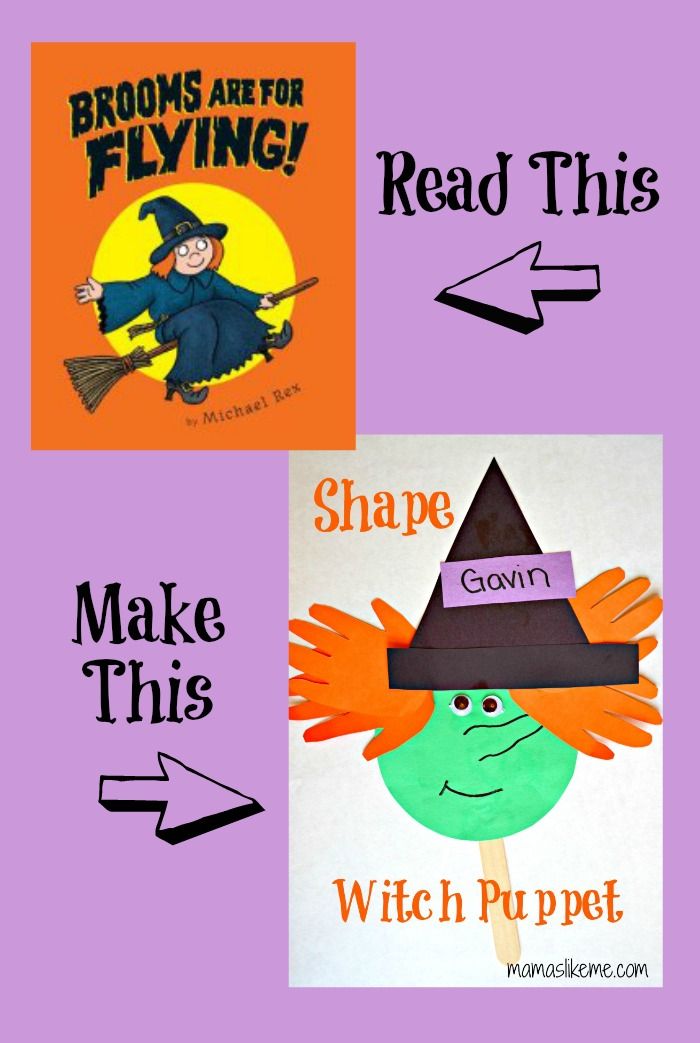 My 3-year-old decided this morning that he wanted to do a witch craft, so I scrapped the spider theme craft I was planning for today and we went with witches instead. I am all about going with a child's interests and capitalizing on their enthusiasm. One of the kids' favorite Halloween books from the library this year has been
Brooms Are for Flying
by Michael Rex. This is a great book for young kids because of it's short text and fun Halloween movements. In the story, a witch wears a little girl mask and attends a Halloween party. At the end, she takes off her mask and reveals that she is a "real" witch before flying off on her broom. The story gave us the inspiration for our witch masks.
For our Witch Puppets we used:
green, orange, black, and purple construction paper
scissors
glue sticks
googly eyes
black marker
jumbo craft sticks
To prep for this craft, I made these pieces for each child:
1 green circle (traced with a cereal bowl)
1 black triangle (for the hat)
1 black rectangle (for the hat brim)
1 smaller purple rectangle (to decorate the hat)
Then, I folded a large orange piece of paper into fourths and traced each child's hand. That way, when I cut the one hand, I ended up with four hands for each child's witch.
Before assembling, we talked about each shape and what each one was for the witch. Then, I let the kids glue their shapes together.
We added googly eyes and used the marker for a smile. Then, we glued a stick to the back to create our puppets.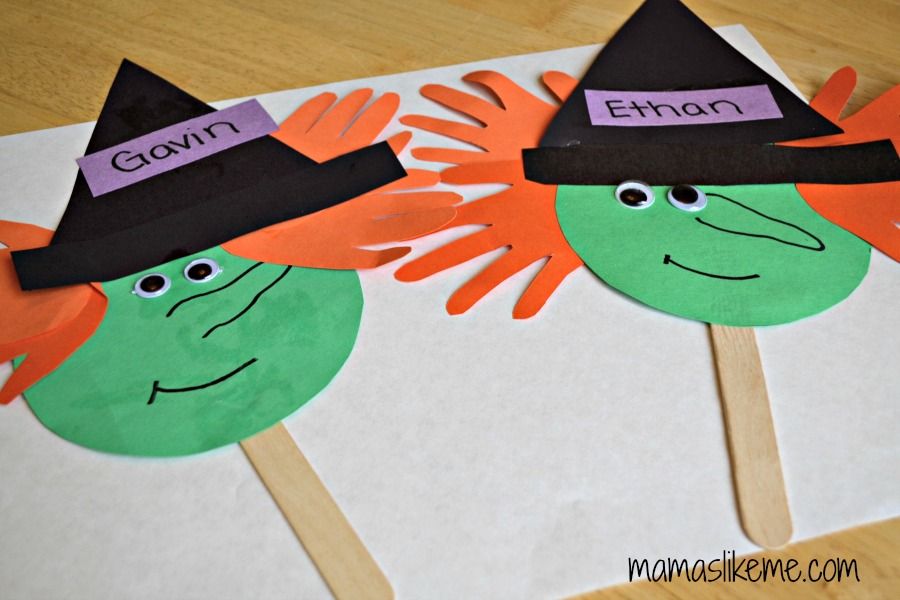 Later that day, we used our puppets while reading the story. The kids loved this and asked to do it a few times!