Sensory Bins have become my youngest boys' favorite things in the past few weeks. We have spent lots of time playing in the water table and creating our own sensory bins to go along with our farm theme. After seeing what a hit the
mud sensory bin
was, I was inspired by
Little Bins for Little Hands
to create sensory bins for some of our
farm-themed books
. The boys spent hours playing with these and they really helped the books come alive for them.
One of my 2-year-old's favorite books is
The Very Busy Spider
by Eric Carle. This was such a simple bin to put together. I started with a simple plastic bin and one of our
farm puzzles
, a container of oatmeal, and a board book copy of
The Very Busy Spider
.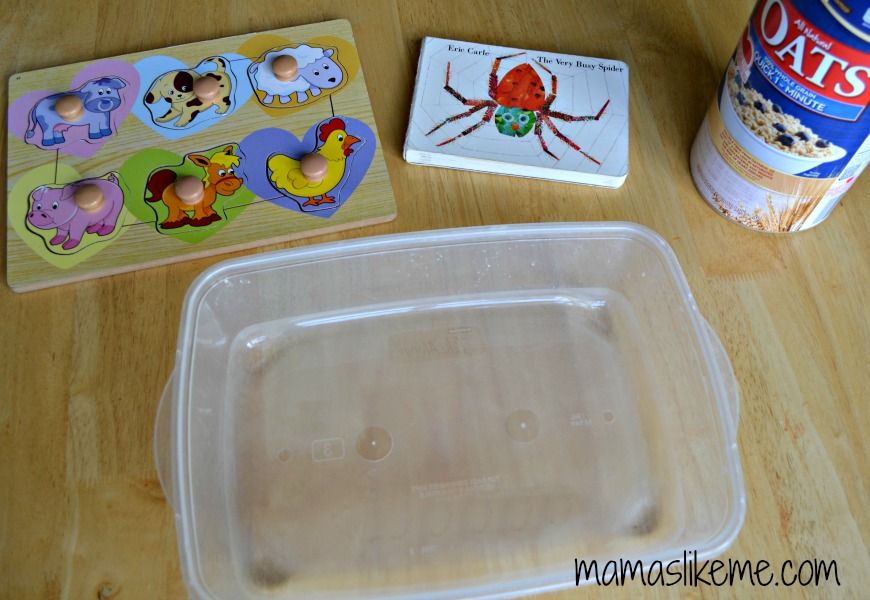 I also added a plastic spider ring leftover from last Halloween and a long piece of yarn.
I hid the puzzle pieces in the oatmeal and let my 2-year-old find them and put the puzzle back together. They also used the yarn to create their own spider web and re-tell the story. This is such a simple one that I'm sure I'll pull it out a few times over the next few weeks.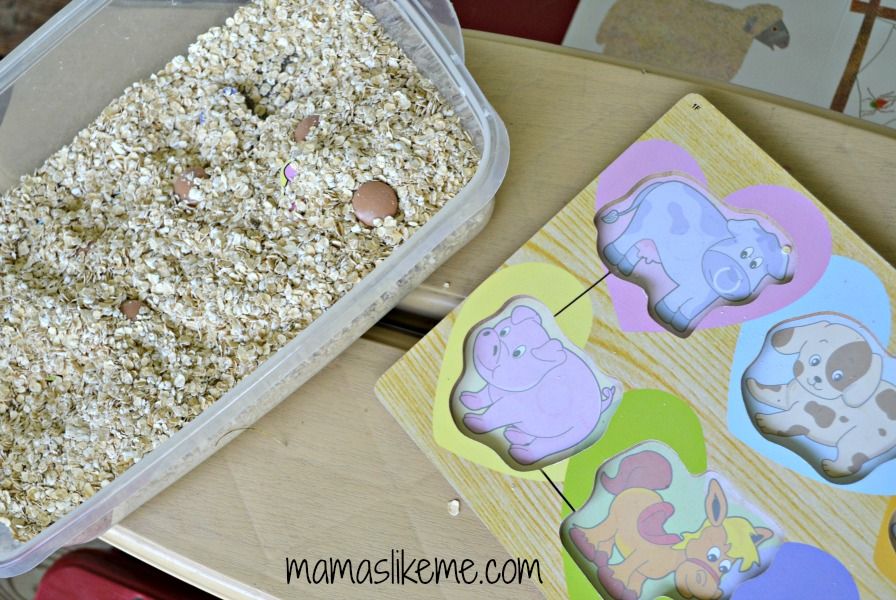 For our second bin, I re-used the same oatmeal along with the
plastic farm animals
from our
Sensory Mud Bin
.
I also added a small bowl of dried corn for the chicken and a bowl of black beans to represent the mud for the pig.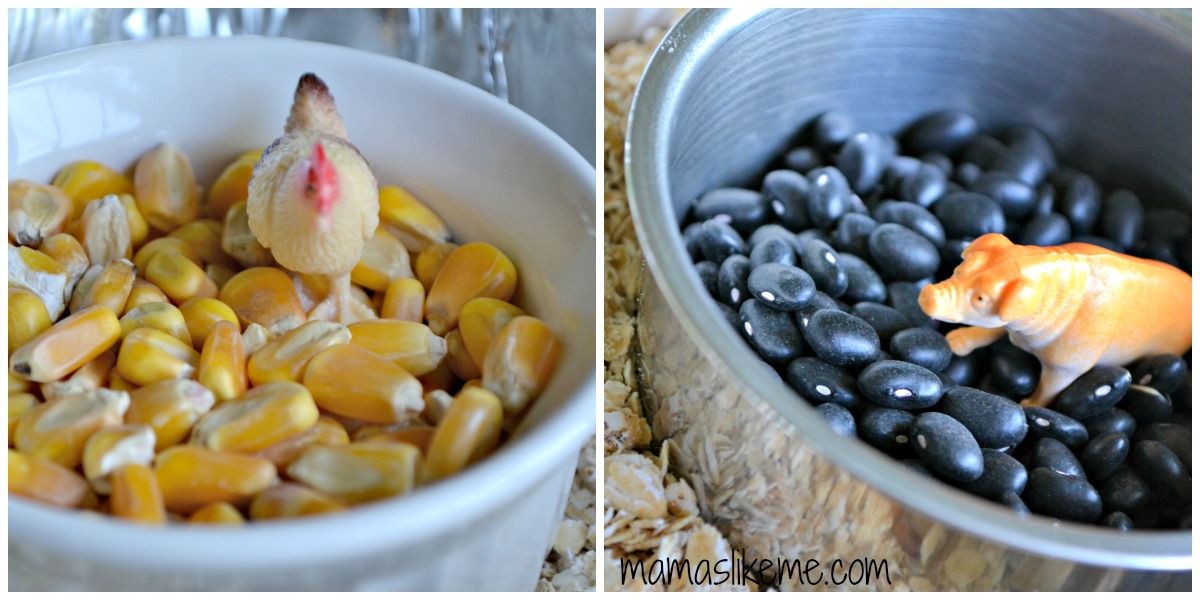 For the water animals, I cut a piece of blue felt to be our pond. The kids loved playing in their farm small world and even insisted on adding the spider and "web" from our last bin.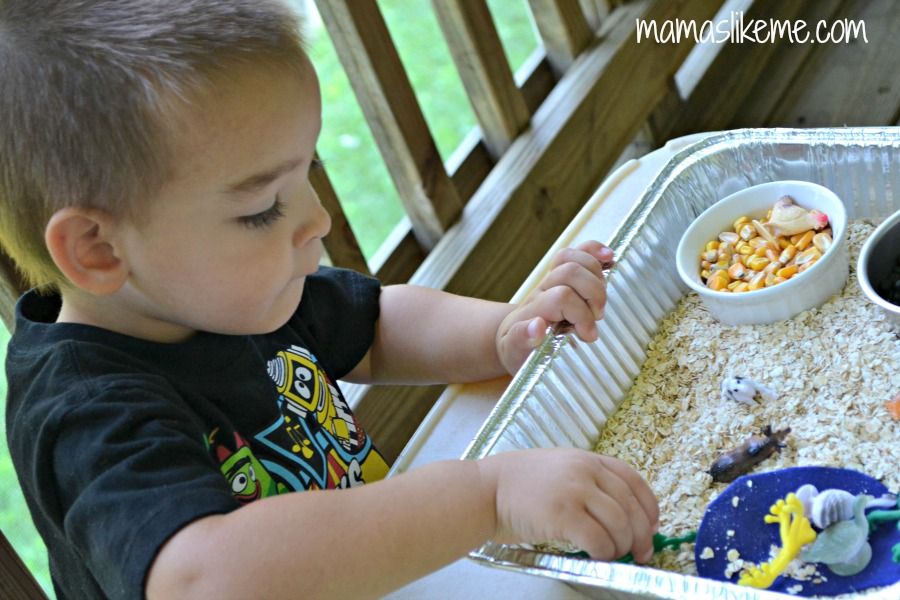 This was a great way for them to practice retelling the stories. I also heard them using the vocabulary from our farm unit as they discussed the different animals, used their sounds, and talked about what the farmer would be doing. My 3-year-old really got into using his imagination for the farm animals. I think he's been reading a little too much Click, Clack, Moo!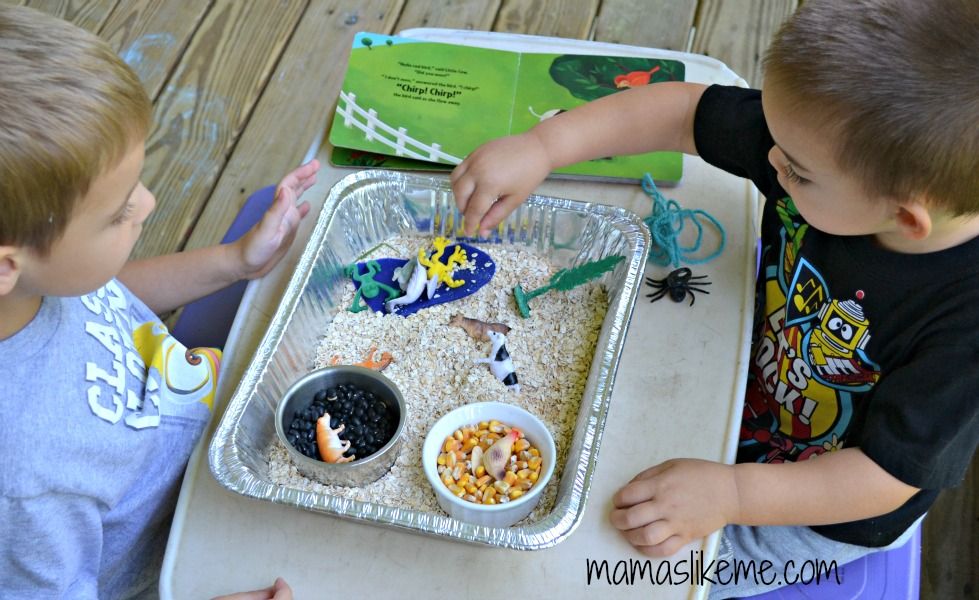 The best part was that they were able to use these bins independently while I was nursing or fixing lunch!
You may also like some of our other Farm crafts and activities:
Want more ideas for spending time with your kids? Be sure to follow us on our Facebook or Pinterest pages and sign up for emails to keep up with all the latest crafts, activities, and kid-friendly recipes!