Valentine's Day is quickly approaching and I feel like we haven't done nearly the amount of Valentine's Day crafts that we normally do. The kids have been really excited about play dough and sensory play so we've been doing much more of that than traditional crafting. They've also been doing a lot more pretend play with dress-up.
The Daycare Kids loved this activity because they thought they were sending secret messages to their parents. In this project, we included writing skills with letter and name recognition, practiced fine-motor skills important for writing, and used science investigation to discover the interaction between wax and watercolors. Plus, we had a lot of fun and got to use one of the kids' favorite art mediums.
This post contains affiliate links for your convenience. We appreciate your support.
For our hidden messages we used,
watercolor paints
and paintbrushes
white crayons (white
oil pastels
would also be great for this)
small container of water
white construction paper
The kids sat with me to write our messages. We started by writing each child's name in white crayon (you can
just barely
see this on the white construction paper). As I wrote their names, I
slowly
explained how to write each letter, "I - straight line dooowwwn and a line across the tooop and boottommmm". It is also important when writing children's names to use a capital letter for the first letter and lower-case letters for the rest. It can be tempting to use all capitals with young children, but this actually makes it more difficult for them to learn to recognize and write their name.
After we wrote their names, we added "loves" and the kids each told me someone that they loved and wanted to send their message to. We went through the whole writing process again, and then we had some painting fun!
We talked about what we thought the paint would do to our messages. Most of them said that it would cover them up. They were so excited to see that their messages showed through "magically".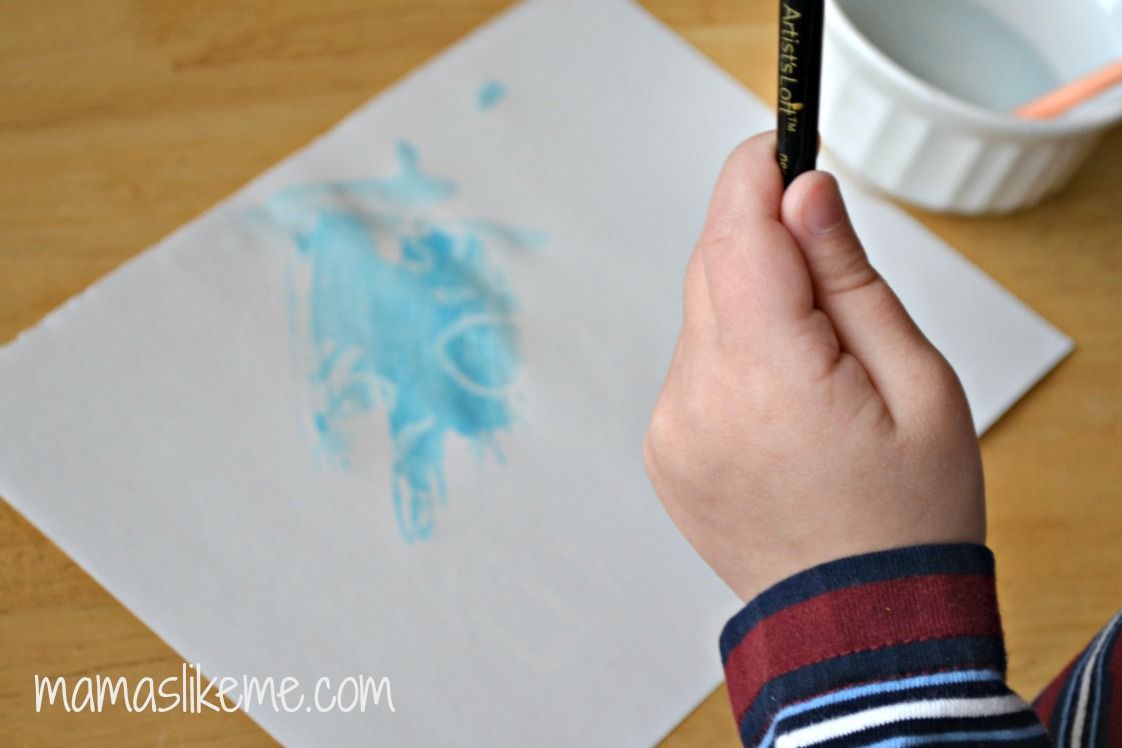 We talked about how crayons are made of wax, which they were able to recall from our experiments melting wax for Lego crayons and
heart-shaped crayons
, and how the wax stops the colors from soaking into the paper.
Once the kids were finished covering their messages, I was quick to replace their projects with a new paper because it's easy for little ones to get carried away and put a hole in their paper. The kids didn't mind me taking those to dry, though, because they got a new clean sheet to create with.
The kids were so proud to give away their special Valentine's Day messages! You could also write your own Valentine's Day message for older kids and then have them paint it to reveal their note!
Want more ideas for spending time with your kids? Be sure to follow us on our NEW Facebook or Pinterest pages and sign up for emails to keep up with all the latest crafts, activities, and kid-friendly recipes!