This post is brought to you by Mother's Therapy Organics. As always, all opinions are strictly my own.
This winter has been particularly bad for colds and flu in our area. Right before Christmas, many children in my son's Kindergarten class came down with the stomach flu, which he (of course) brought home for the holidays. A nasty cough has spread through our Daycare kids and it seems like every morning at the bus stop, someone is coughing or sneezing. It can sometimes be difficult to determine if it's just the sniffles or something that makes them
too sick to go to school
.
With all the germs running rampant it can leave many parents wondering how they can protect their kids from these illnesses. To be fair, there are many times that your kids will get sick regardless of your best efforts. Kids are notorious for spreading germs, but there are some things you can do to reduce the risk of them getting sick.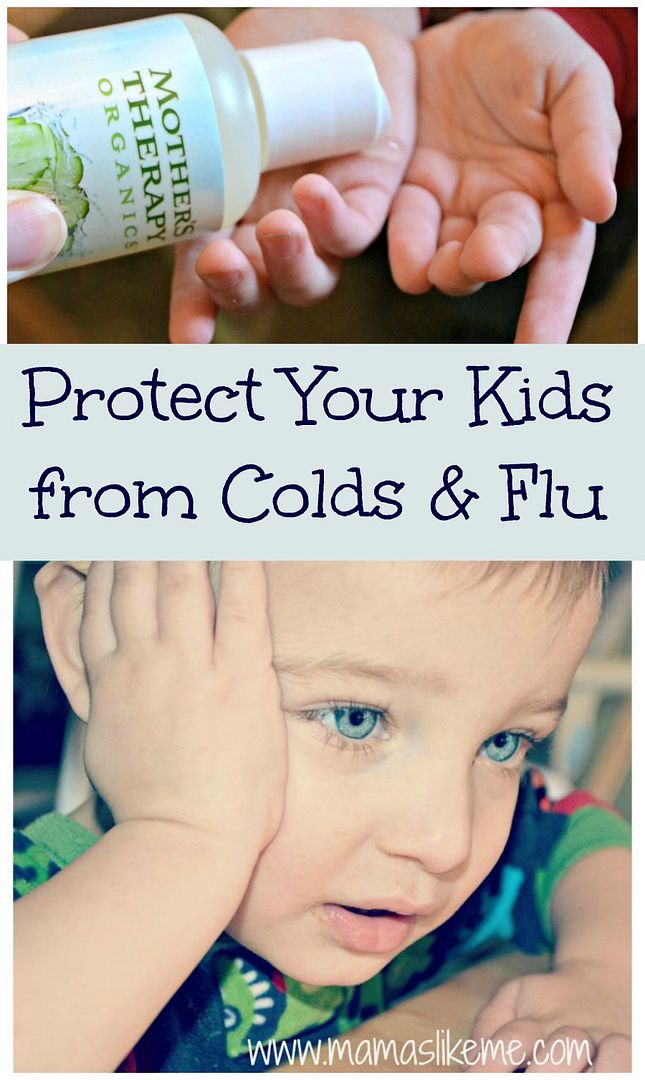 1.
Teach your children to cover their mouths when they cough or sneeze.
The best way to do this is to cough or sneeze into their elbow or into a tissue (when readily available). This helps to keep germs from spreading through the air or being transferred from children coughing into their hands and then touching another child or surface.
2.
Routinely disinfect toys and commonly touched household surfaces.
Here is a great resource that gives
step-by-step instructions for cleaning and disinfecting toys after an illness
. I have also been known to routinely put baby toys into the dishwasher and wipe down larger toys with a white vinegar mixture. Disinfecting wipes also make it easy to wipe down door knobs, phones, game controllers, television remotes, and other handles and surfaces in the house that are touched by many people.
3.
Wash hands thoroughly and often, especially before eating and after using the bathroom.
With a house full of Daycare Kids, we spend a lot of time in the bathroom and changing diapers. That means we are constantly washing hands. I love the convenience of
hand sanitizer
to make this process faster and easier, but I worried about all the chemicals I was putting on my children and how it was drying out their sensitive skin. Recently, I received a shipment of Mother's Therapy Organics hand sanitizers and
germ-killing lotion
.
Mother's Therapy Organics
uses the purest organic and natural ingredients. They use a natural alcohol as their base that evaporates quickly (for quicker drying times with kids) and leaves behind a skin-softening aloe vera-based lotion. I have switched my own personal hand sanitizer for their germ-killing lotion and have found that my hands are softer and smell great after each diaper change! They also have mini hand sanitizers that moisturize skin while eliminating germs on the go! They're perfect for my purse and the diaper bag and I love their fresh scents! The baby even loves his new organic
baby lotion
that doesn't leave a greasy residue on his sensitive skin.
To help you have a healthy winter, Mother's Therapy Organics is offering one of our readers a family pack of our hand sanitizer's valued at $30. To enter, use the Rafflecopter form below! Good luck!
a Rafflecopter giveaway