I'll be honest, this past week I hit the breaking point in my loathing of parenting cliches. I am so tired of the image of the perfect mom with the perfect hair sleeping with her beautiful baby.
Let me give you a peek:
After staying up most of the night with a baby with croup, I woke up to said baby crying, rushed to get dressed and get him up before he woke up his brother. Too late, my 2-year-old was already awake and informed me that his diaper had leaked adding another 2 loads of laundry to the 3 loads I had already planned to do that day. (And, how did he manage to get
every
blanket on his bed wet?!) Then, my 5-year-old missed the toilet and peed on the shower curtain...
Between packing lunches and making breakfast, I refereed a few arguments over favorite toys and tried to get my daycare kids settled for the morning.
Throughout the day, we sang songs, colored pictures, did the calendar, read stories, played with Play Dough, kissed boo-boos, gave bottles, bounced crying babies, and generally tried to survive until naptime. Unfortunately, sick kids are cranky kids. By the time I fed my toddler and put him down for a nap, I was ready to drop. Fifteen minutes later, he started coughing and then he puked all over me. So naptime turned into "figure out how to keep two cranky babies happy and quiet so the other kids will sleep" time.
In that moment, I did what most stay-at-home-moms do. Since we don't have colleagues or break rooms, we post our woes on Facebook. And, that's when one of my dear, sweet neighbors (bless her soul) broke out the most overused parenting cliche of them all:
Enjoy every minute of the kids' lives because they grow up way too fast.
Really?! Enjoy THIS?! Did you miss the part about the croup, and the crying, and the puke, and the pee, and the cleaning? And you want me to "cherish" this? Do you know who says nonsense like this? People who are sleeping 8 hours a night! People who are meeting friends for coffee dates and rushing to their early morning spin class after the bus. Those of us in the trenches realize that sometimes this parenting stuff
stinks
! We're right in the middle of the tantrums and the late nights and we're just looking for 5 minutes to breathe!
So, I will never again write "cherish every moment" on a greeting card. I will not tell new moms that "it goes by so fast", even though it does! Because, when you're in the middle of it, the days seem to drag by and you wonder how you'll get to naptime - and then bedtime!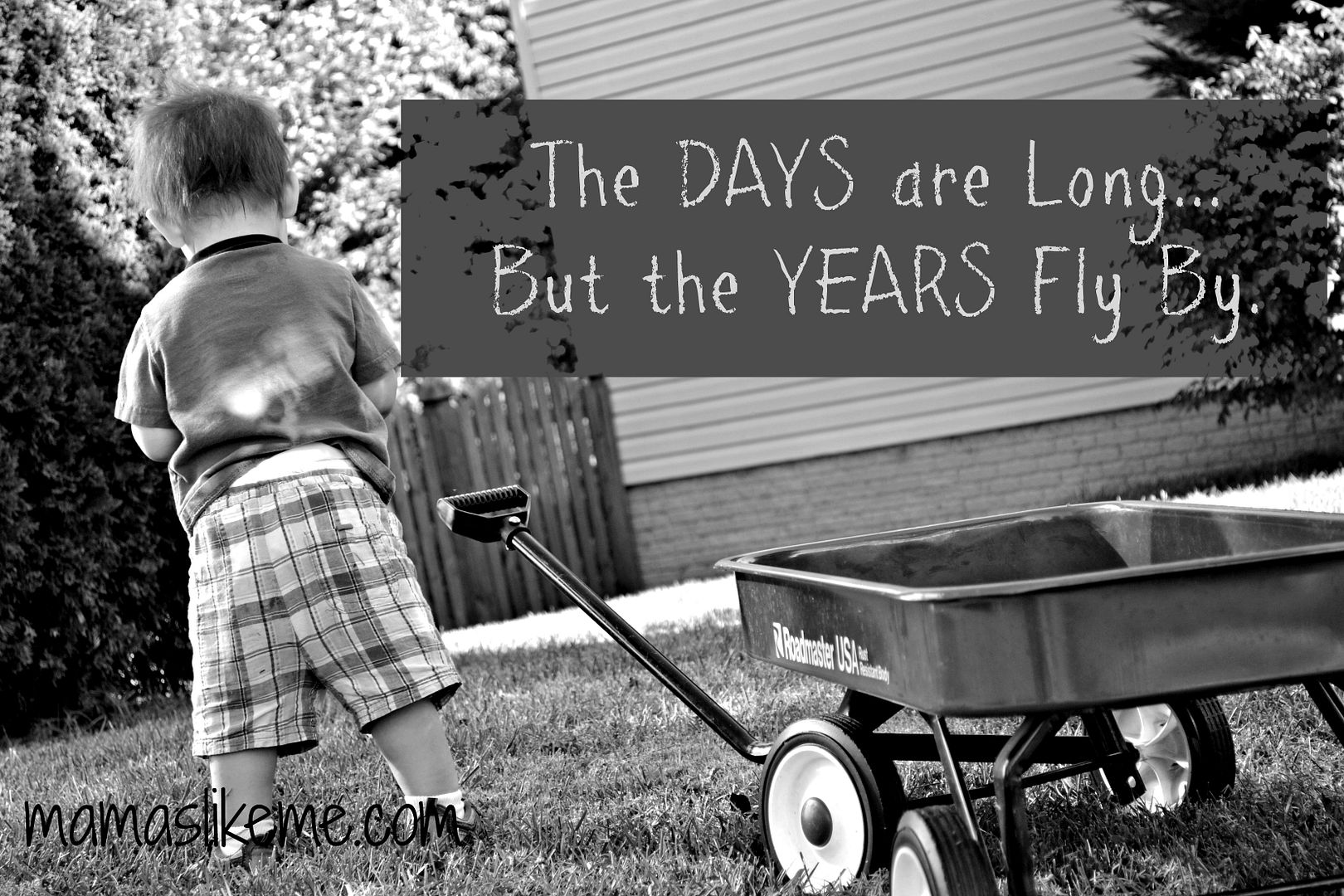 Instead, I'll tell them to find
5 minutes of joy
. When you're day has been filled with picking up toys, vacuuming Cheerios, cleaning puke, and scrubbing pee - find five minutes to
enjoy
your kids. Put down the laundry, ignore the dishes and just sit with them. Rock the baby for five minutes after his bath and savor the sweet smell of a clean baby. Spend five minutes singing silly songs with your 2-year-old. Build a Lego creation and listen to your 5-year-old tell you about his day. Challenge your 7-year-old to a Mario Kart race and spend 5 minutes remembering why you love what you do so much.
Those 5 minutes are what you'll
cherish
when the day is through. Trust me, I've been there. I
am
there! I know how hard it is to feel like you're just barely surviving day to day. Don't bother enjoying every minute. Nobody savors the poopy diapers or folding loads and loads of laundry, but thankfully those moments will be forgotten along the way. What you will remember are the games of Candyland, singing Jake and the Neverland Pirates over and over, and building forts on a rainy day. Just don't let too much time pass before you start creating your own
5 minutes of joy
.