To finish out the Summer, we're spending some time reading and learning about the beach and ocean animals. I have to admit that I personally don't like the beach so our older boys went to the beach last year with Grandma! I have some serious issues with sand being in places that sand does not belong. I know I'll have to get over it eventually and take the kids, but for now we're going stick with trips to the Aquarium and some sensory play with our
homemade moon dough
.
We started our study of sea creatures with the boys' current favorite - the sea turtle. They have a special love for sea turtles now that they got to "meet" Crush at Turtle Talk in Epcot.
For our sea turtles, we used:
cardboard drink containers (my husband brought home lattes from Dunken Doughnuts and I was so excited to see this drink carrier! I've become one of those crazy Pinterest hoarders!)
green paint
green and brown construction paper
scissors
sponge brush
glue
googly eyes
I cut the drink container into four different shells and the kids very carefully painted their shells green.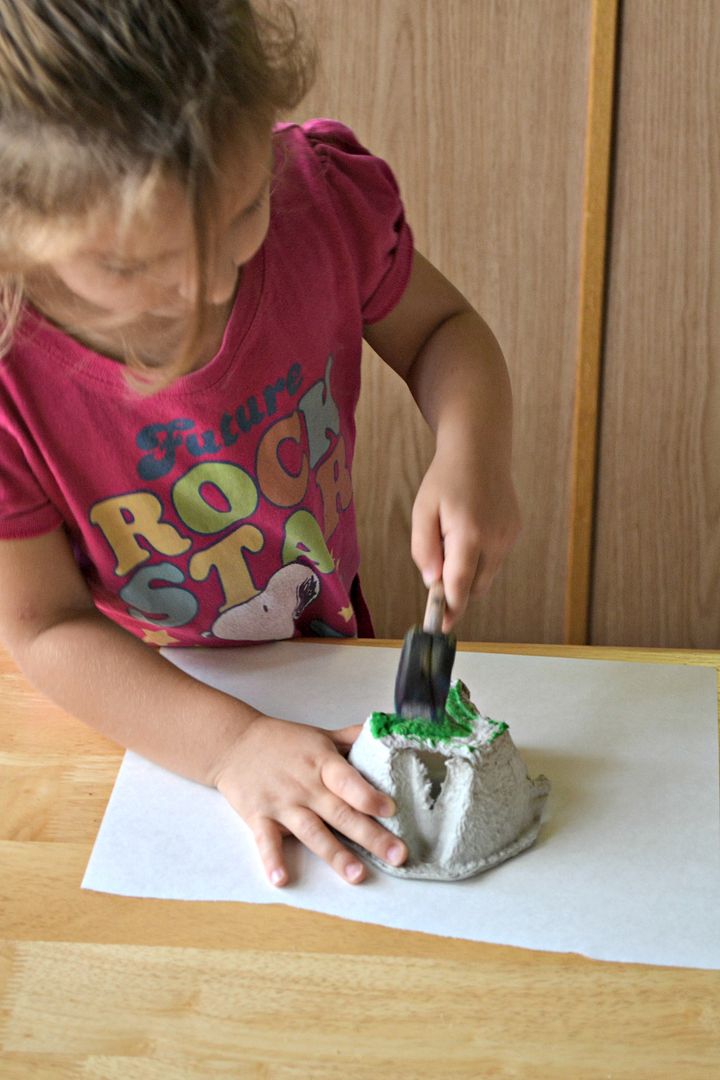 Once they were dry, the kids cut strips of green and brown construction paper into squares and glued them on their shells to create a patterned shell.
For the turtle's head and fins, I free-handed the different pieces and then let my 7-year-old trace and cut them out.
We created a "tab" and glued each of the pieces to the underside of the turtle's shell. I found it easiest to do these one at a time with my 2 and 3-year-olds. We held each piece for a count of 10. I'm not sure that this was actually necessary, but it gave the little kids a chance to practice counting to 10 five times for each of the turtles.
Finally, we added some googly eyes to our turtles because, frankly, everything is better with googly eyes! The kids instantly fell in love with their new turtle pets.
Green Sea Turtles are only 2 inches when born, but can grow up to 2 feet
They can weigh over 700 pounds
Unlike most turtles, they can not pull their head into their shell
They can hold their breath for hours at a time.
Green Sea Turtles usually only come to land to lay their eggs.
They return to the beach where they were born to lay their eggs.
Green Sea Turtles lay 100-200 eggs at a time and leave them for 2 months.
Baby Green Sea Turtles have to make it to the ocean by themselves. It is a difficult journey with many predators.
If you're itching to try out some more Beach-themed crafts, check out:
Thanks for stopping by! I'd love to hear from you in the comments and have you join us back again!
Want more ideas for spending time with your kids? Be sure to follow us on our NEW
Facebook
or
Pinterest
pages and
sign up for emails
to keep up with all the latest crafts, activities, and kid-friendly recipes!